If you don't know what goulash is you are missing out! This was a family favorite growing up. I grew up with four brothers and we all gobbled this up. My kids LOVE goulash and are always happy when I make it, which is at least twice a month! This Instant Pot Goulash is simple to throw together and the flavors come together wonderfully in the Instant Pot.  If you don't have an instant pot, you can definitely make this on the stove top.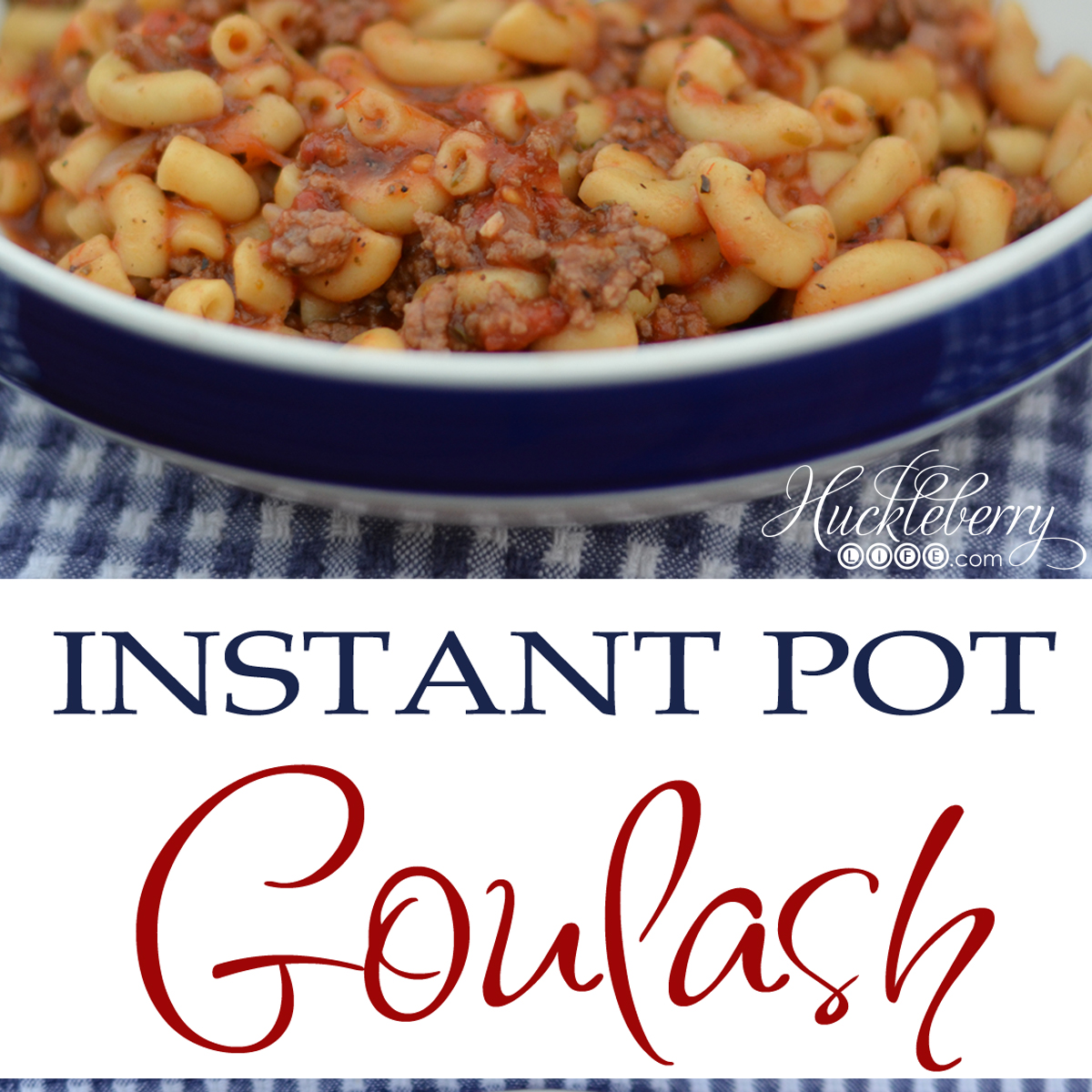 LET'S GET THIS GOULASH STARTED!
First of all, start by pushing the saute button on your Instant Pot. I used my 6 quart for this recipe, but I also have a new 8 quart that my Daddy bought me for my birthday! Spoiled? Absolutely! When the front reads HOT on the Instant Pot, add 2 Tbsp olive oil, chopped onion and garlic.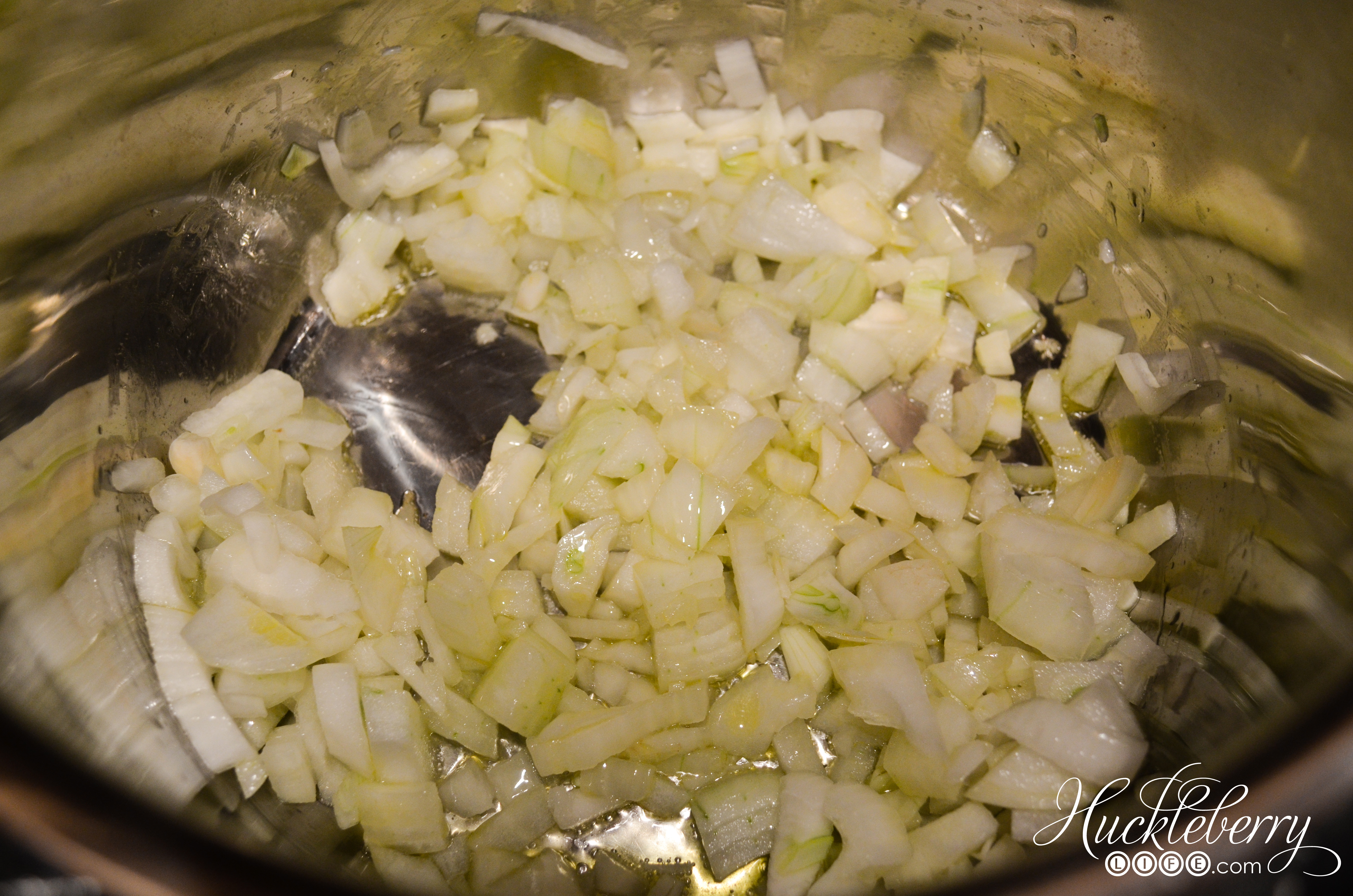 Saute for a couple minutes then add the ground beef.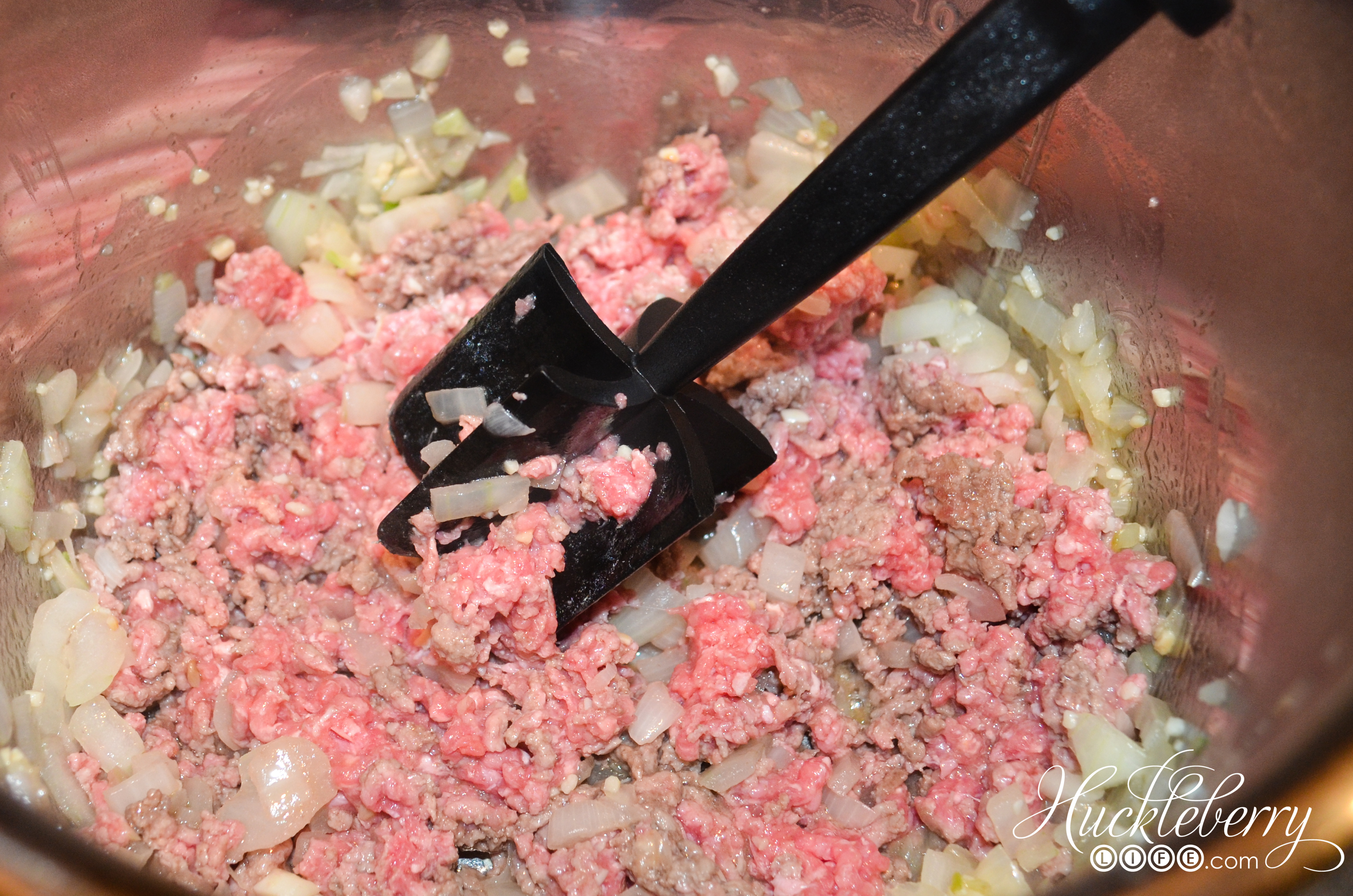 Cook until browned.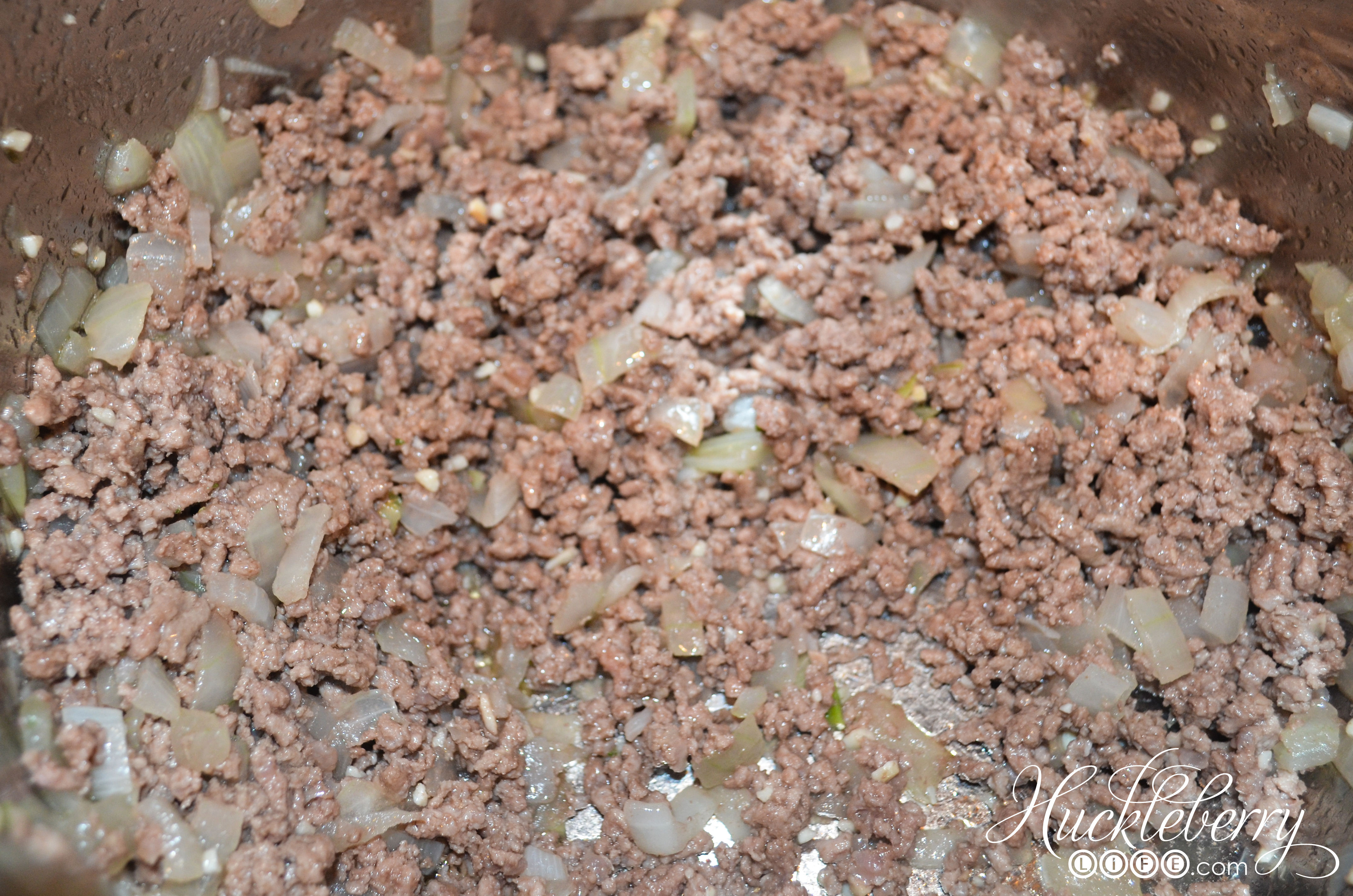 When beef is browned, turn the Instant Pot to Keep Warm. You will also want to drain the fat at this point. Add Italian seasoning, Worcestershire sauce, rosemary (if using) and salt and pepper.  Use as much salt and pepper as you would like. You can always add more later. Pour the 3 cups of elbow macaroni on top. I used a one pound box which equaled 3 cups.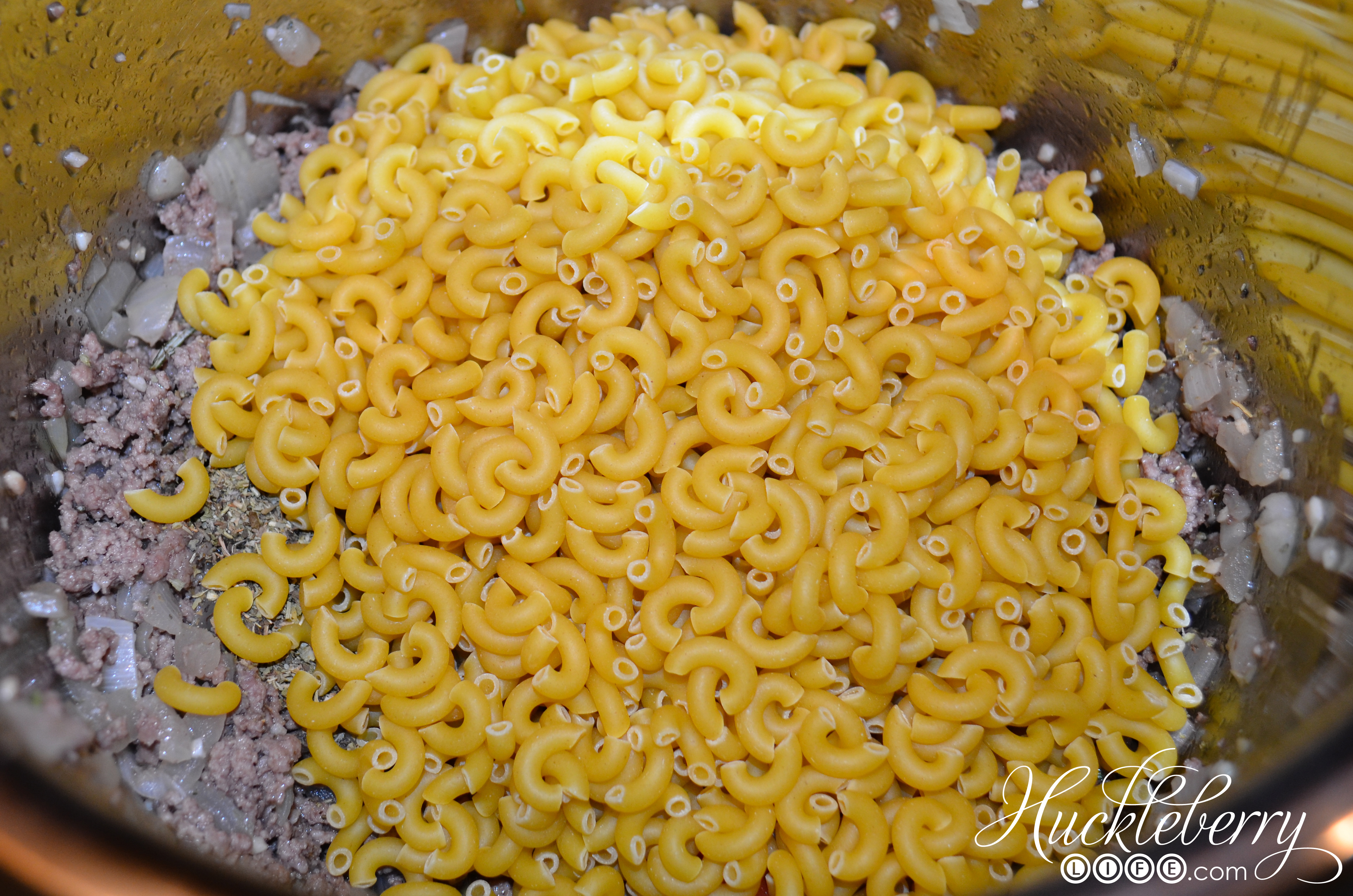 Next add the bottled or canned tomatoes. I haven't had a garden in YEARS because we move so often but I LOVE home bottled tomatoes. Because I am totally spoiled, my Mommy and Daddy share their bounty with me every year. I recently ran out and they came for a surprise visit and brought a dozen or so bottles! Aren't they BEAUTIFUL?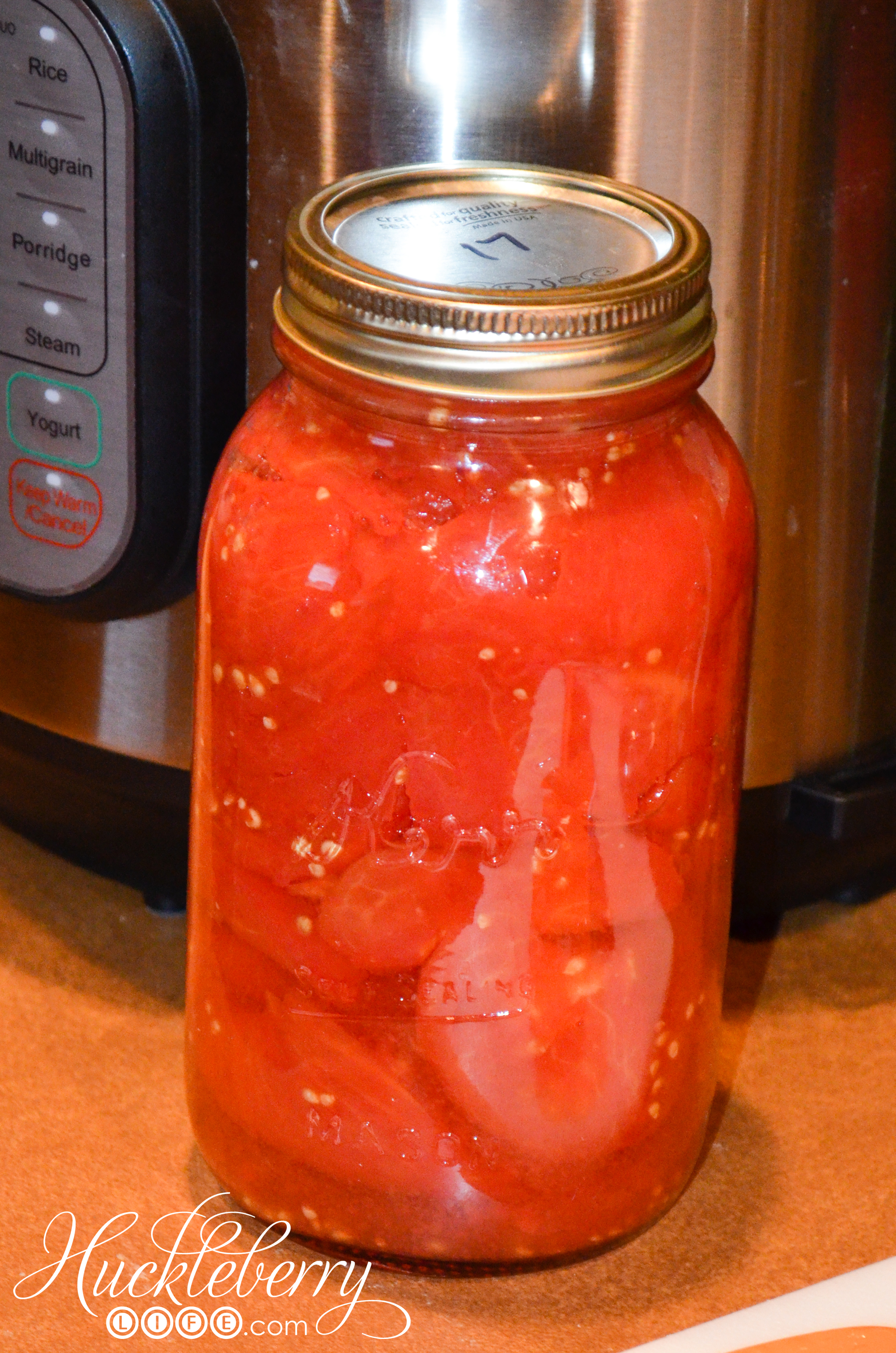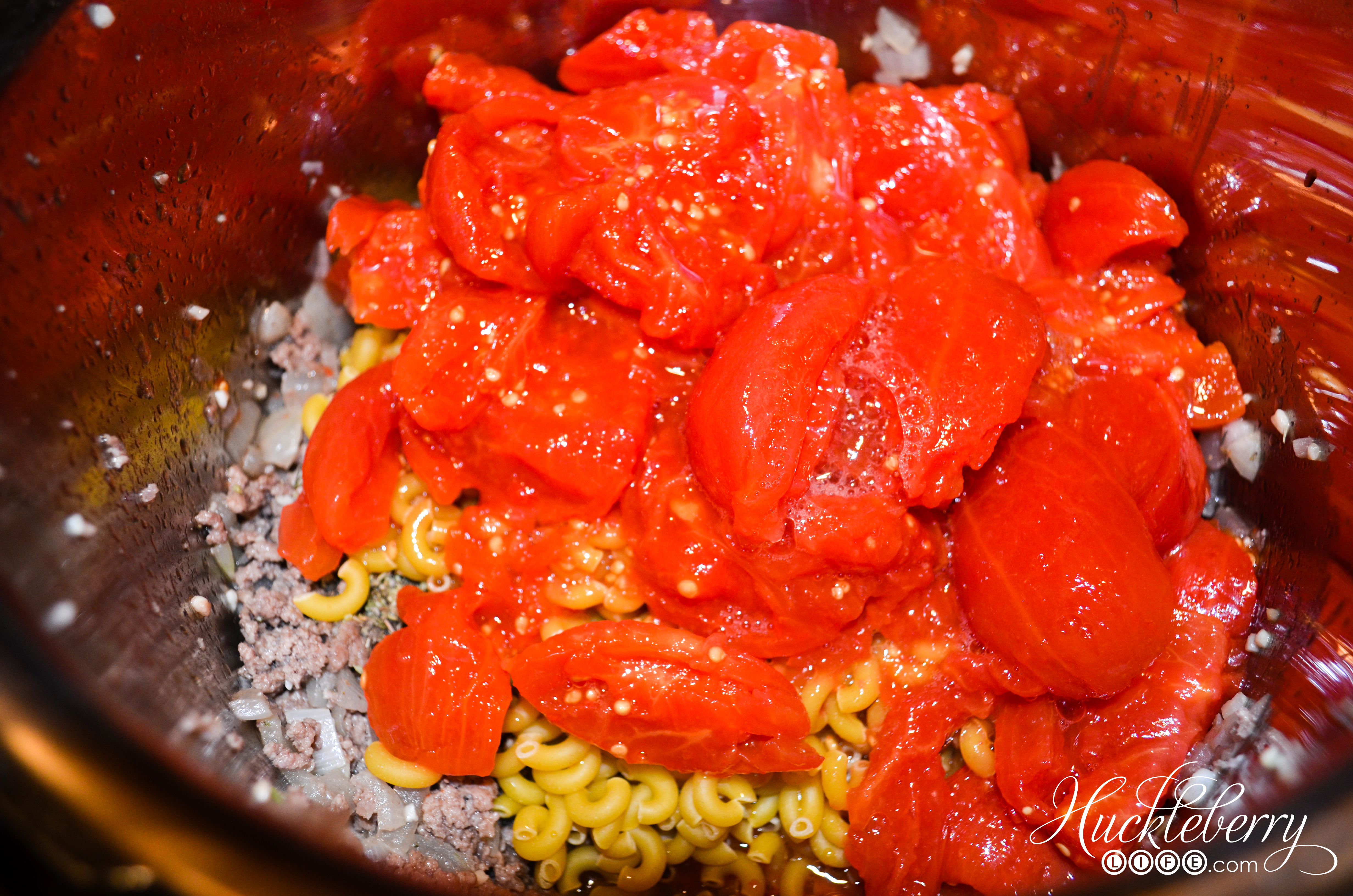 Finally add the beef broth. I just filled my empty quart bottle with water and added beef flavored Better Than Bouillon. You can definitely just add water in place of the broth if you don't have any. I always have beef and chicken Better Than Bouillon in the fridge. If you haven't tried it you should.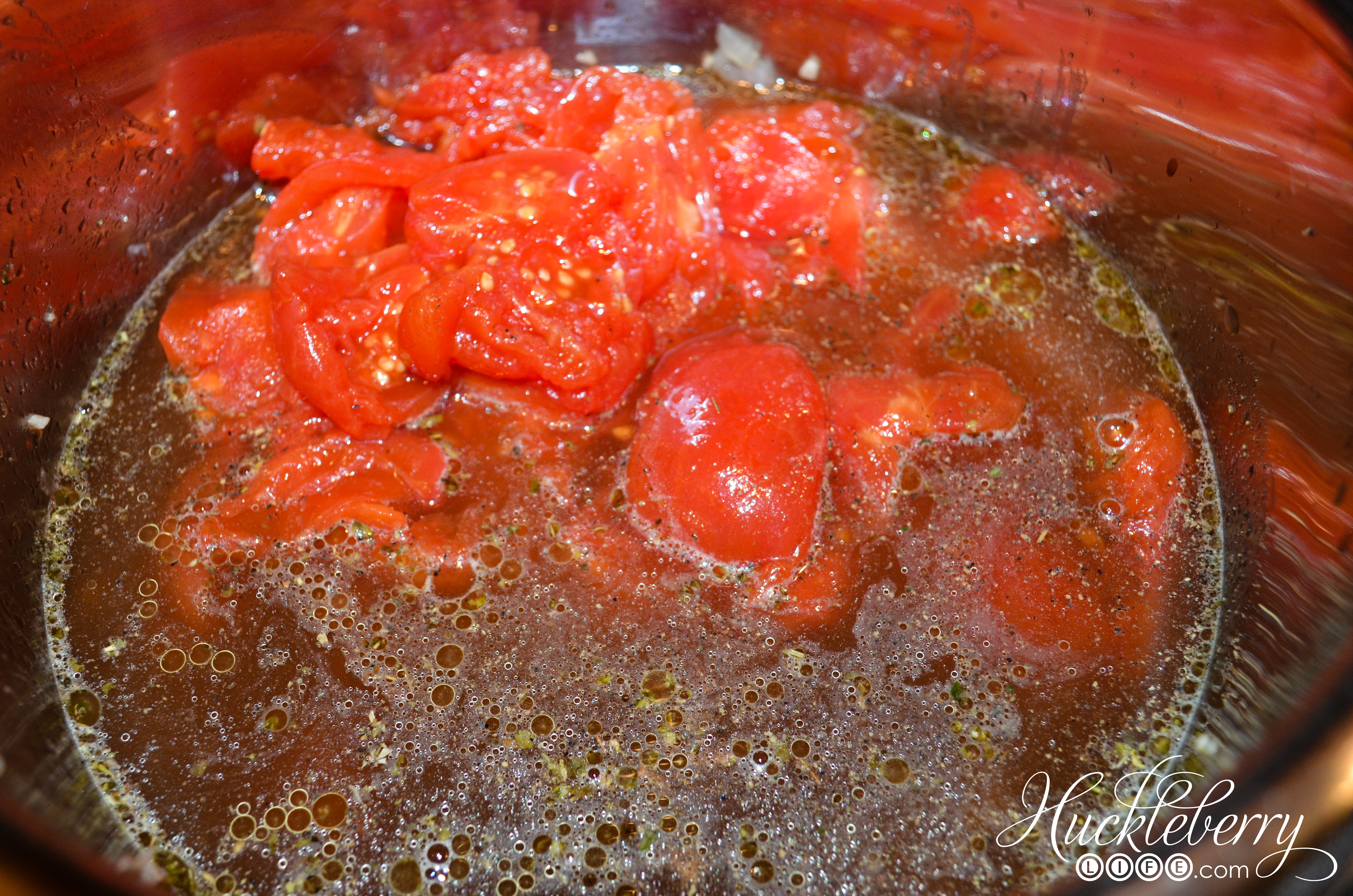 At this point you will also want to add the can of tomato sauce…but I spaced it so I just added mine when finished. 🙂
TIME FOR THE INSTANT POT MAGIC!
Cook on high pressure for four minutes. On my six quart Instant Pot you press the Manual button and adjust to four minutes. The Instant Pot will read ON until it reaches pressure. When pressure is reached it will begin counting back from 4. On my eight quart Instant Pot the button I use is Pressure Cook. Set for four minutes. Make sure the valve is closed on top and not venting or you will never get up to pressure. You will hear a beep when time is up, go ahead and do a quick release by turning the valve on top to venting. The pressure pin will drop and the lid will unlock when all the pressure is released. You can open the lid then.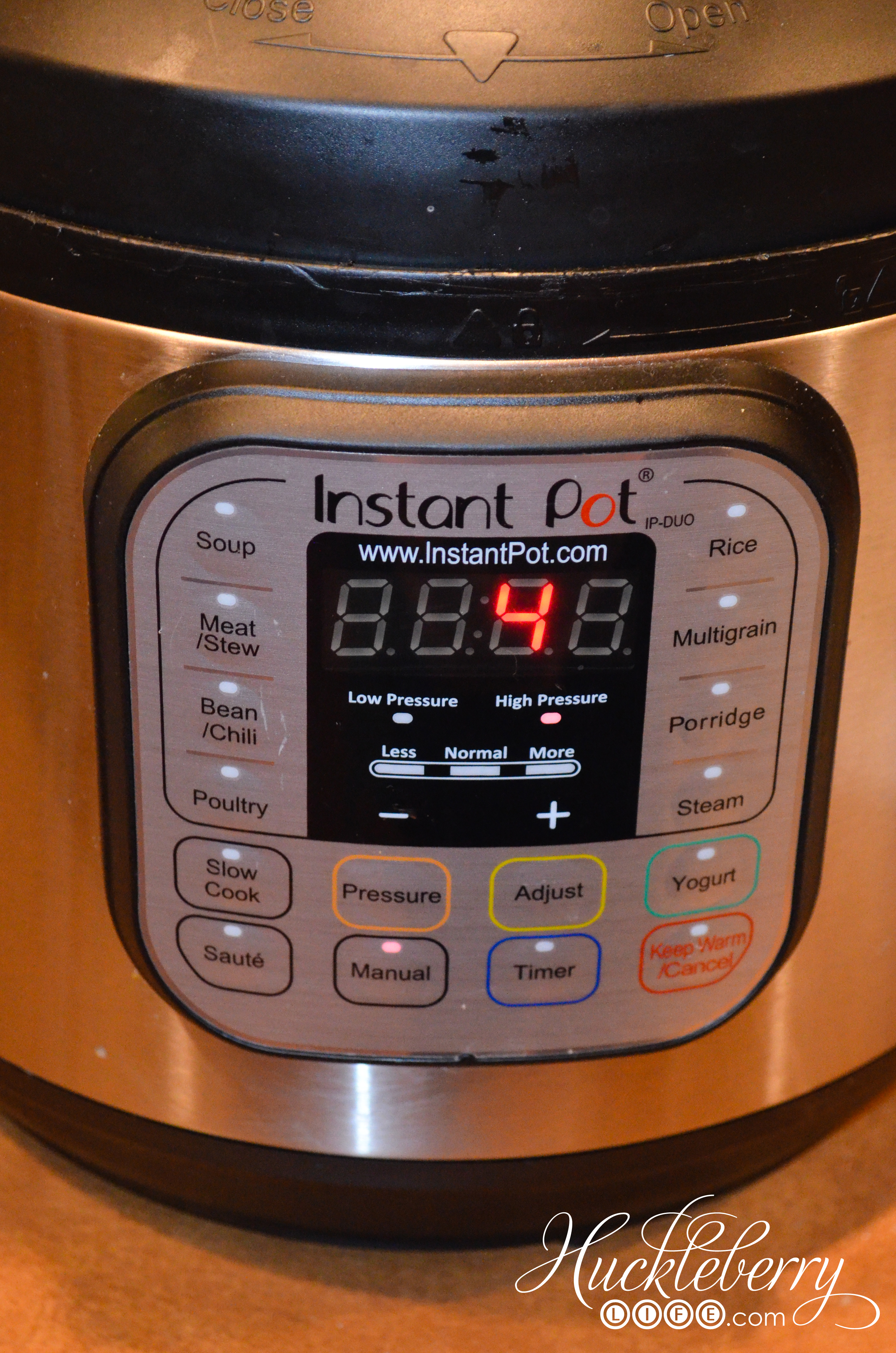 When it was time and I finally got to open the lid to see my creation, it looked like this. It smelled DIVINE!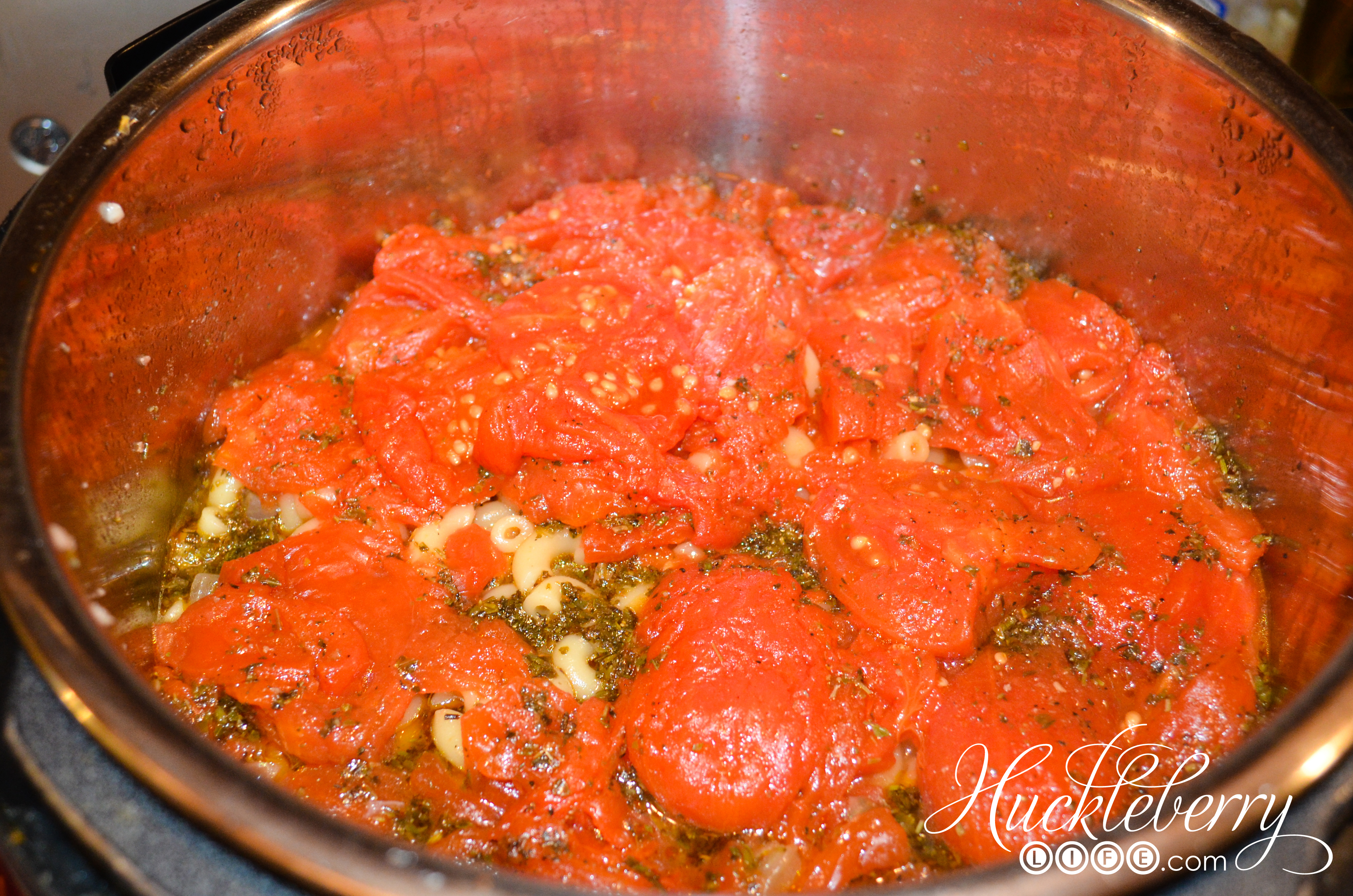 Then I gave it a good stir and added the forgotten can of tomato sauce. It's always gotta be something, right?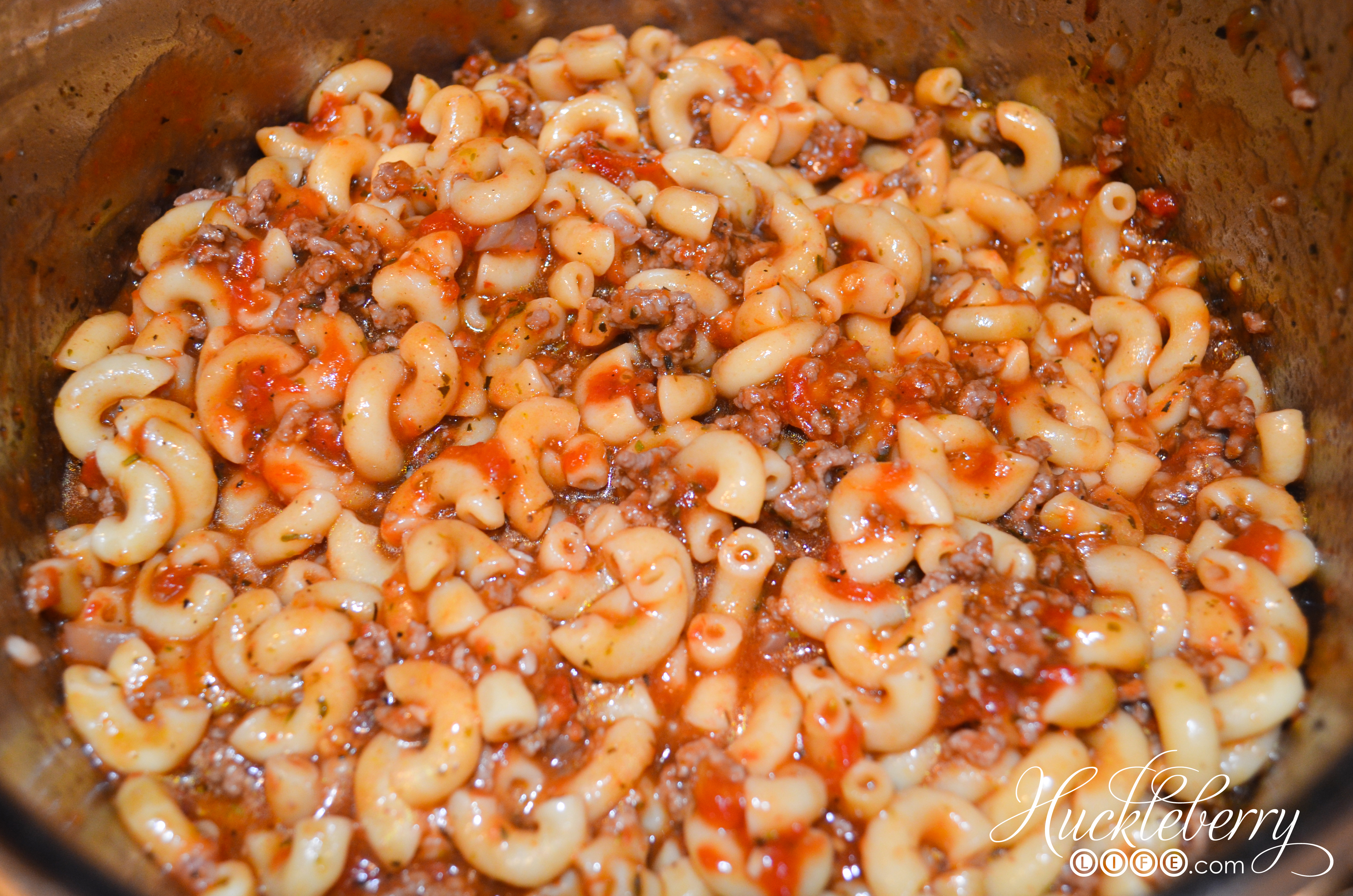 TIME TO EAT!
Now serve it up with LOTS of cheese! We use cheddar but parmesan or mozzarella would be great too!
INSTANT POT GOULASH
Prep time:
Cook time:
Total time:
This Instant Pot Goulash is comfort food at its finest and is so quick and easy to throw together. The flavors come together beautifully in the Instant Pot. Serve it hot with lots of cheese!
Ingredients
1 lb. ground beef
1 onion, chopped
3 cloves garlic, minced
2 Tbsp. olive oil
1 Tbsp. Worcestershire sauce
2 Tbsp. Italian seasoning
1 Tbsp. fresh rosemary, chopped (optional)
3 cups (1lb.) dry elbow macaroni
1 quart bottled tomatoes OR 2 15 oz. cans of diced tomatoes
1 15 oz. can tomato sauce
32 oz. beef broth
salt and pepper to taste
Instructions
Press saute button on Instant Pot and wait til screen reads HOT.
When HOT, add olive oil, chopped onion and garlic.
Saute a few minutes.
Add ground beef and cook until browned.
Press KEEP WARM button on Instant Pot.
Drain any excess fat from beef.
Add Worcestershire sauce, Italian seasoning, rosemary and salt and pepper.
Add dry noodles.
Pour tomatoes, broth and tomato sauce on top. Do not stir.
Close Instant Pot Lid and make sure valve is closed on top.
Set Instant Pot for 4 minutes on high pressure.
When time is up do a quick release by turning valve on top to venting.
Open lid once pressure pin has dropped and stir the goulash.
Serve hot with cheese if you like.
My hubby had a big old bowl tonight and said it was the best I'd made yet which I think says a lot. Thank you, Instant Pot! Give it a try and let us know what ya think.
Also…I have decided that we MUST keep it real around here. I wouldn't want y'all thinking I make a perfect dinner every night and have it all together. Most of the time I'm barely hangin' on. So…here's my Keepin' It Real photo. Lincoln is 13 months old and is into everything. I wasn't feeling well today and he didn't get dressed until AFTER dinner was made tonight. It only happened then because he destroyed a chocolate chip granola bar and sat in it. His big sister cleaned him up for me. Also…it appears that the only thing in the turn table is peanut butter. First of all, I have no idea why there are 3 jars, but reality is all other items were on the floor keeping the mangled granola bar company!