Do you ever have an idea that totally consumes you? Like…you think about it constantly? Mostly in the middle of the night when you should be sleeping? That is what happened with the idea for these steampunkins! I spent some time looking at steampunk style online and made a trip to a couple local thrift shop for "parts." I know they are totally crazy and over the top…but I love them. I am glad to have them done though. Now I can just sit and look at them and smile. 🙂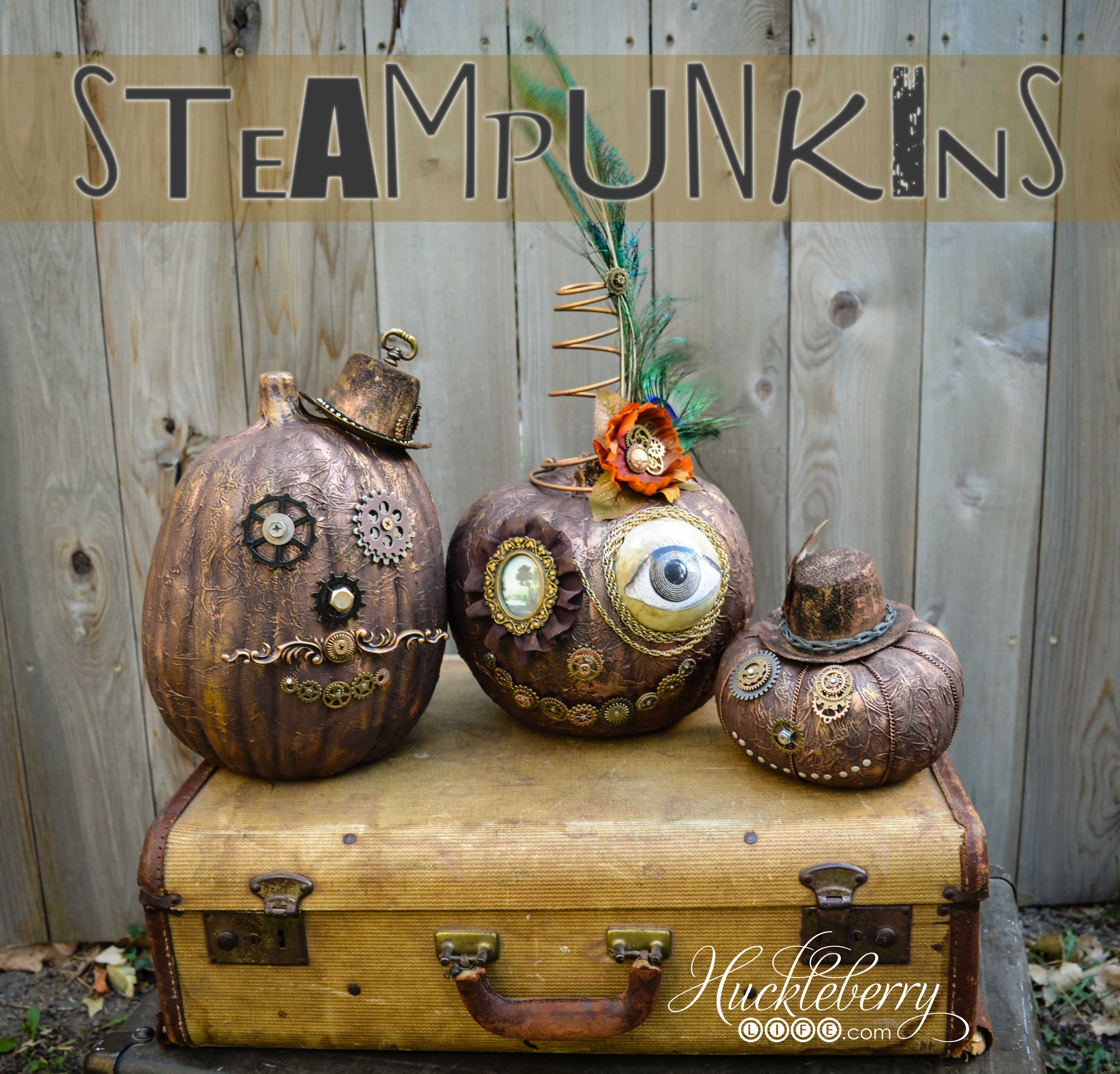 I'm not going to lie, this is a pretty time consuming project. I had a blast making them though! It feels so good when I just allow my mind to wander and be creative. First I had to track down a few artificial pumpkins. I had two from last year that I found at a thrift store. The third one I got at Hobby Lobby and used a coupon. They are kind of spendy!  I also toyed with the idea of making paper mache pumpkins but that sounded like more work. 🙂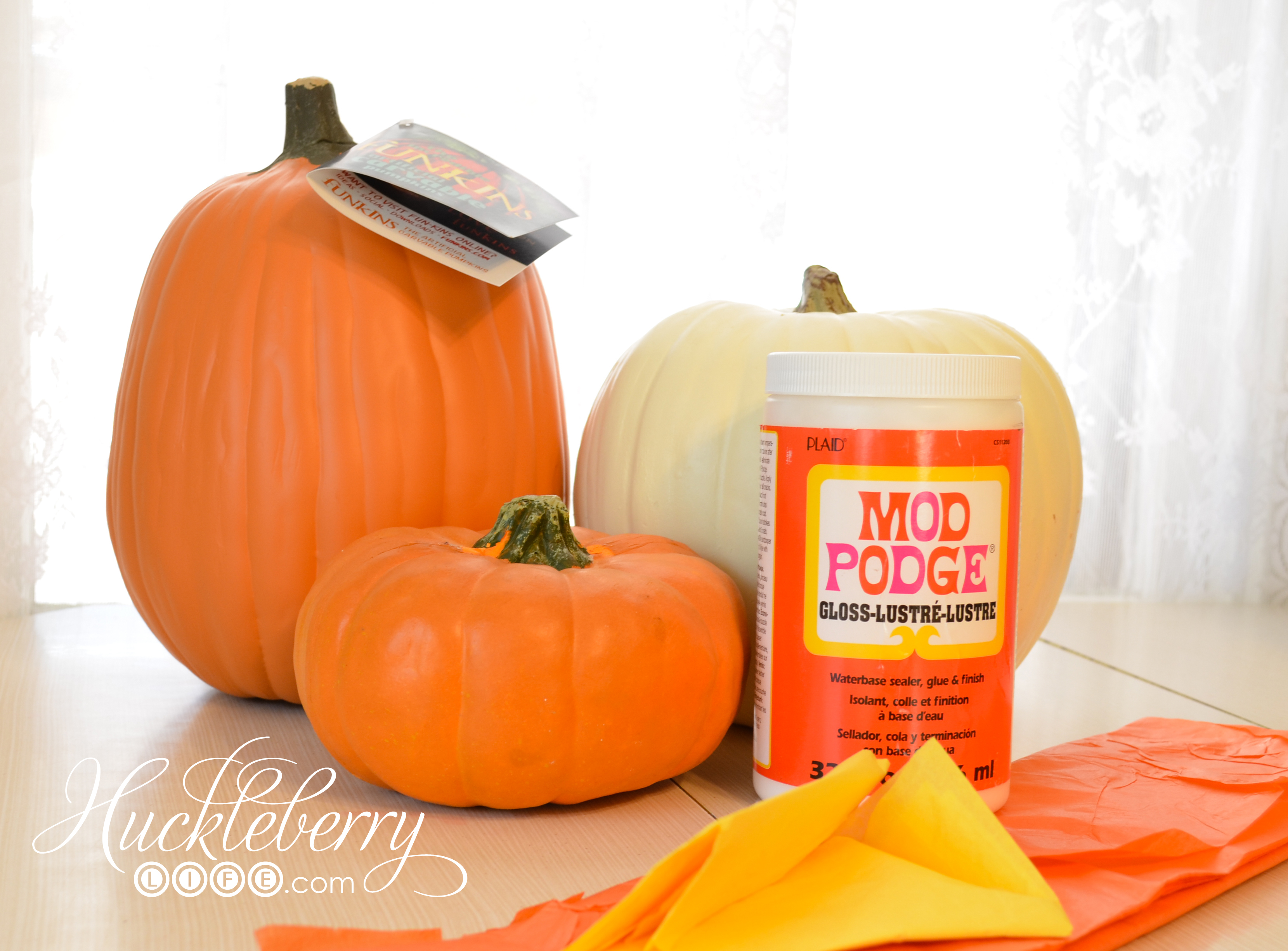 To begin you will need the pumpkins, mod podge and tissue paper. Check out that bottle of MOD PODGE! A very amazing friend of mine gave that to me as a birthday gift. She knows me well! The process to get the amazing texture on the pumpkins is pretty simple. Crinkle up that tissue paper and mod podge it on. You can't really mess it up…but you can get VERY messy!
I found this amazing eyeball while perusing the thrift store and knew I had to use it on my steampunkins. I cut the eyeball in half with a knife…it's just styrofoam inside…and traced it and cut a hole in one of the pumpkins.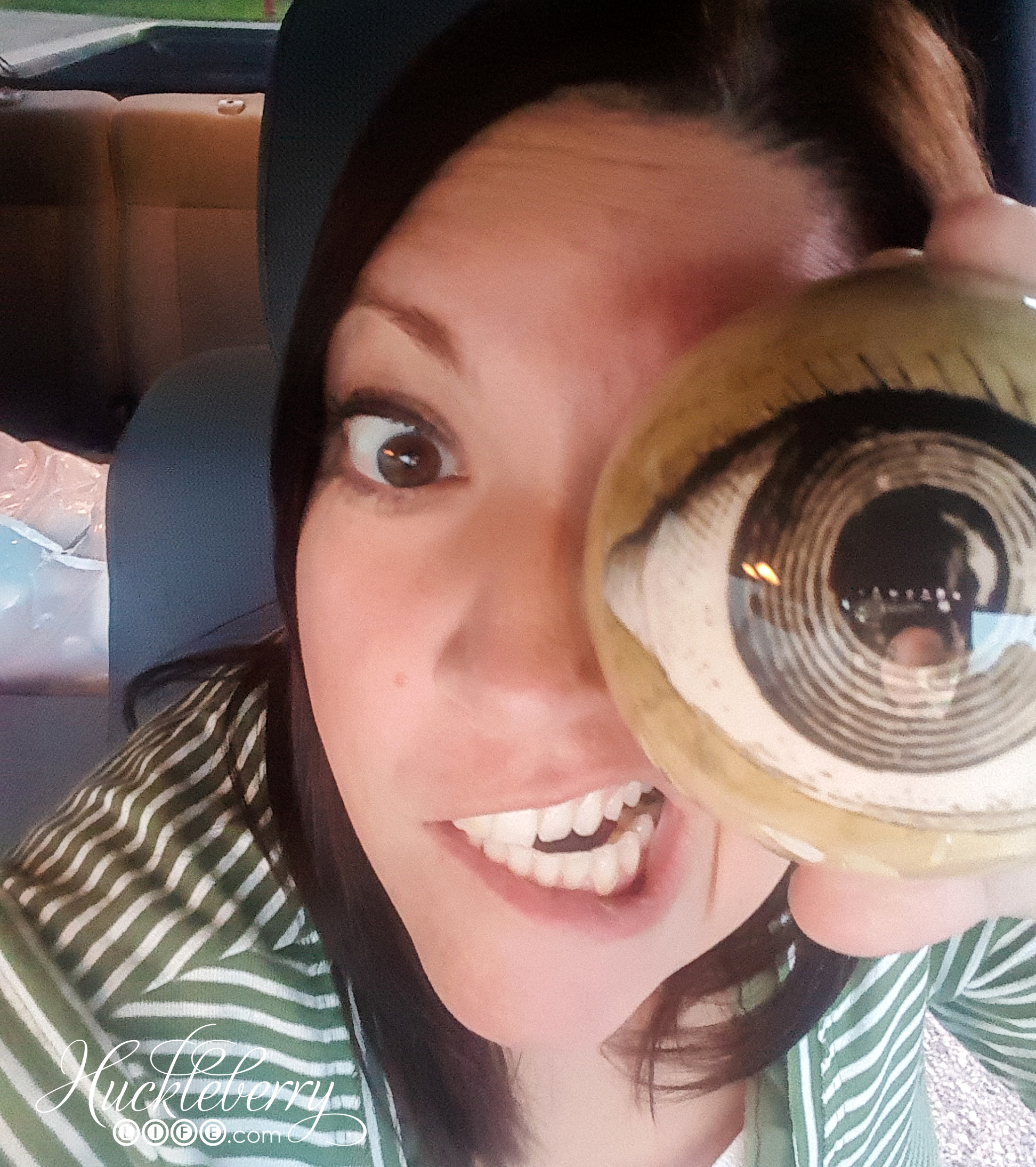 Once the mod podge is dry pick a dark color of craft paint and paint over the whole pumpkins and allow to dry.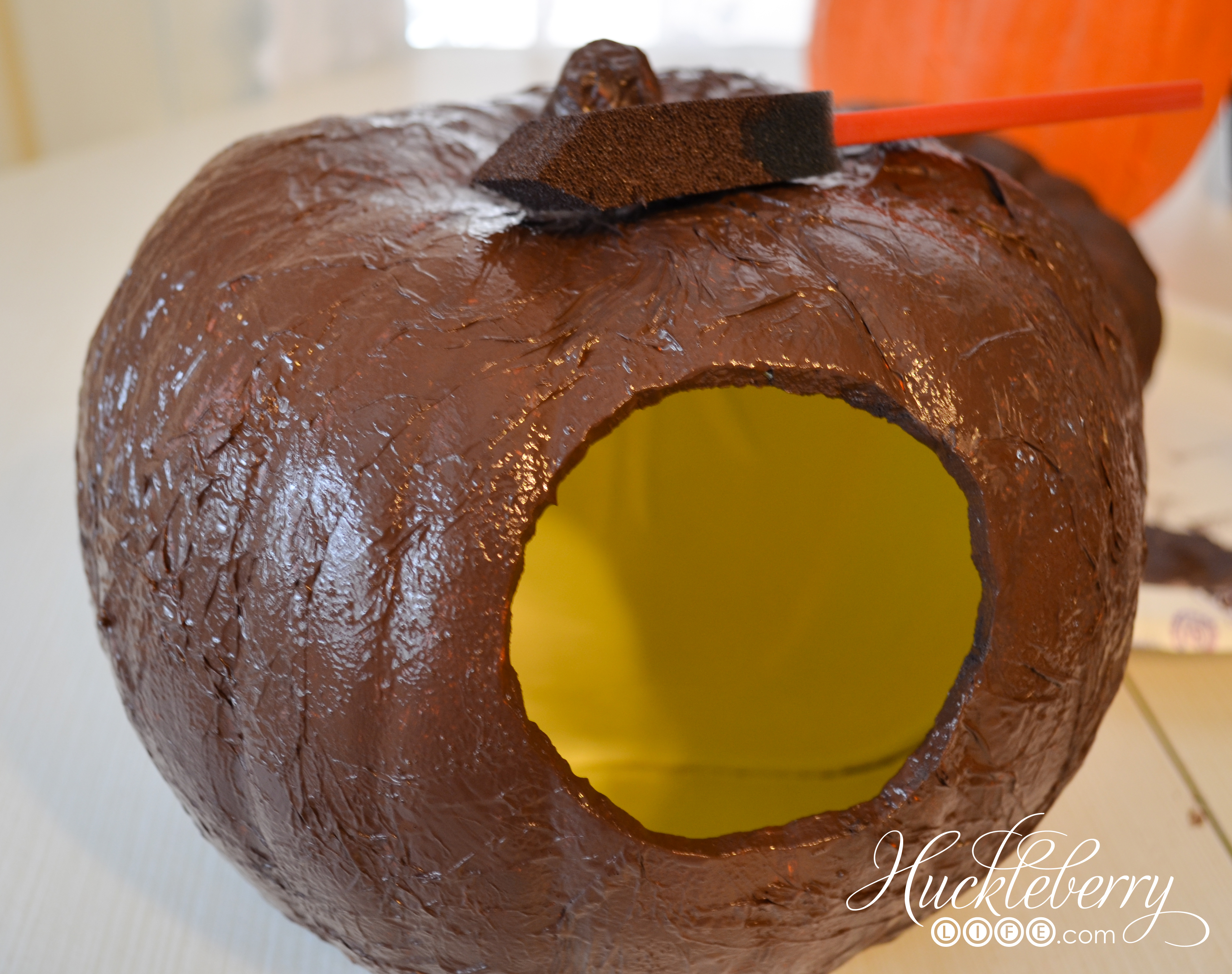 Next is the BEST part. This is where the magic happens. I used Rub N Buff in 3 colors: autumn gold, European gold and Grecian gold. You can find Rub N Buff at Hobby Lobby or on Amazon. I'm sure they carry it at other craft stores as well. To use the Rub N Buff put a very small amount on your finger and rub it between your finger and thumb. You don't want much on there because you just want to bring out the raised texture and not paint the whole thing gold. I am a very messy crafter and got it on all of my fingers. It comes off pretty easily with dawn dish soap and hot water. Do one color at a time and try not to flick a tear as the magic happens.

Isn't that incredible?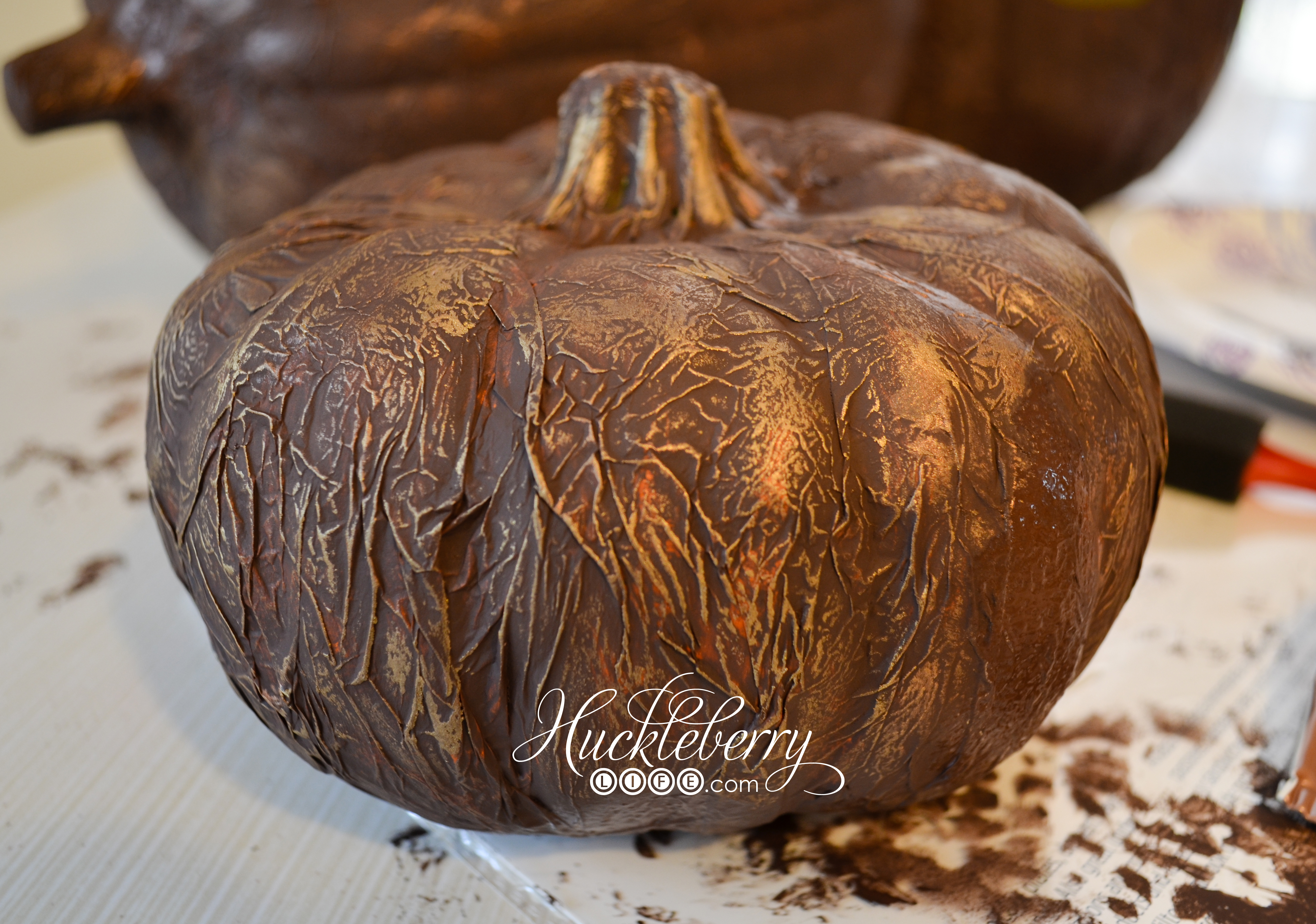 Next you get to accessorize the punkins and let them COME TO LIFE! This part was seriously so fun. I ordered a pack of gears off of Amazon and found the bigger ones at Hobby Lobby. For Mrs. Punk I used the infamous eyeball and a broach from a thrift store as another eyeball. I hot glued the ruffled ribbon around the back before gluing it on the pumpkin. The gold chain came with the broach and I hot glued it around the eyeball to cover the less than perfect hole cutting job I did. 🙂 For her mouth and nose I used the gears. Rub N Buff was used again here. I wanted to have a variety of texture and colors throughout. Her hat is an old bed spring that I picked up at a…you guessed it…THRIFT STORE! I decided to add some Rub N Buff to it as well. I wasn't sure what to do with the hat so it was one of the last things I did. I decided to go nuts with it and added some peacock feathers I had from another project and a flower. Isn't she elegant?! Ha!
For Mr. Punk I used gears for the eyes, nose and mouth. I was overly excited today when I was looking for something and found the perfect mustache! I used Rub N Buff on every inch of him. I purchased his little top hat off of Amazon and although I pictured it being bigger, I think it suits him well. I thought about leaving it black but am so glad that I decided to use Rub N Buff on it too. I had bought the awesome black ribbon with gold studs a while ago just because I liked it. I thought it was a nice touch to his hat. I finished the hat off with more gears. Isn't he so sophisticated looking?!
For Punk Jr. I used gears for the eyes and nose and little brads for his mouth. The artificial pumpkins are super easy to use. I was able to just push the brads right in. I also used little finish nails on the gears on all the punkins and a screw here or there. I even whipped out a screw driver for that part. I felt so handy! Punk Jr. also got dressed up with a top hat. For his hat I used a piece of chain and some feathers. I topped the feathers off with a tiny key I had in my stash of "treasures." I also had a thin chain that was just long enough to go around and around him in the creases. I just love him….and the whole family!
What are you waiting for? Go make yourself a steampunkin or two today!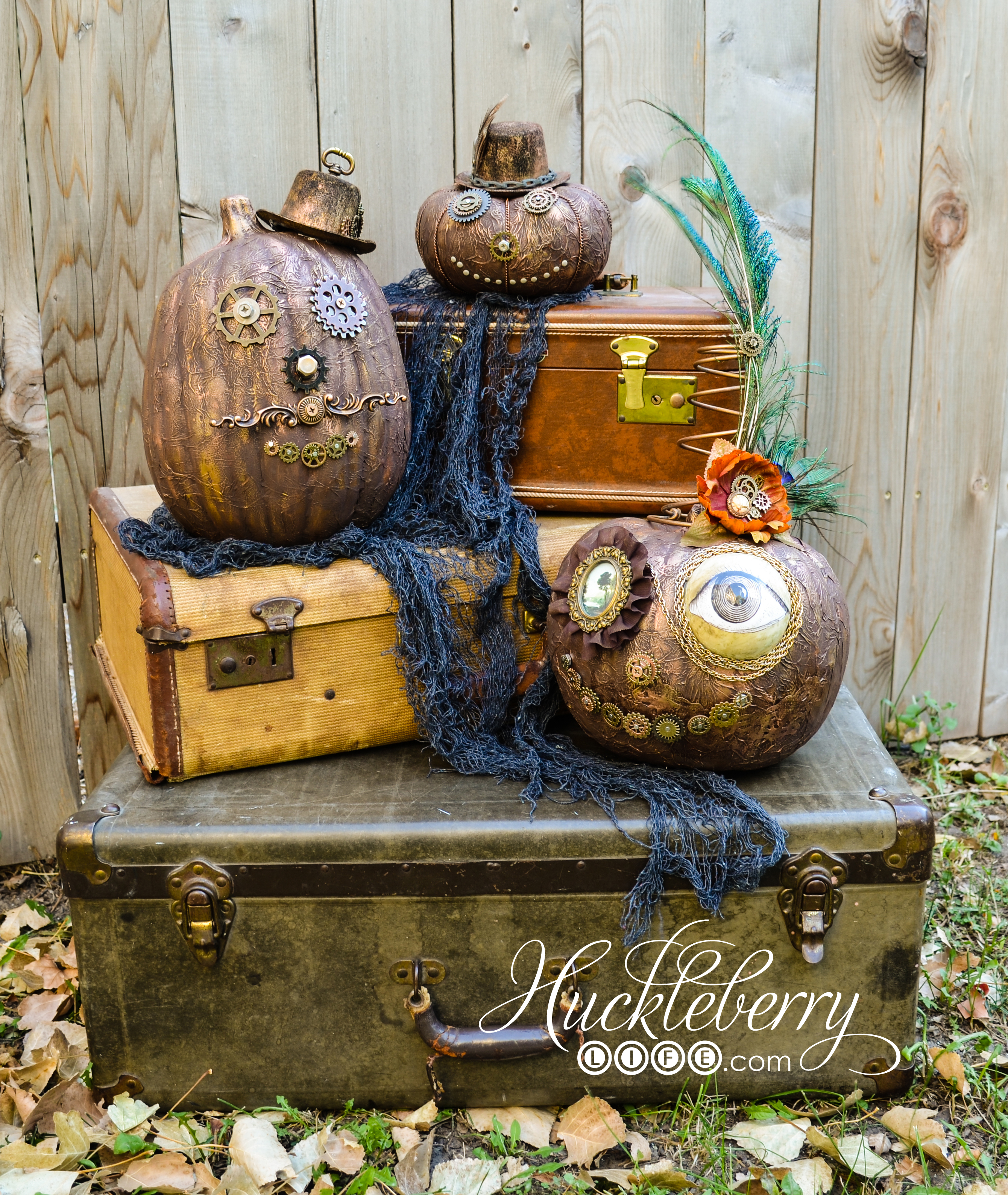 If you love these guys as much as we do, make sure to share with your friends on Facebook and Pinterest!