You guys! I have been DYING to share this baby shower with you. When we lived in Texas I had some AMAZING and VERY TALENTED friends. Several of us worked together on this shower. It's always amazing to me what we can accomplish when we work together…and it is SO MUCH MORE FUN!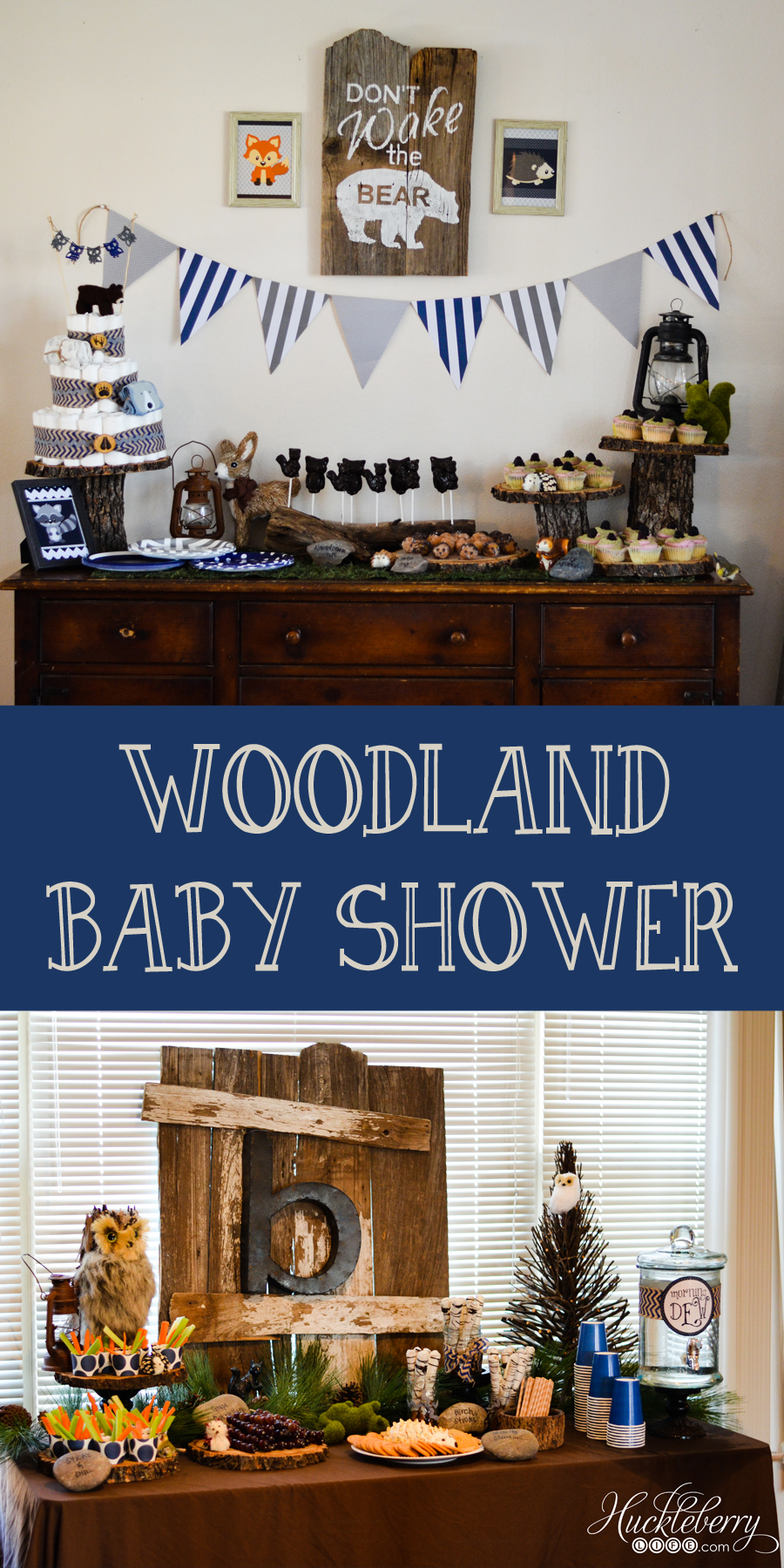 So much eye candy! This shower was for our friend, Camilla. Her baby boy is named Bear! This was the perfect theme for his baby shower and she was even able to use some of the things we made in his nursery.
Here is the invitation. I found the cute woodland animal clipart on etsy…wish I could remember the shop name! I designed the invitation and prints using Photoshop Elements and printed them as a 4×6 photo. I removed Camilla's last name and the address on the invitation for this post…that's why it looks funny.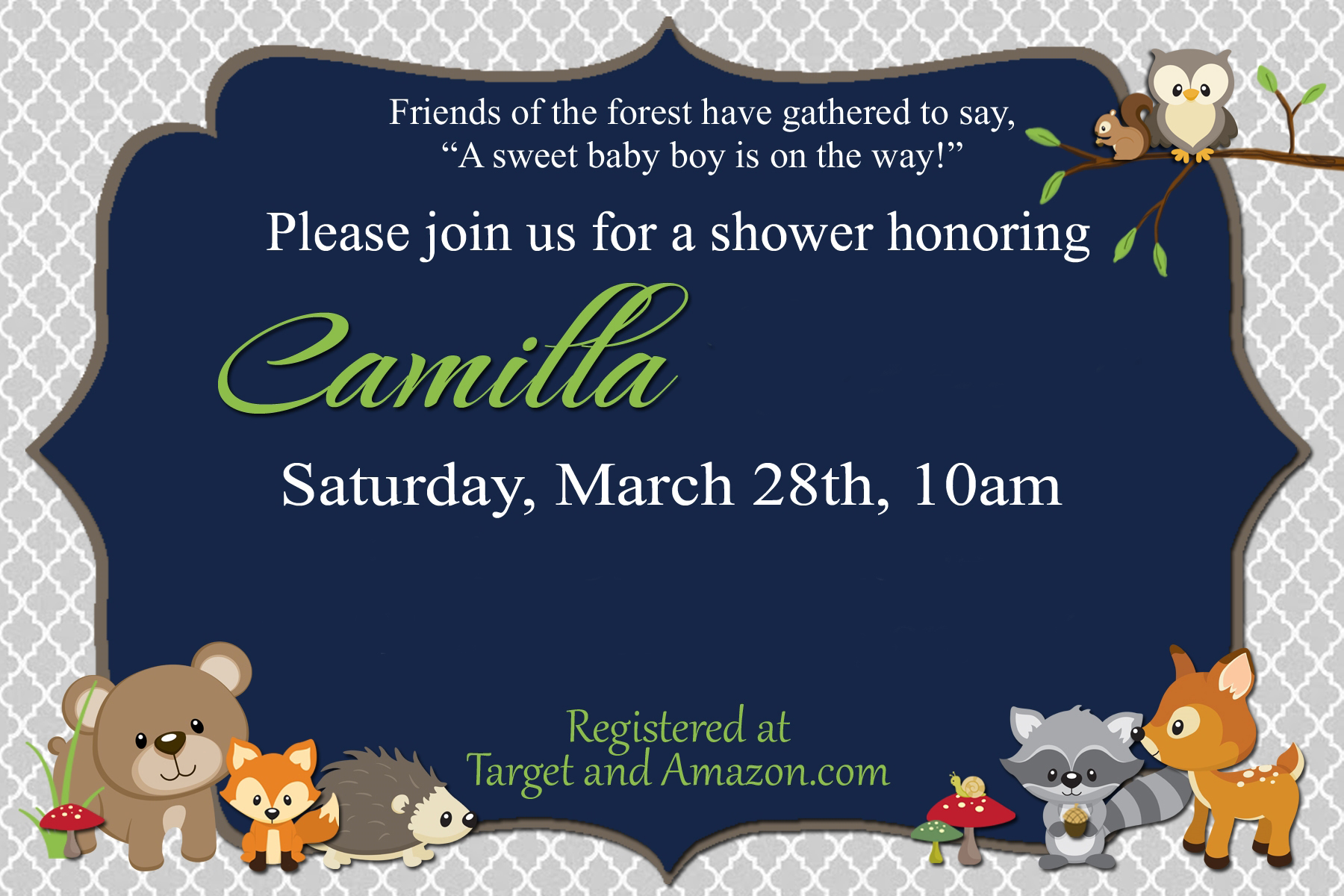 I printed these little pictures and used cheap frames.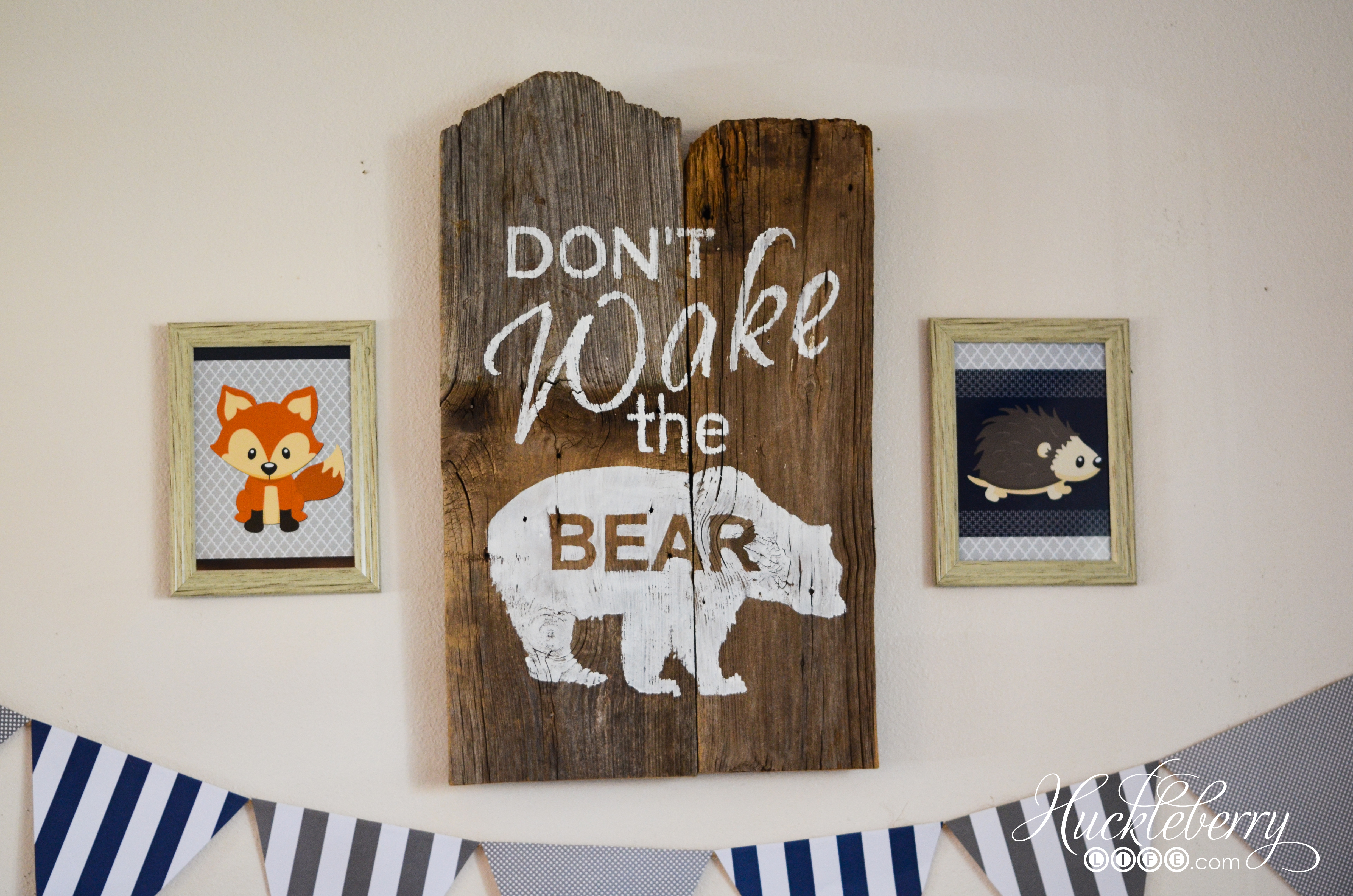 The wake the bear sign was made by me and my friend, Cassie. We used POWER TOOLS and it felt so good! I'm actually pleasantly surprised that we didn't lose any appendages. We used a skill saw to cut the board out on the lawn in the dark. I do not recommend that method! We designed the words on her Silhouette and cut out vinyl to use as a stencil. This was a super tricky sign to paint because the wood was so rough and uneven. The vinyl didn't stick very well so it took lots of patience. We all thought that it turned out super cute though and Camilla loved it and was so excited that she got to keep it. 🙂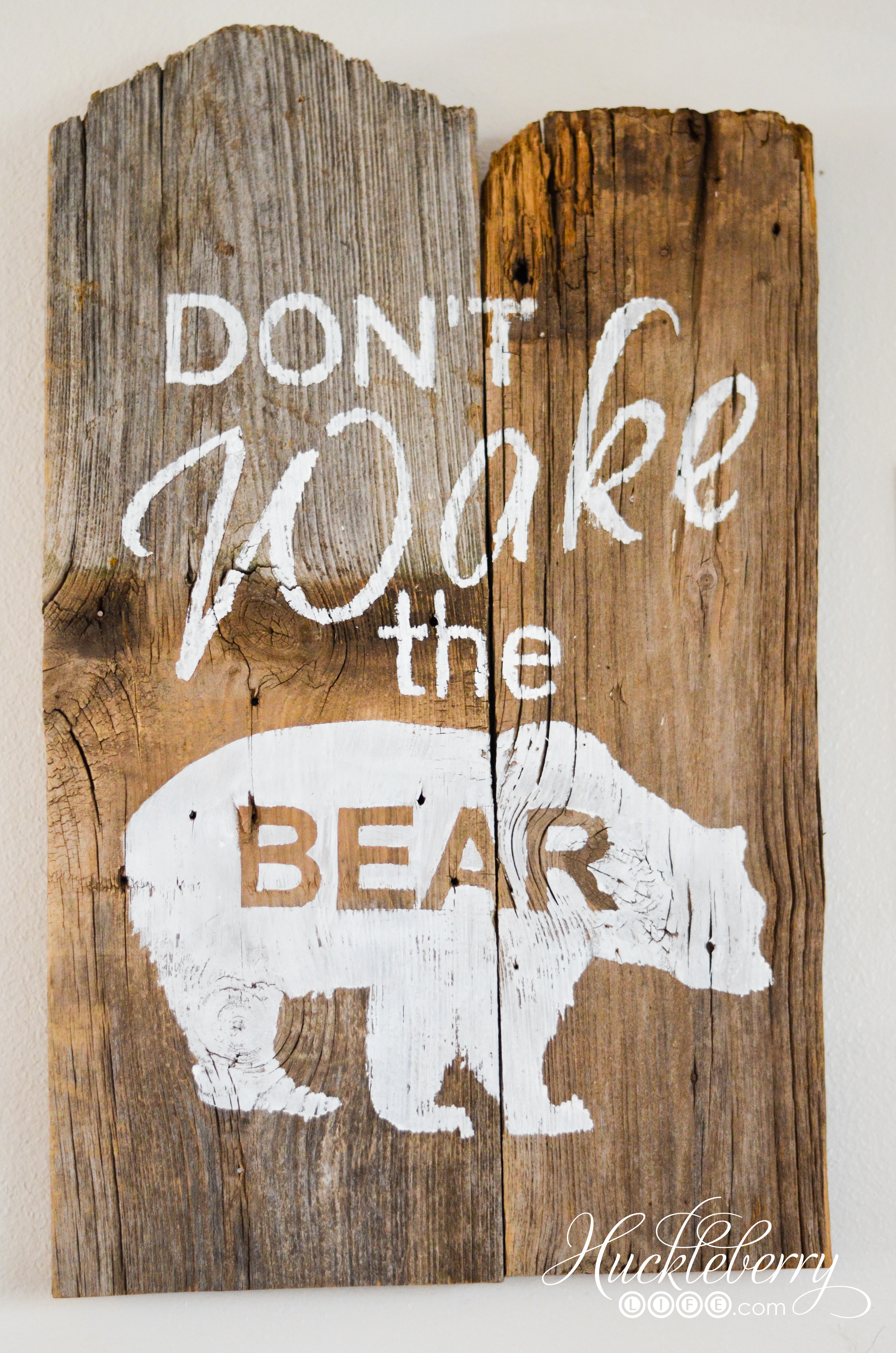 Okay. Let's check out that spread a little closer. We had two big tables for all the food and decor. Some things were made specifically for the shower but LOTS of it was stuff that we all had at home. Here's the first table.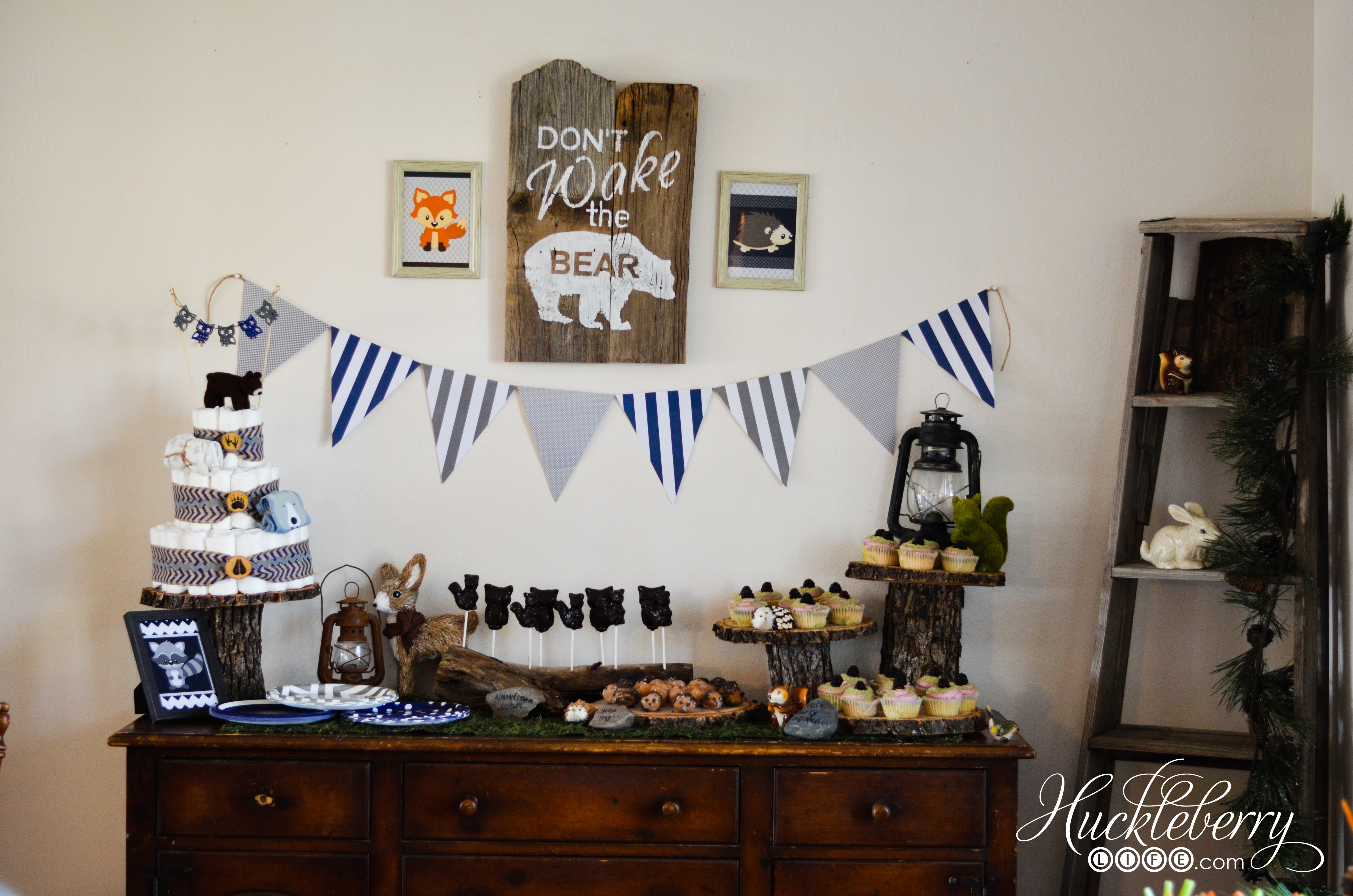 So cute, right? The bunting banner is just scrapbook paper, twine and hot glue. So easy and inexpensive and makes it really feel like a party! Here's a close-up of the diaper cake I made. I rolled the diapers and secured them with rubber bands. I used adorable chevron burlap ribbon and ricrac around each tier and hot glued a little wood slice that I had wood burned animal footprints on. This was so easy to do and turned out so cute! I got the little wood pieces at Hobby Lobby and looked up some animal prints for reference while I burned. Have y'all ever tried wood burning? It is my FAVORITE! I need to find another project to wood burn soon. I love the smell…like a campfire…and it is so relaxing to me. I loved the mini owl banner. I found the little wooden owls at Hobby Lobby and painted them and used some little dowels and twine to make the banner. I also added a cute little bear outfit that I saw at Target and couldn't resist!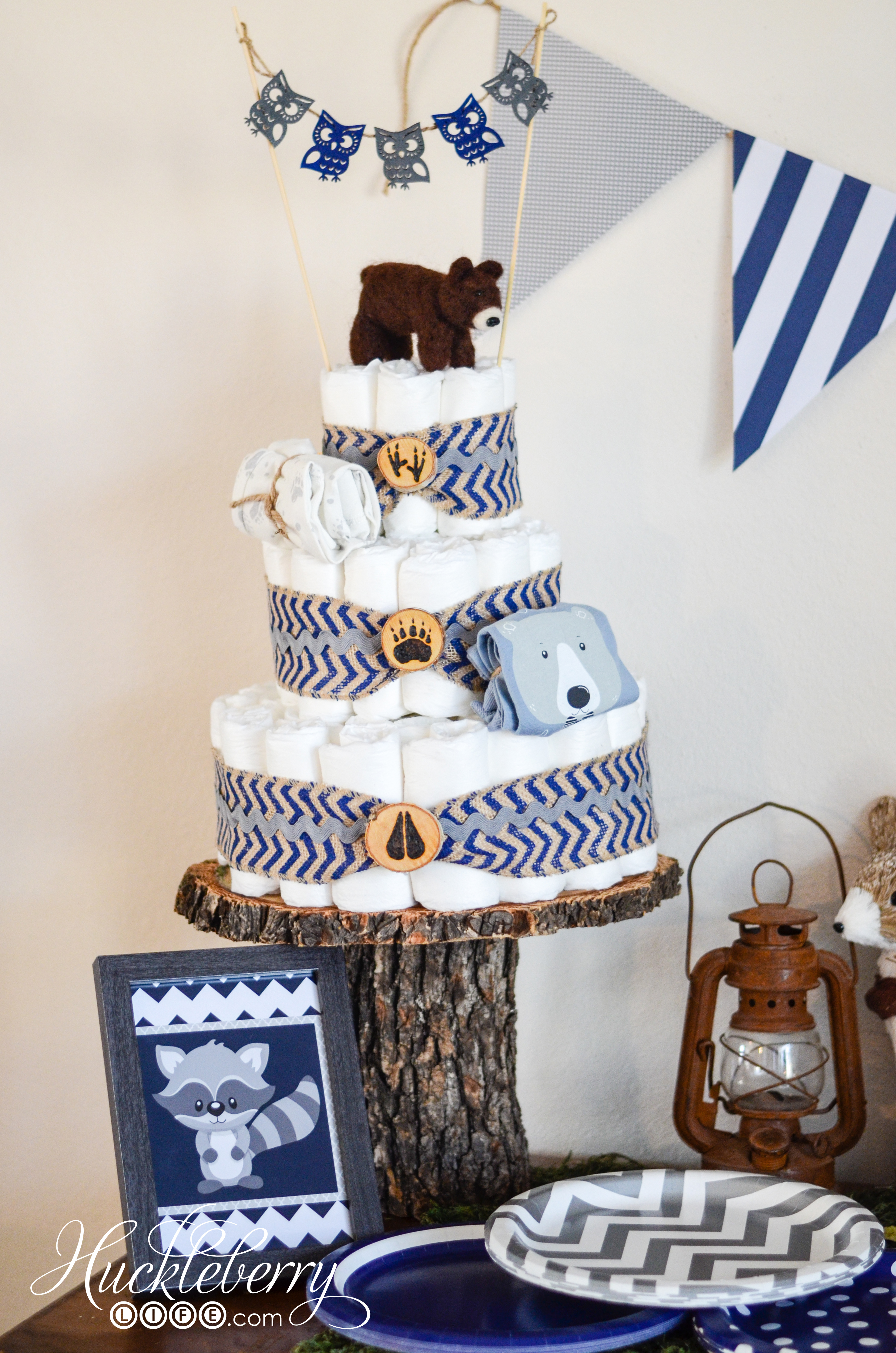 This ADORABLE little bear was a labor of love from Cassie. She needle felted him and it took hours. Needle felting is another thing I would like to try soon. Cassie did a fantastic job on this bear and he was the perfect cake topper!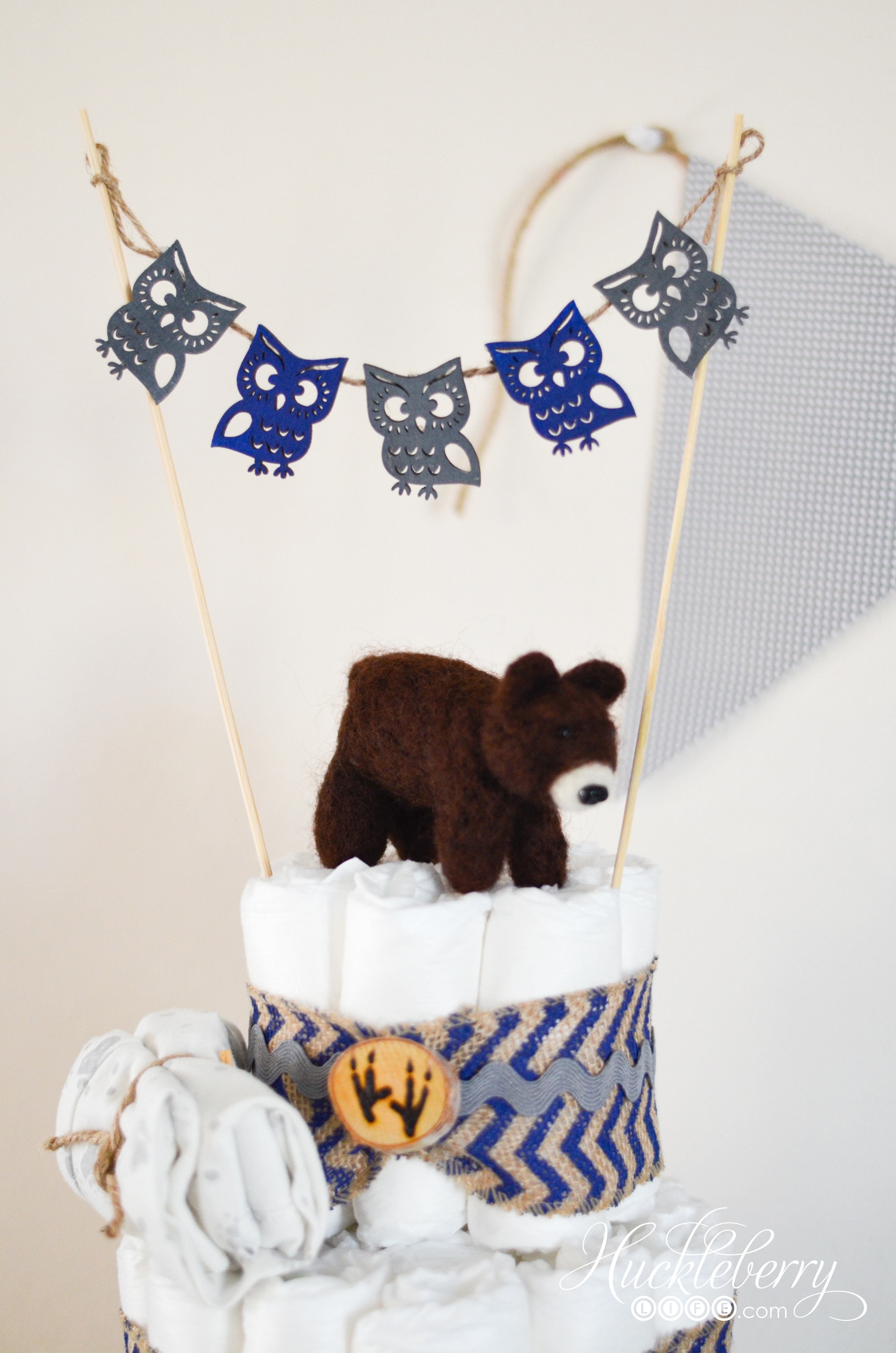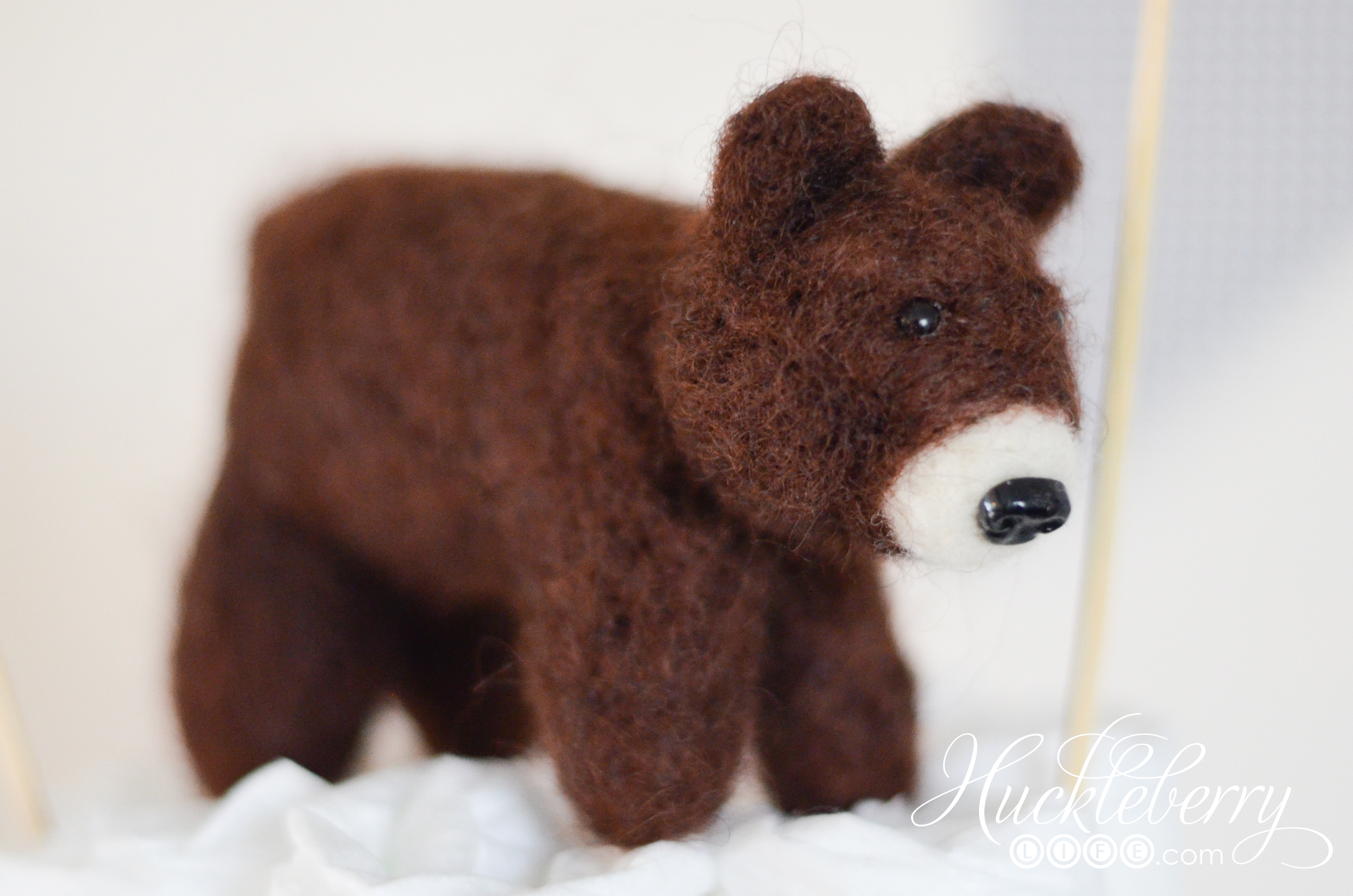 Let's talk about these cupcakes that my friend Jessica made. Are they not gorgeous?! They are a lemon cupcake with fresh berry frosting and topped with "moss" made from graham cracker crumbs and food coloring. Then she topped each one with a big, fat, beautiful black berry. They were as yummy as they look!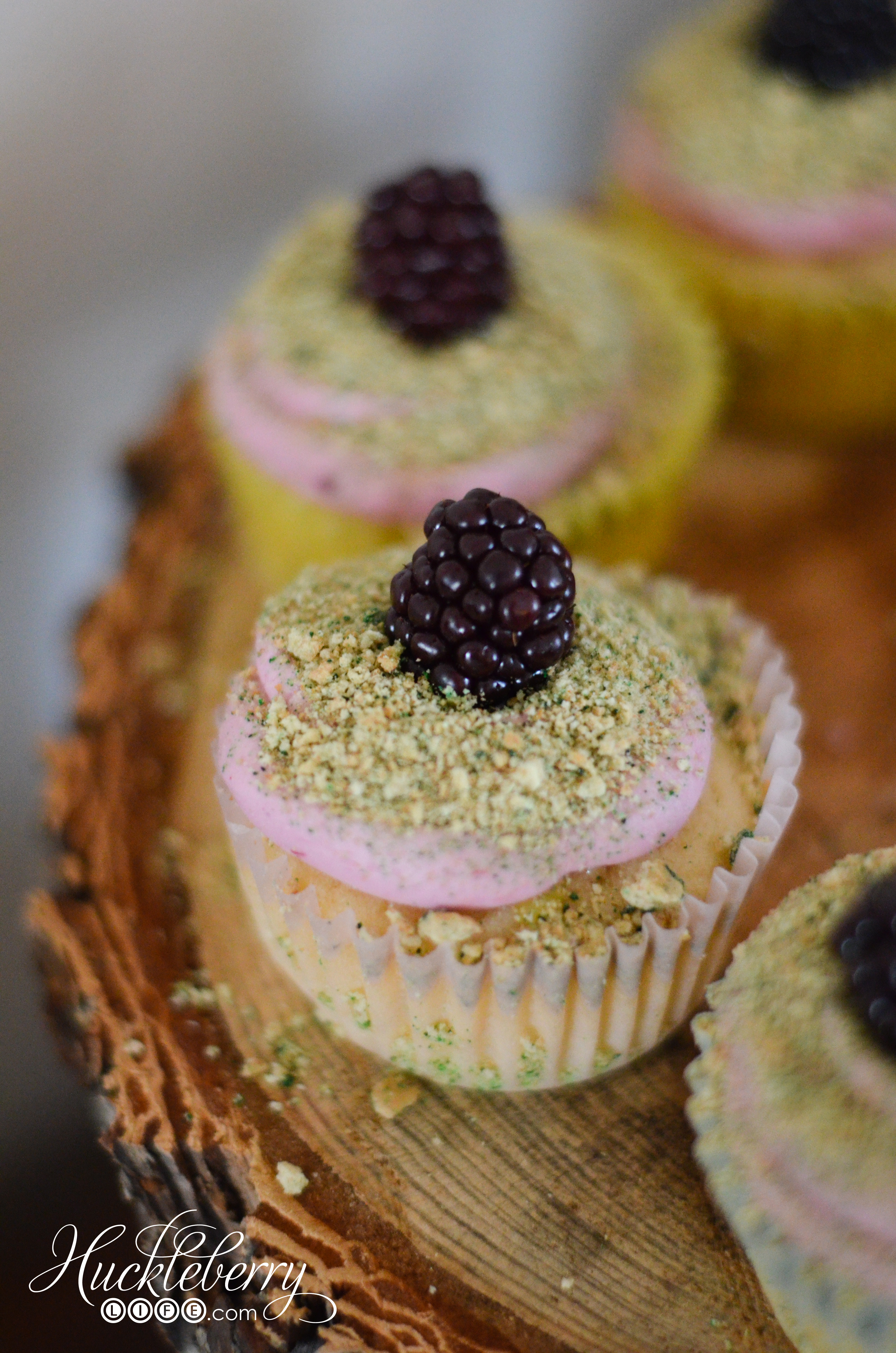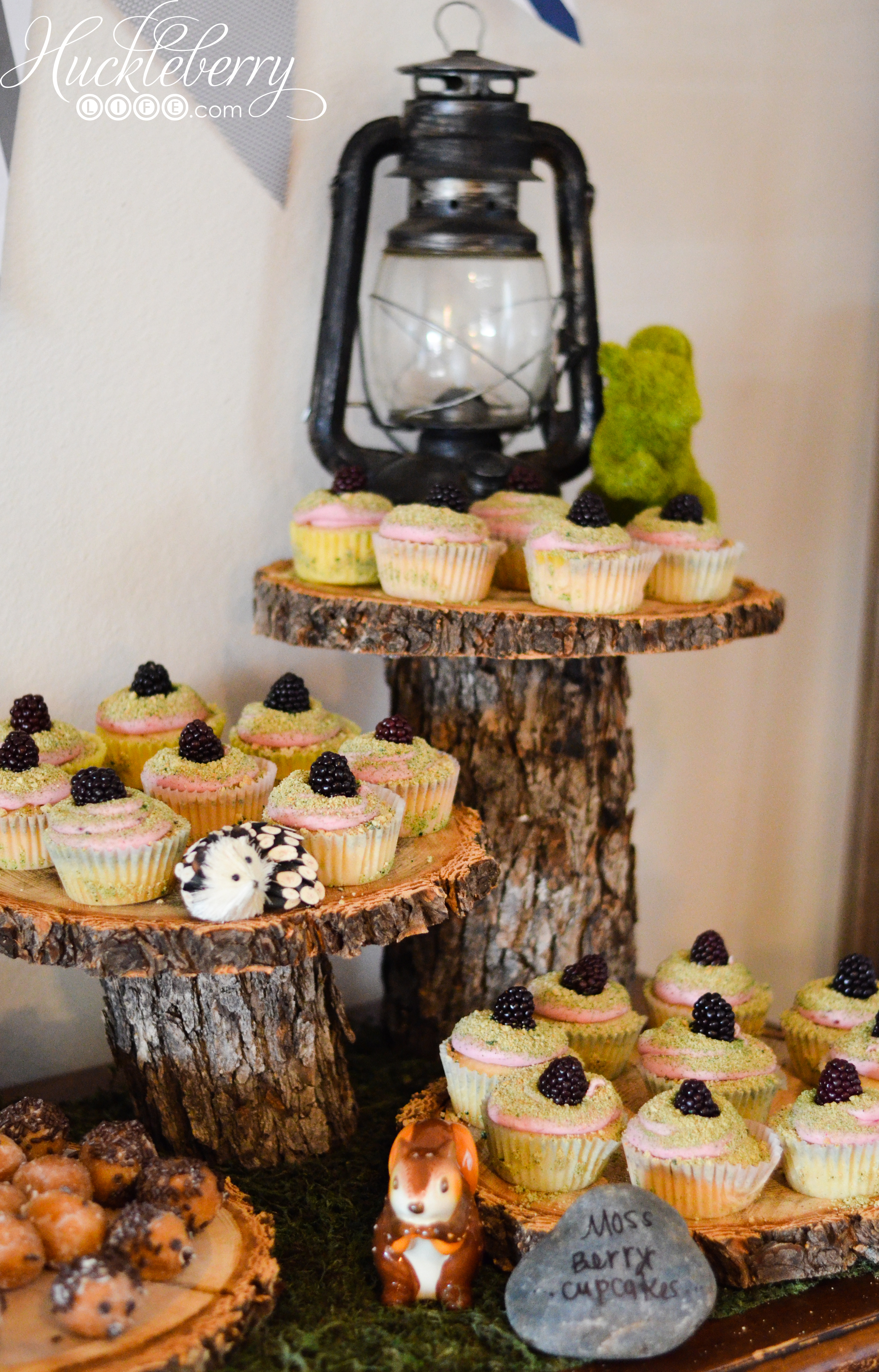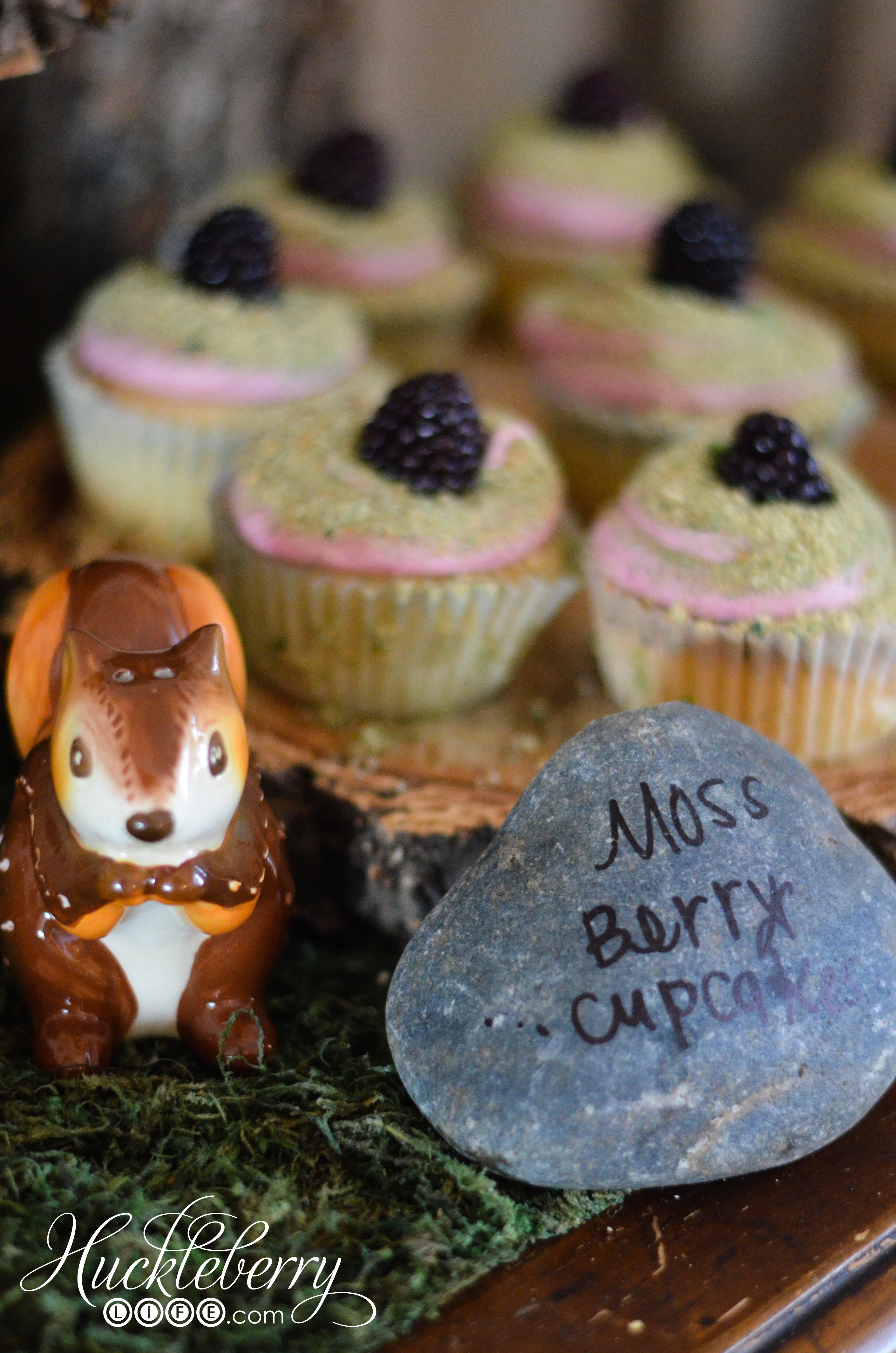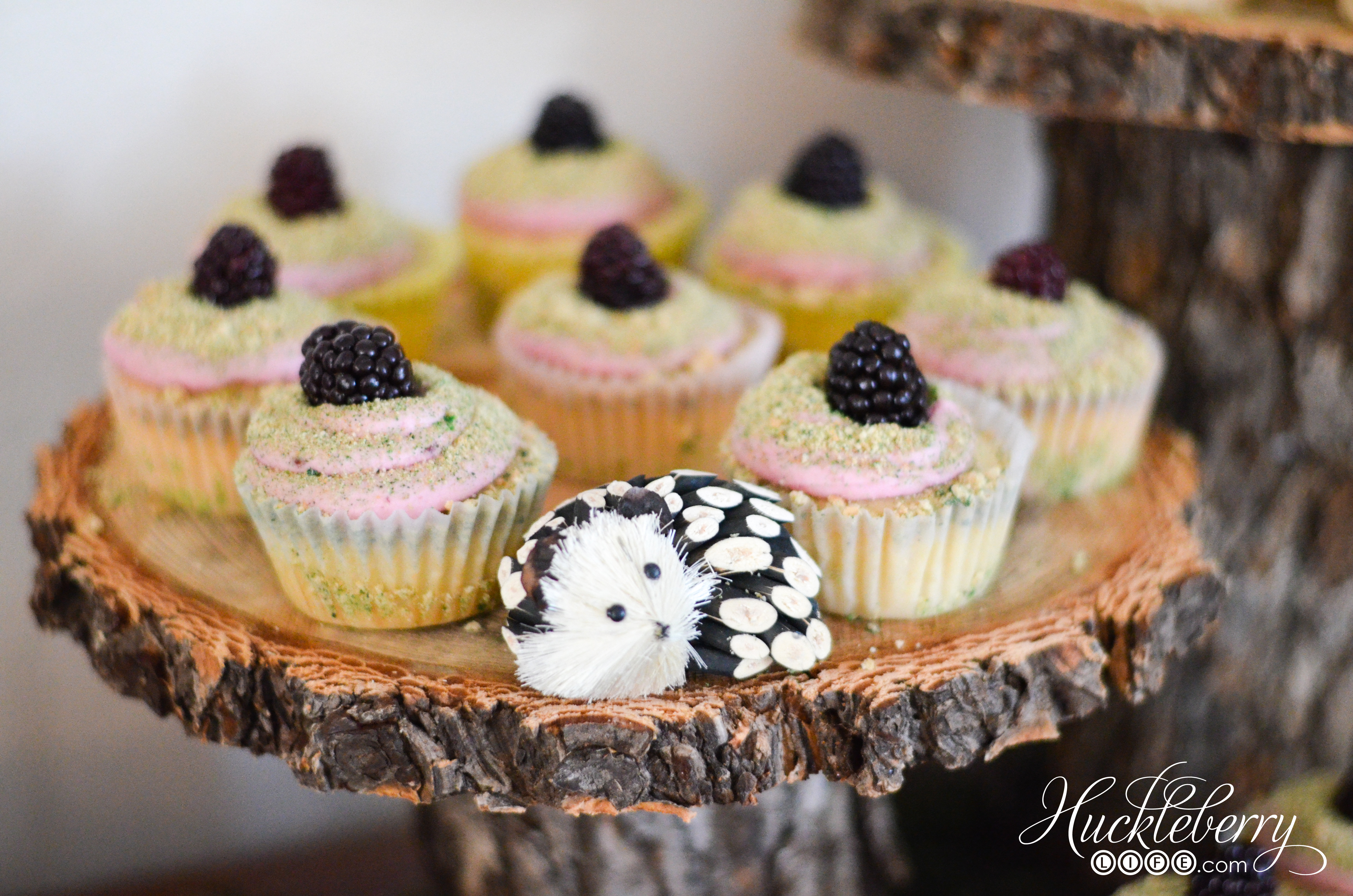 Cassie made these cute and yummy almond cream chocolate critters on a stick. So fun! We drilled holes in the logs to stick the sticks into. More POWER TOOLS. We had fun I tell ya! We also had hedge hogs made from donut holes, sprinkles and mini chocolate chips. The kids were excited to help out and collect rocks from outside for us to use for signs. We just wrote on them with sharpie marker. Doesn't get easier or cheaper than that!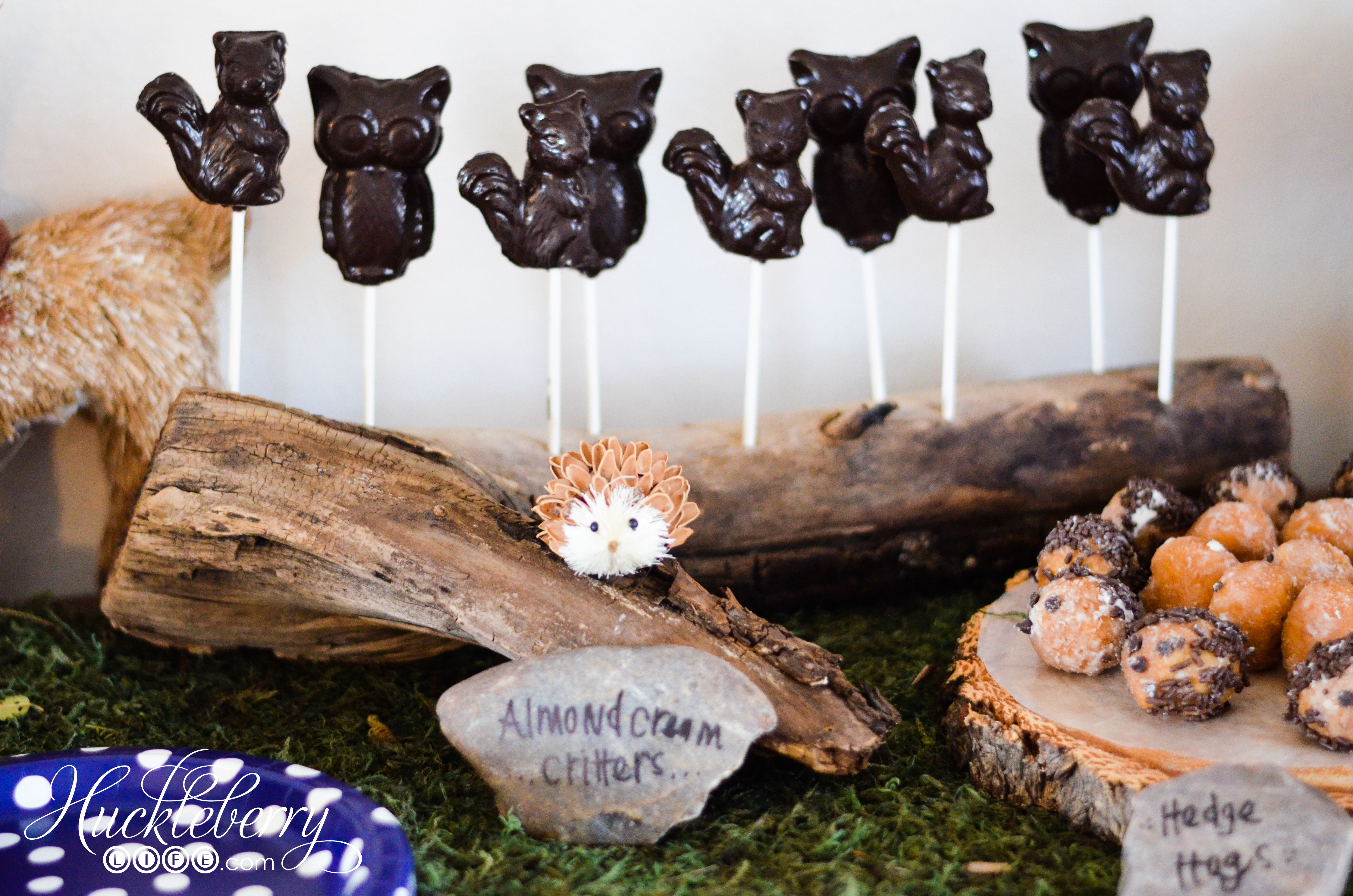 Here is what we did on the other table.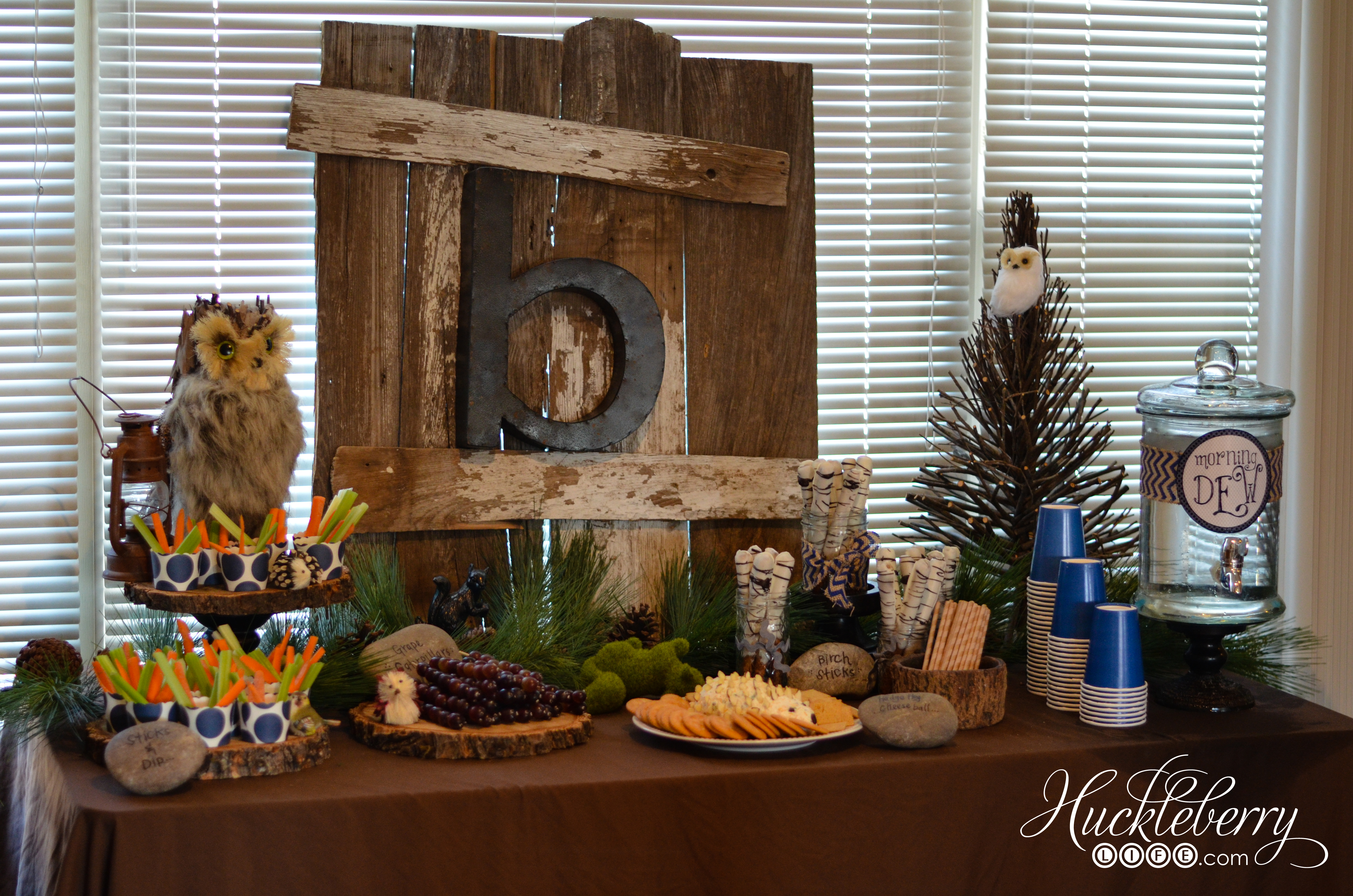 Cassie made these DELICIOUS and OH SO CUTE birch sticks. They are pretzel rods dipped in caramel and chocolate. NOM NOM NOM. Can I go back to this party right now and grab a snack?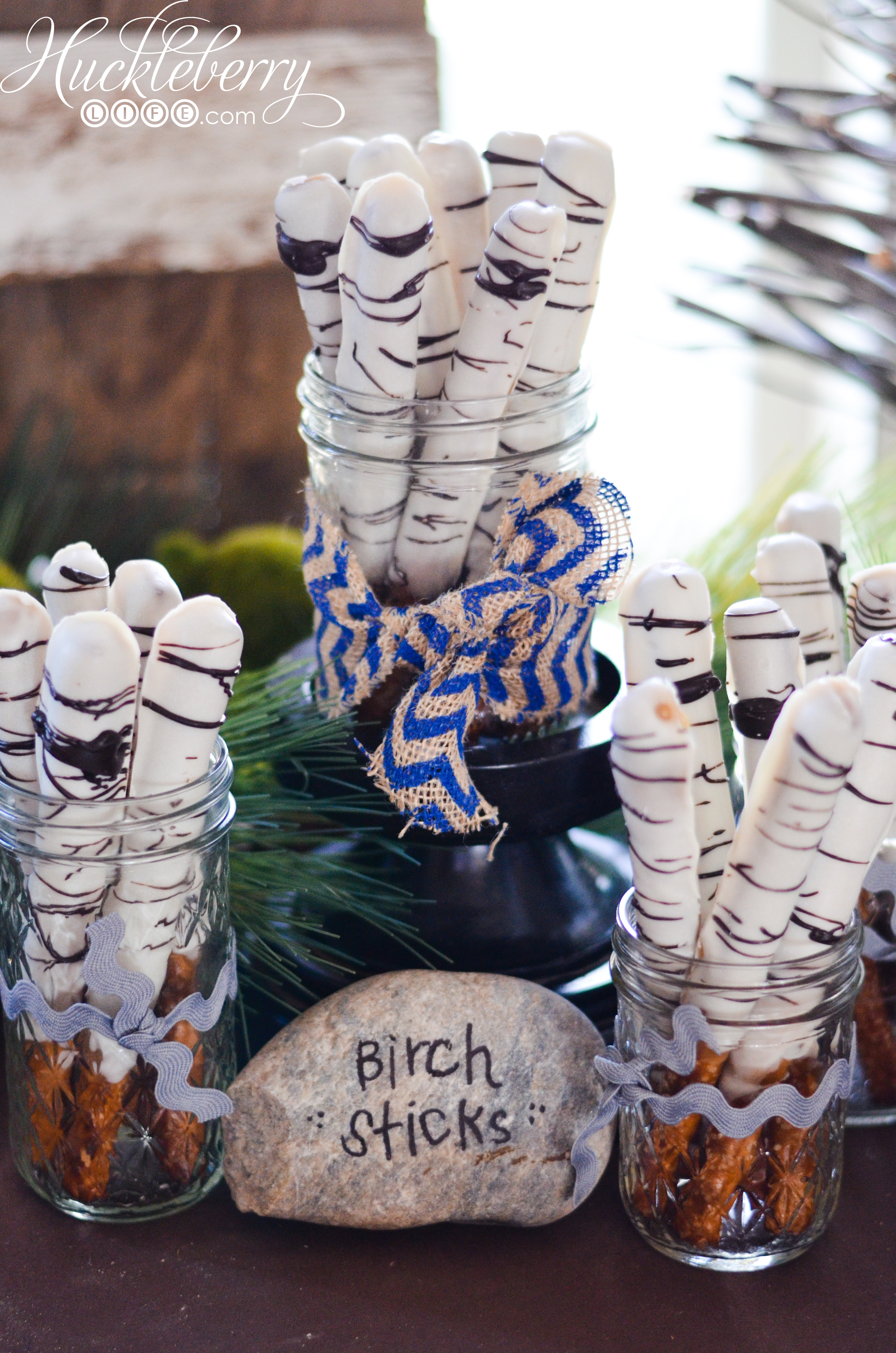 And grape caterpillars!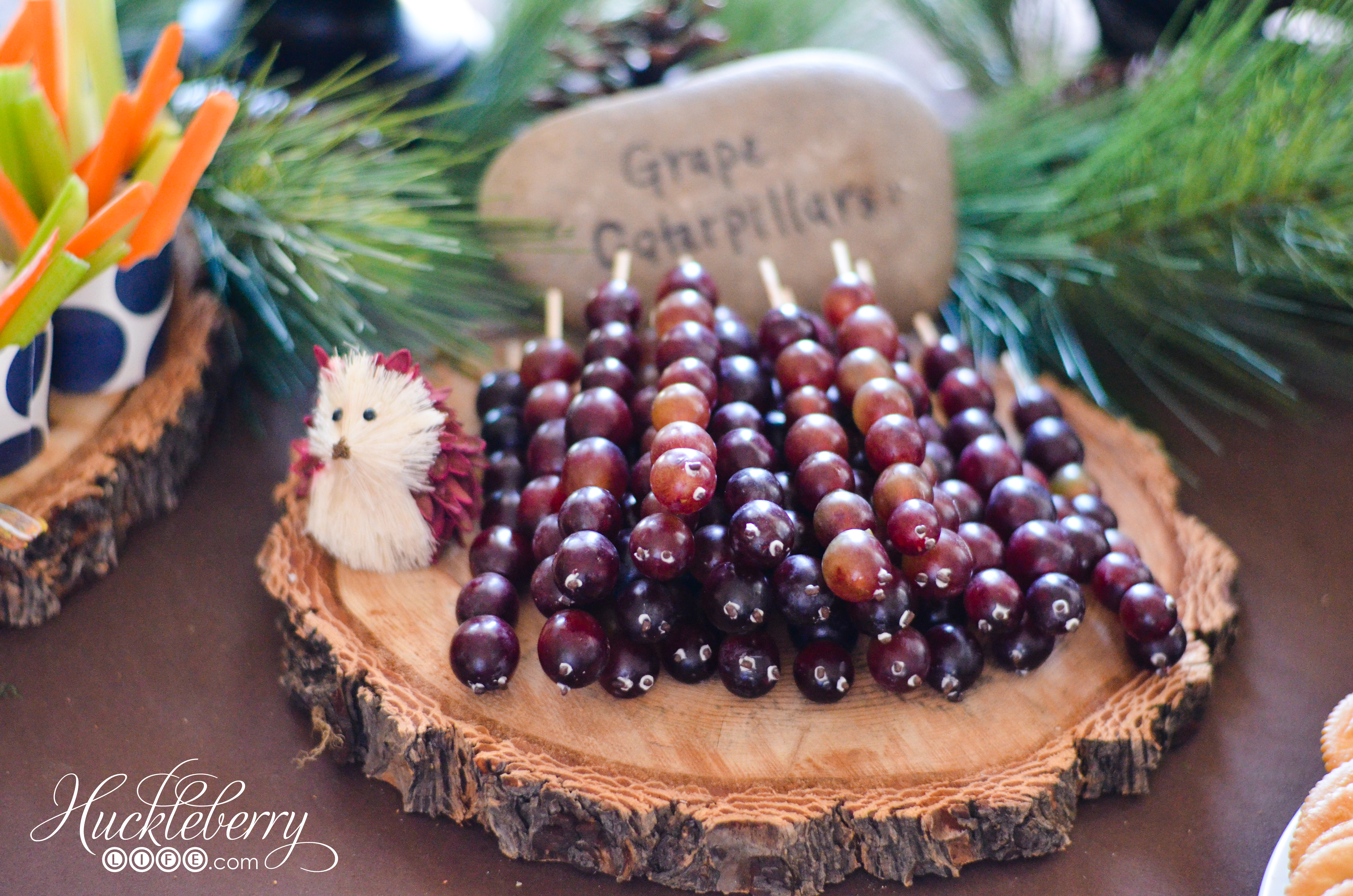 We were worried that this hedge hog cheese ball was going to be a "Pinterest fail" but he turned out not so scary…and he tasted good too!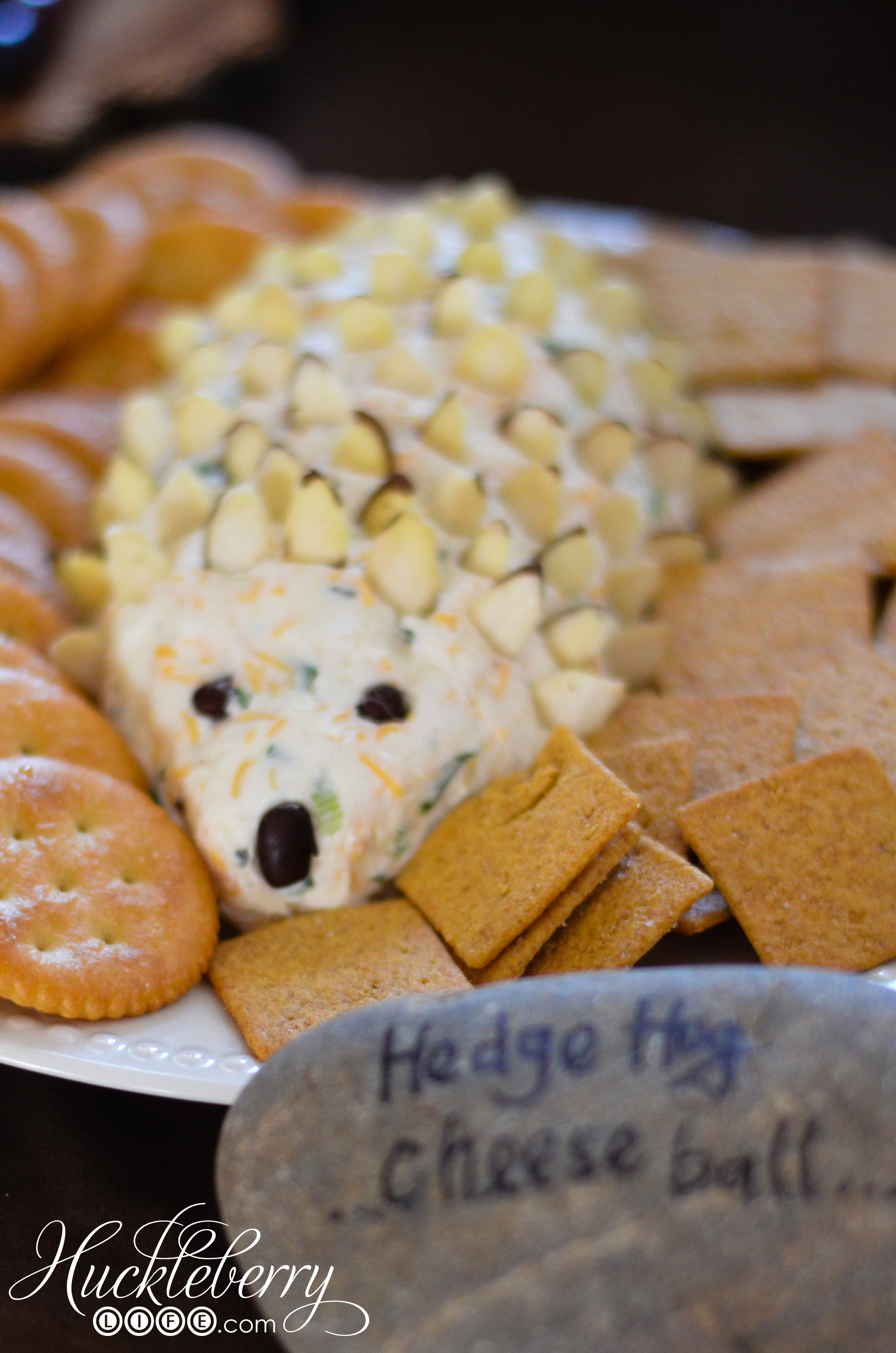 Carrot and celery sticks and ranch dip in the cutest little cups!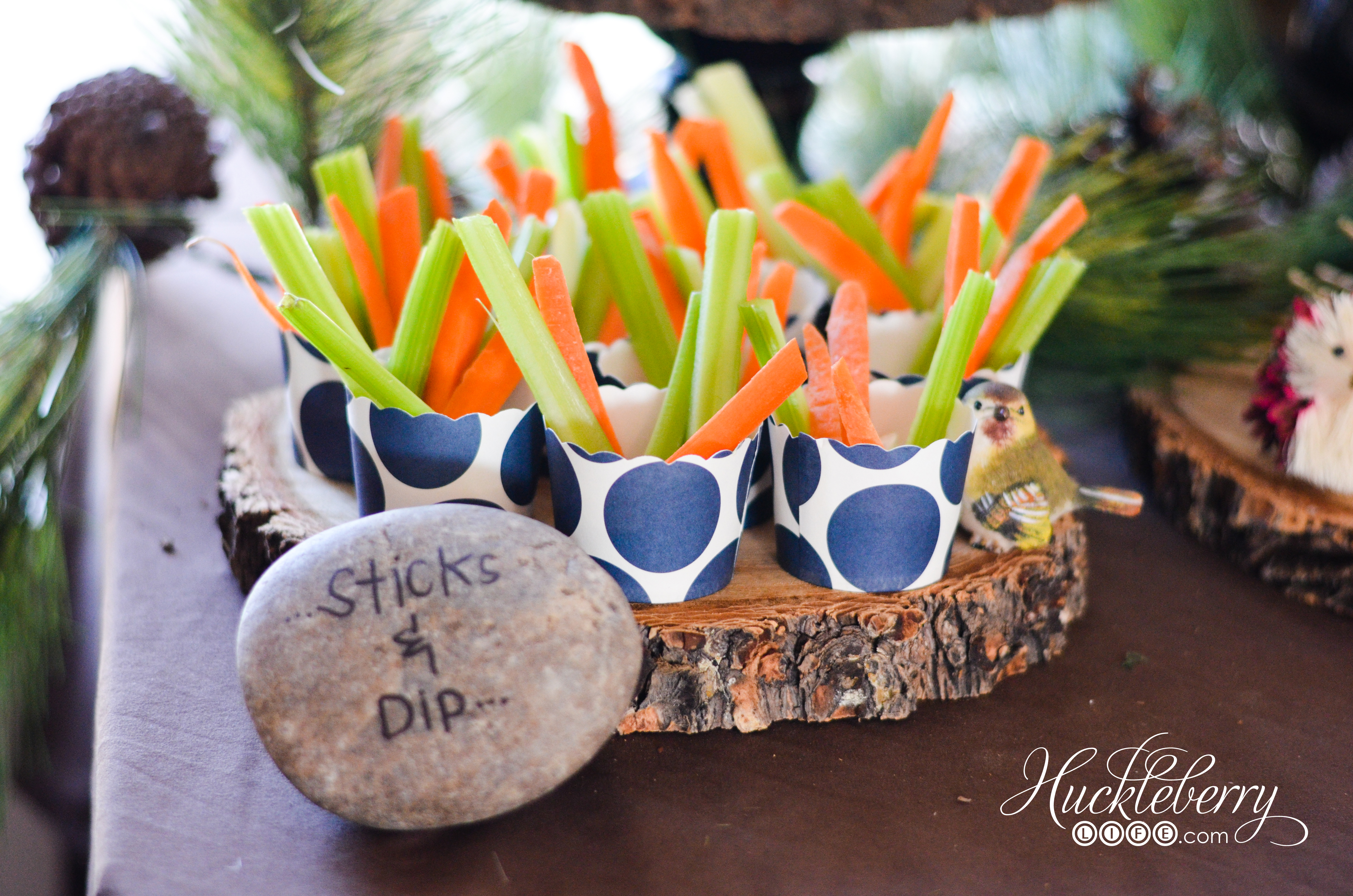 We had "morning dew" to drink…a.k.a. ice water. I printed the sign for this along with the invitations and wall hangings at walmart. I am always such a procrastinator that walmart one hour photo is usually my only option!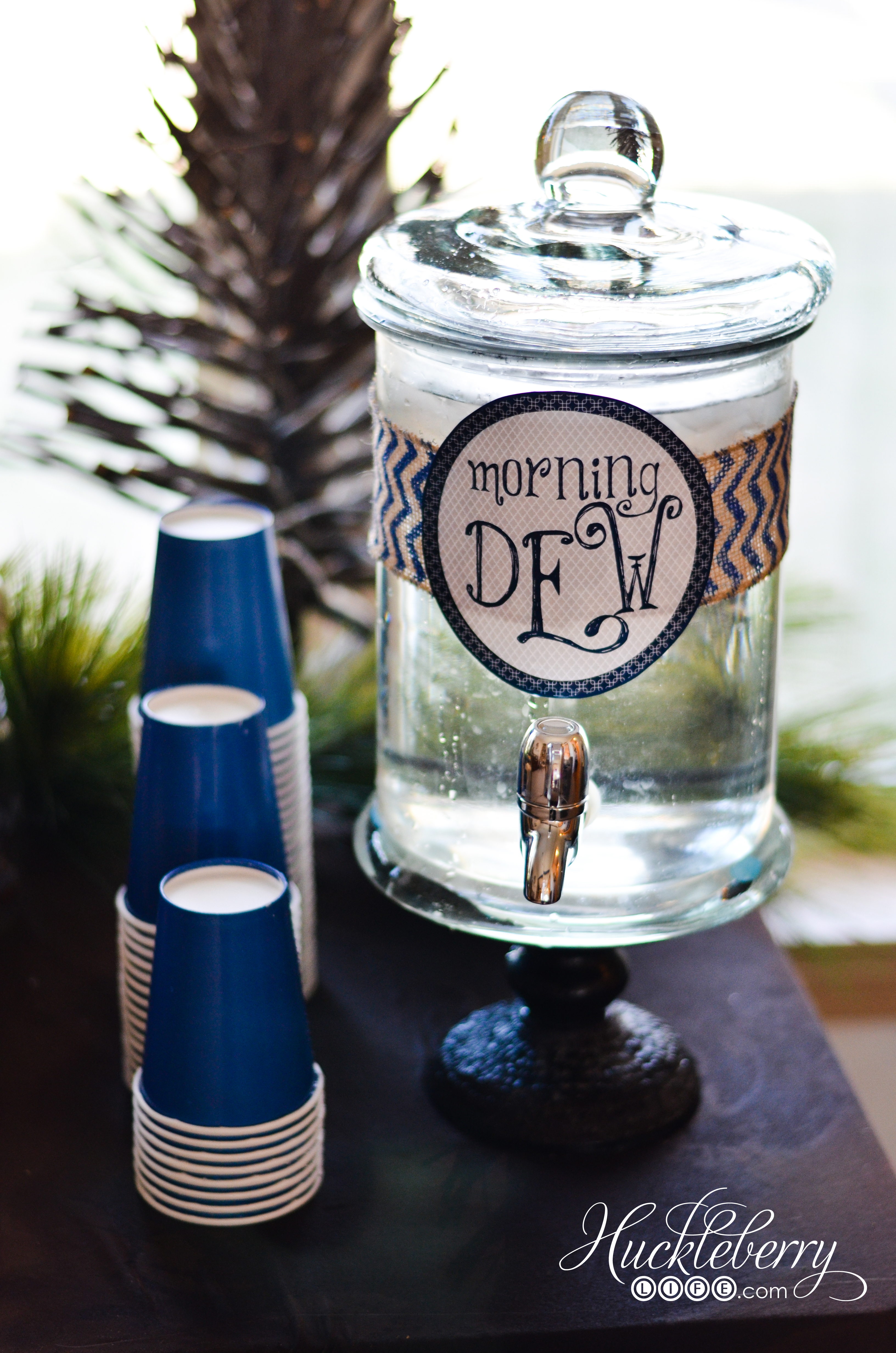 All of the little animals, wood slices, moss, table cloth and such is just "stuff" we had. The big wood sign with the "b" came together great. Both things were found at Cassie's house and put together for this party. Her last name starts with a "b" so she had the letter. The party was held at Jessica's house. She is constantly changing decor around and is so good at decorating her home. It was no big deal for her to move things so we could let the party take over!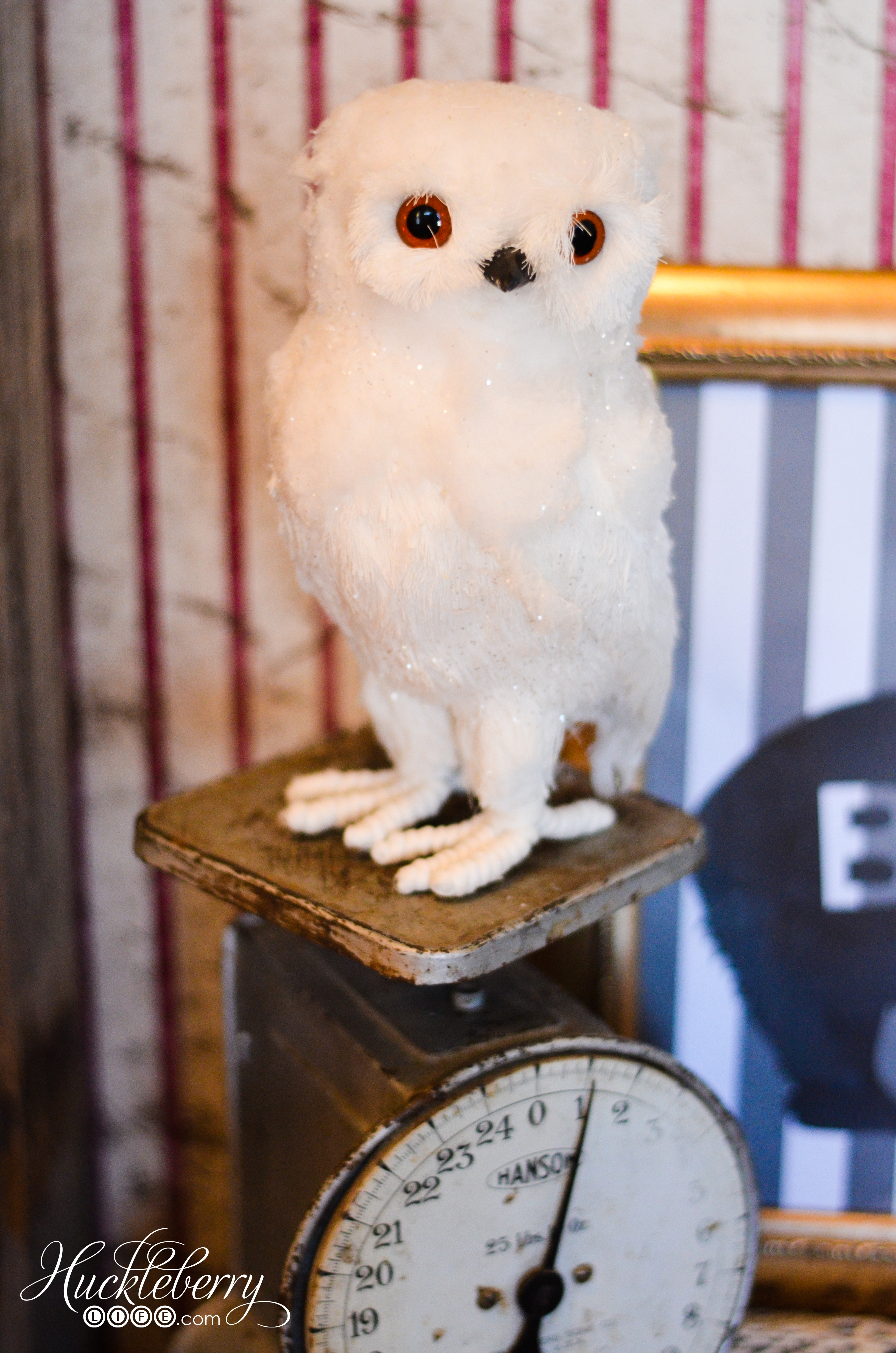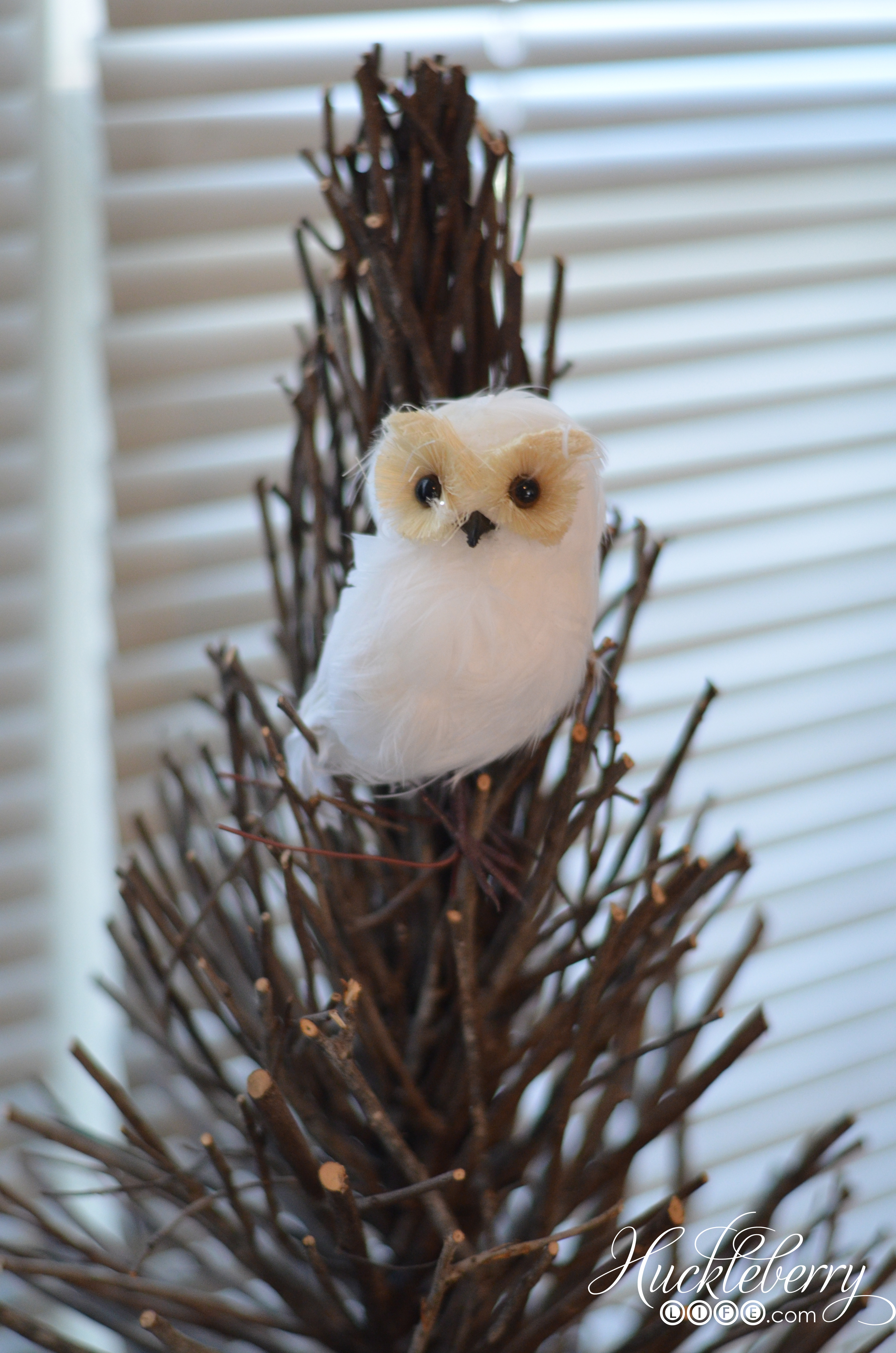 We used the bear vinyl from the wood sign and put in on an extra piece of scrapbook paper from the bunting banner and put it in a frame. Use what you've got!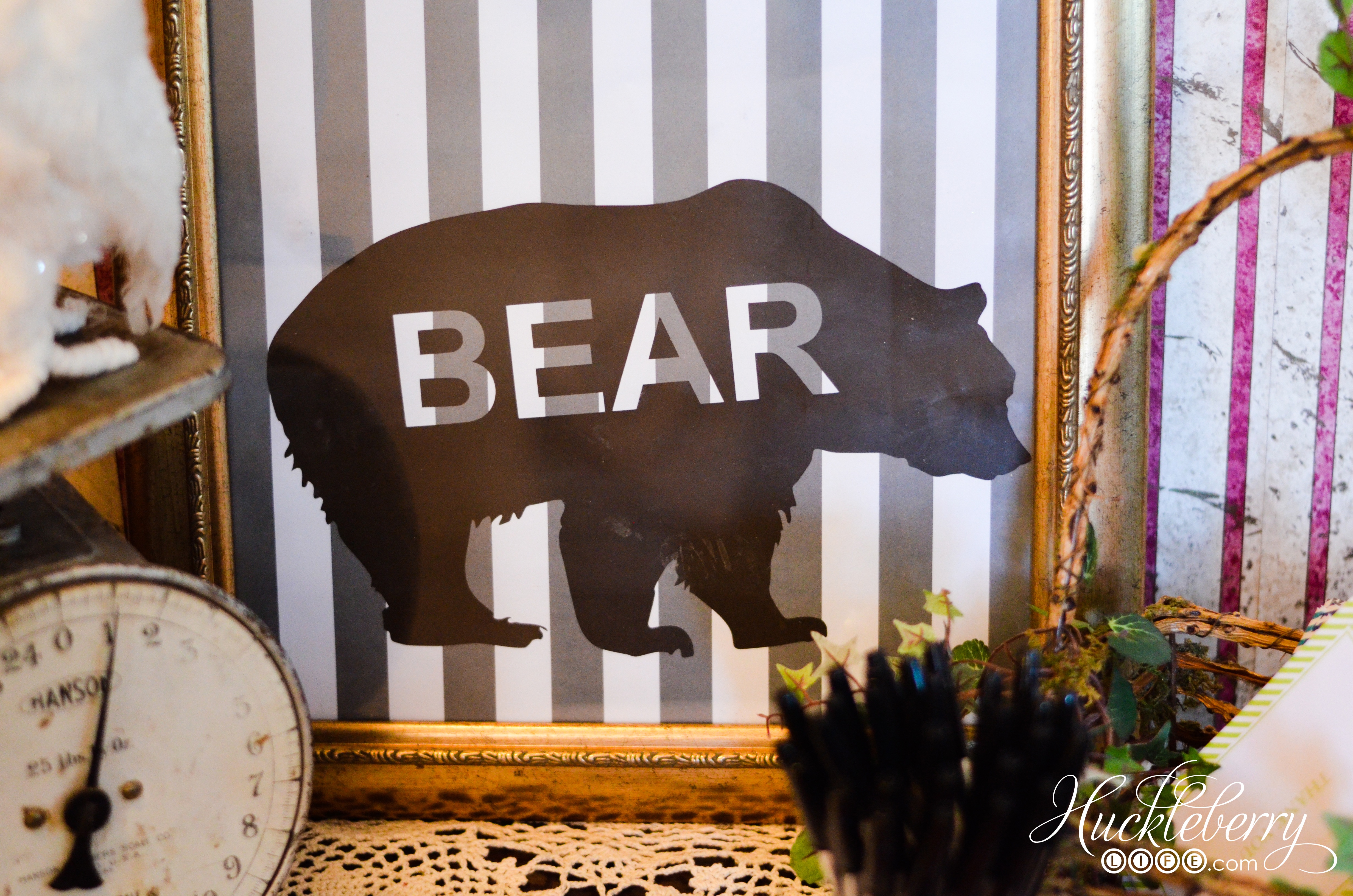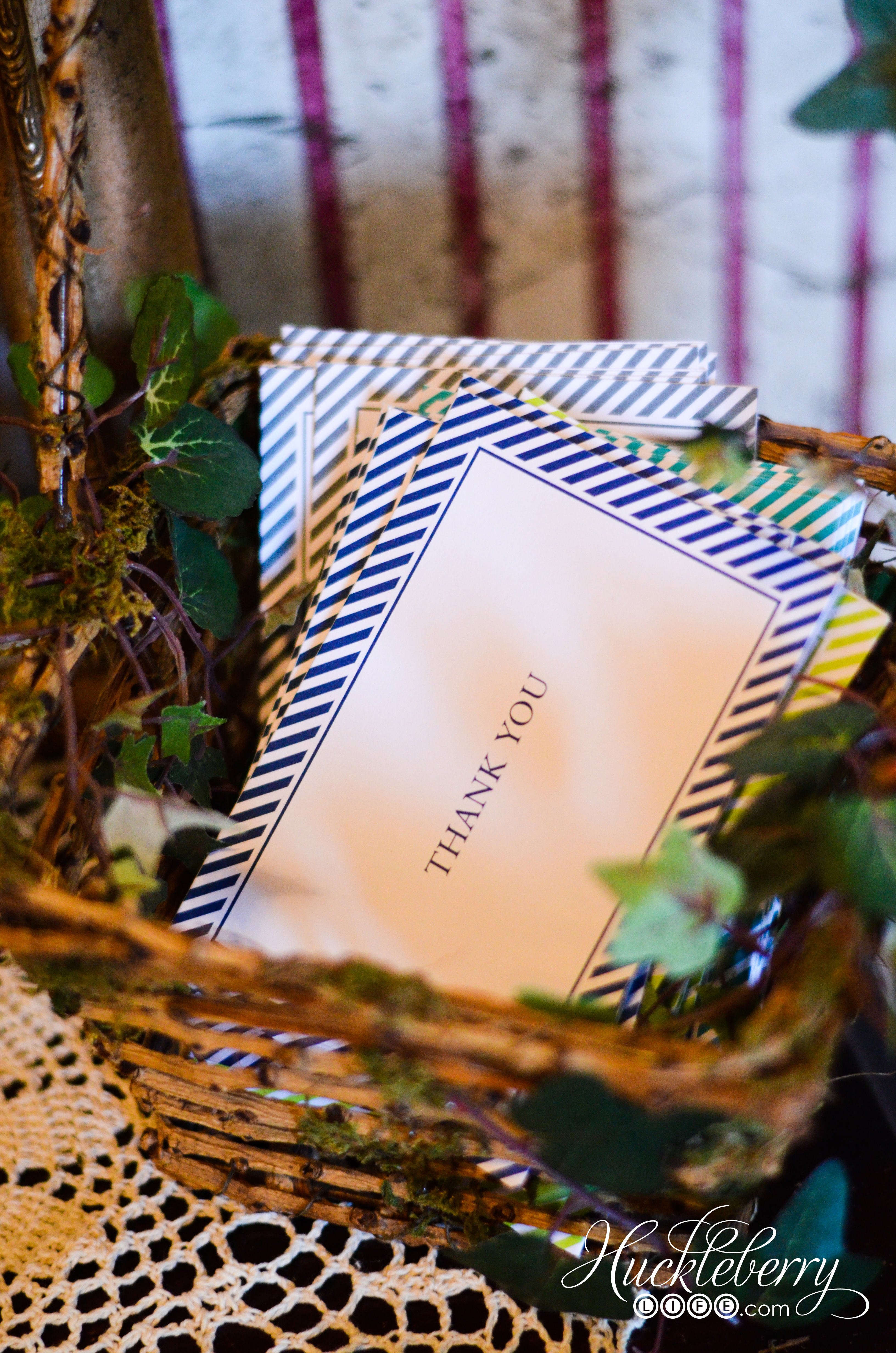 I think that's it! I hope y'all loved this post and can use some of these ideas to throw your own woodland party!