My husband was so excited when I surprised him with this POMEGRANATE PEAR AND CANDIED PECAN SALAD for lunch one day. We both love salads with fresh, yummy ingredients and it's always fun to try a new combination of flavors. This salad has such great textures and flavors. The fruit and candied pecans are sweet and are balanced by the salty feta cheese and the tang from the orange poppy seed vinaigrette.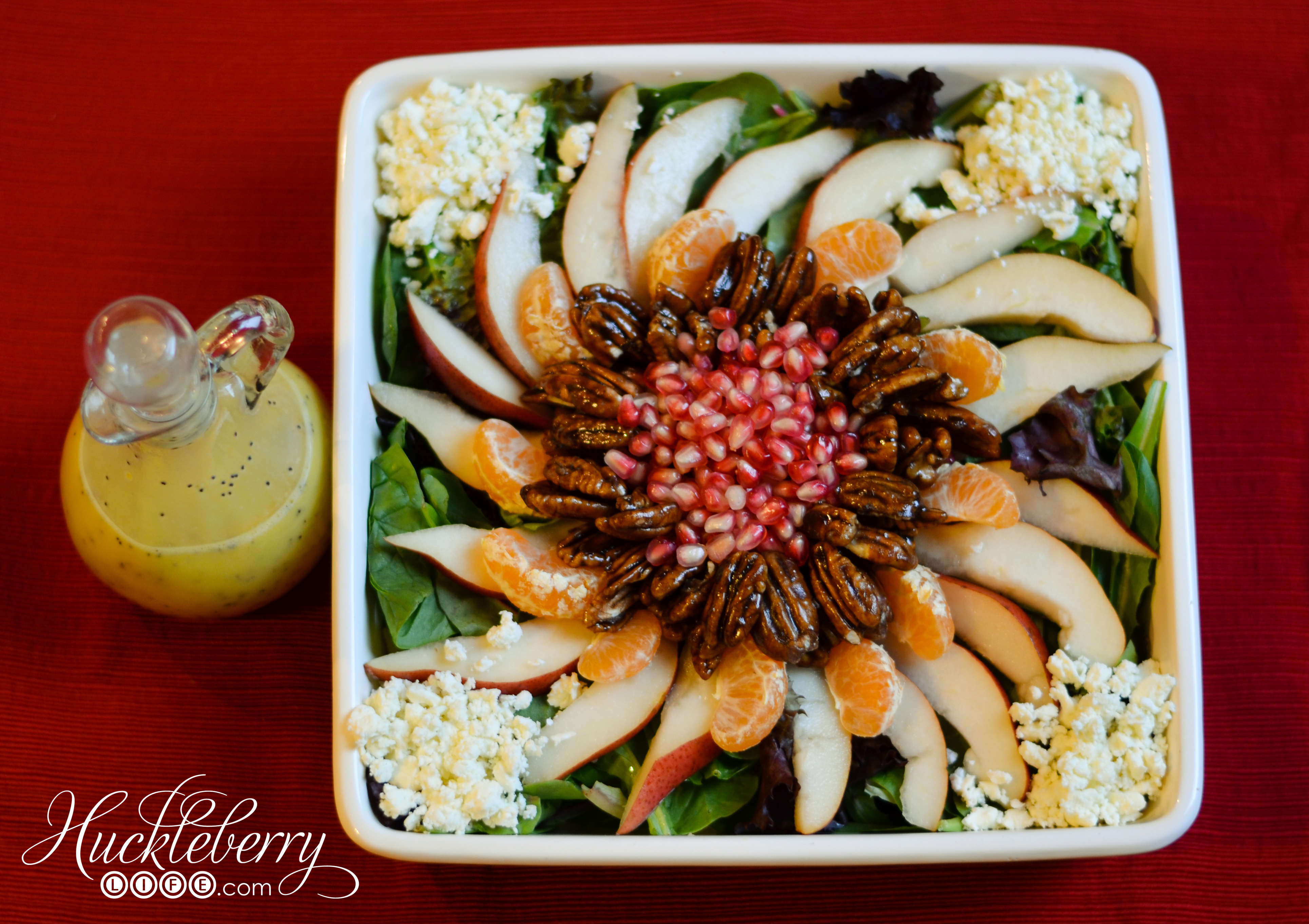 Here is the simple recipe for our POMEGRANATE PEAR and CANDIED PECAN SALAD as well as the orange vinaigrette to smother it in. This salad is packed with yummy pomegranate arils, red pears, candied pecans, feta cheese and mandarin oranges on top of a bed of spinach and leafy greens. We thought that it looked beautiful and would be great to take to a holiday party.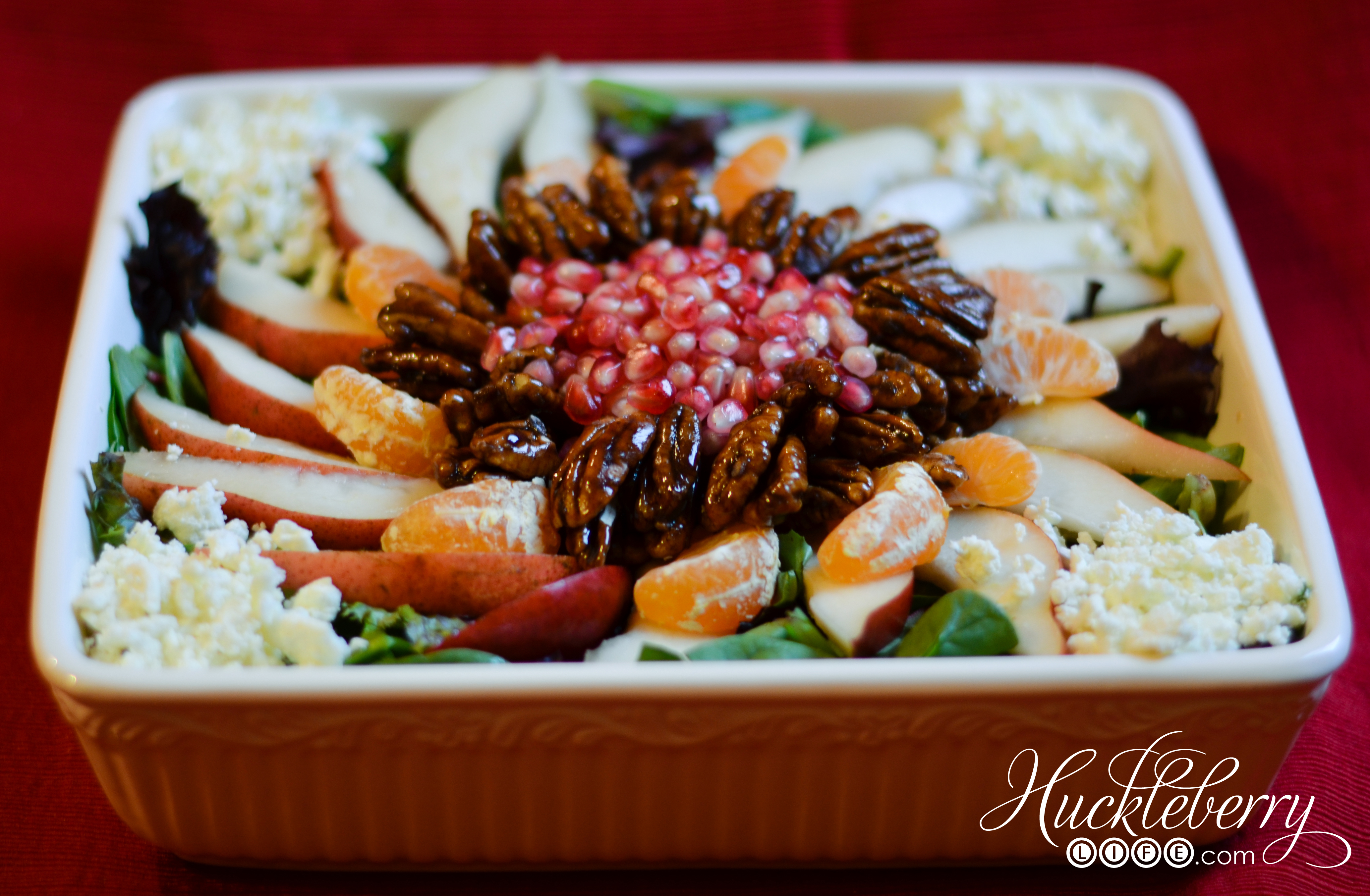 HOW WE MADE IT:
I chose to serve our salad in a pretty, white square 9×9 dish. First I packed it full of spinach and leafy greens…about 6 cups. Next I cut the pomegranate open. I have tried the method where you just cut the top off and dig and dig them out until you are ready to pull all your hair out and throw the whole thing in the garbage. BUT…this time I followed instructions from a video I saw a while ago. I couldn't find the exact video but here is a similar one. It works so well! https://www.youtube.com/watch?v=gCnd9VL-9WY 
Mine looked like this. Way cool, right?!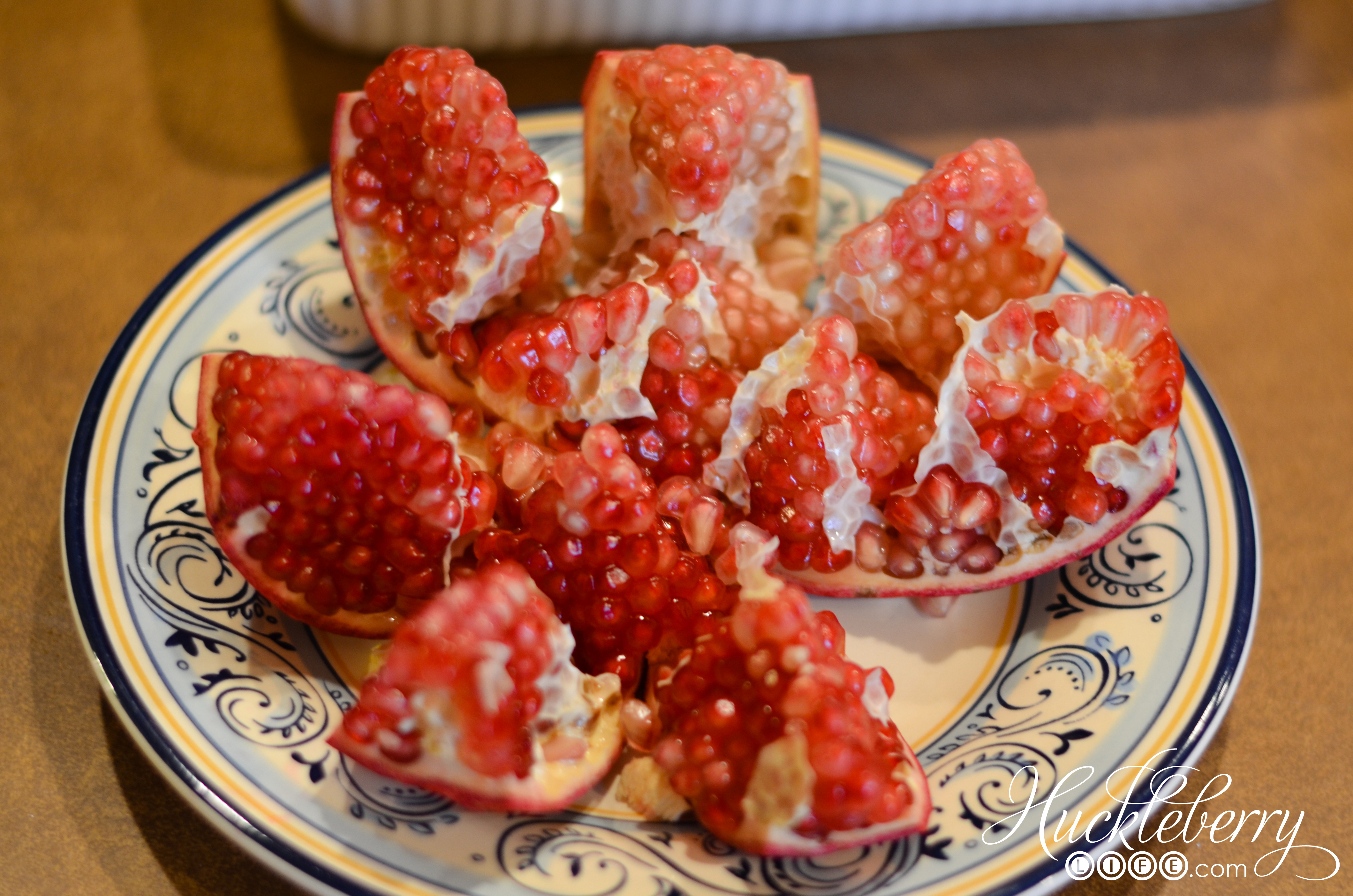 I placed a BIG handful of the pomegranate arils in the middle of my greens. Next I added the candied pecans in a circle pattern around the pomegranate arils. You could use any nut, candied or not in this, but these are wonderful. Here you can find the recipe for our Easy Stove Top Candied Cinnamon Pecans.
After I had the pecans where I wanted them I sliced up the beautiful red pears and placed them coming out from the pecans. I only used one mandarin orange in the recipe but you could add more. I peeled it and added the sections where they looked good between the pear slices and the candied pecans. To finish it off I put 1/4 cup of feta in each corner of the dish. It was so pretty!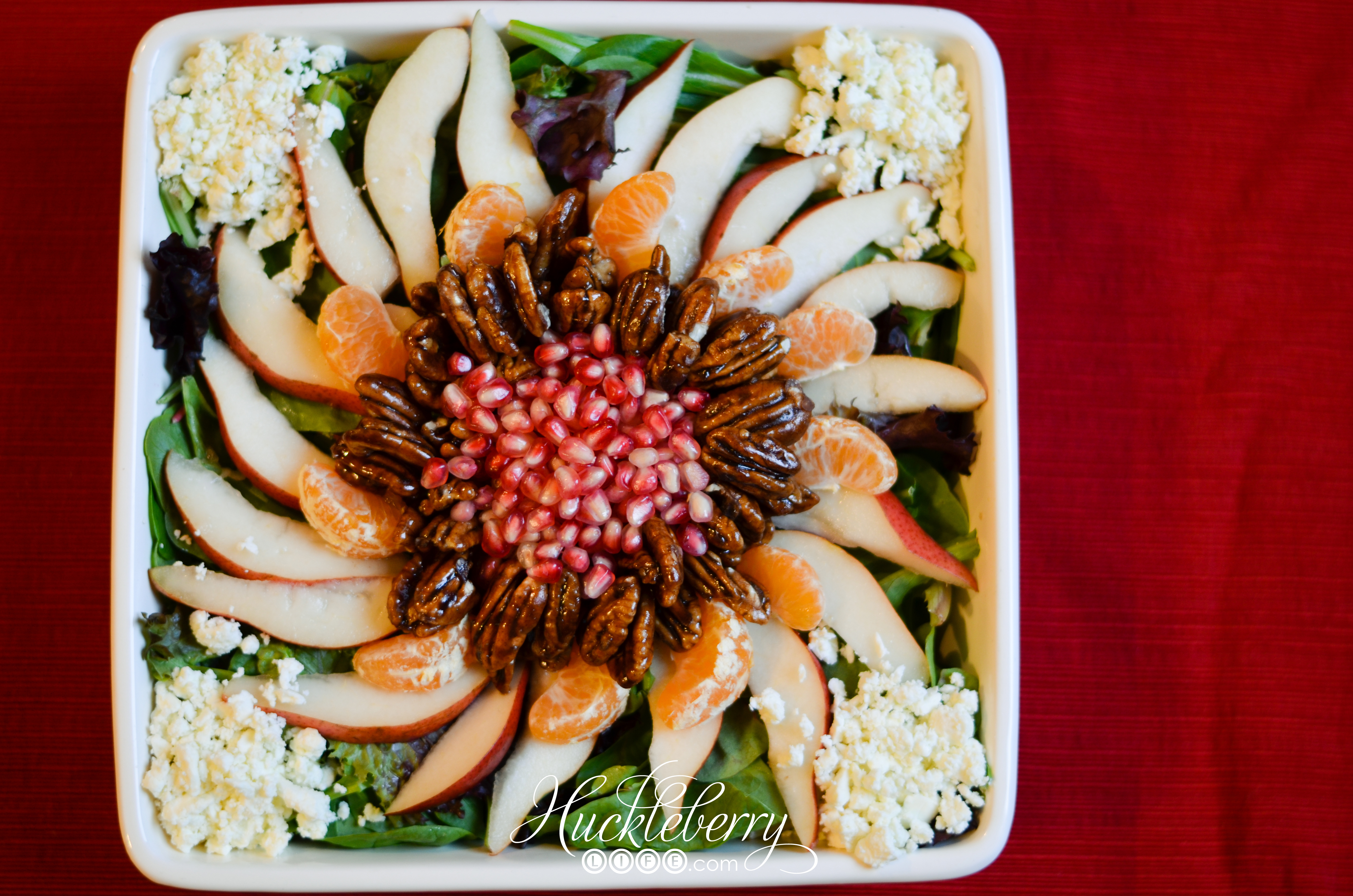 We served it with our FRESH ORANGE POPPY SEED VINAIGRETTE.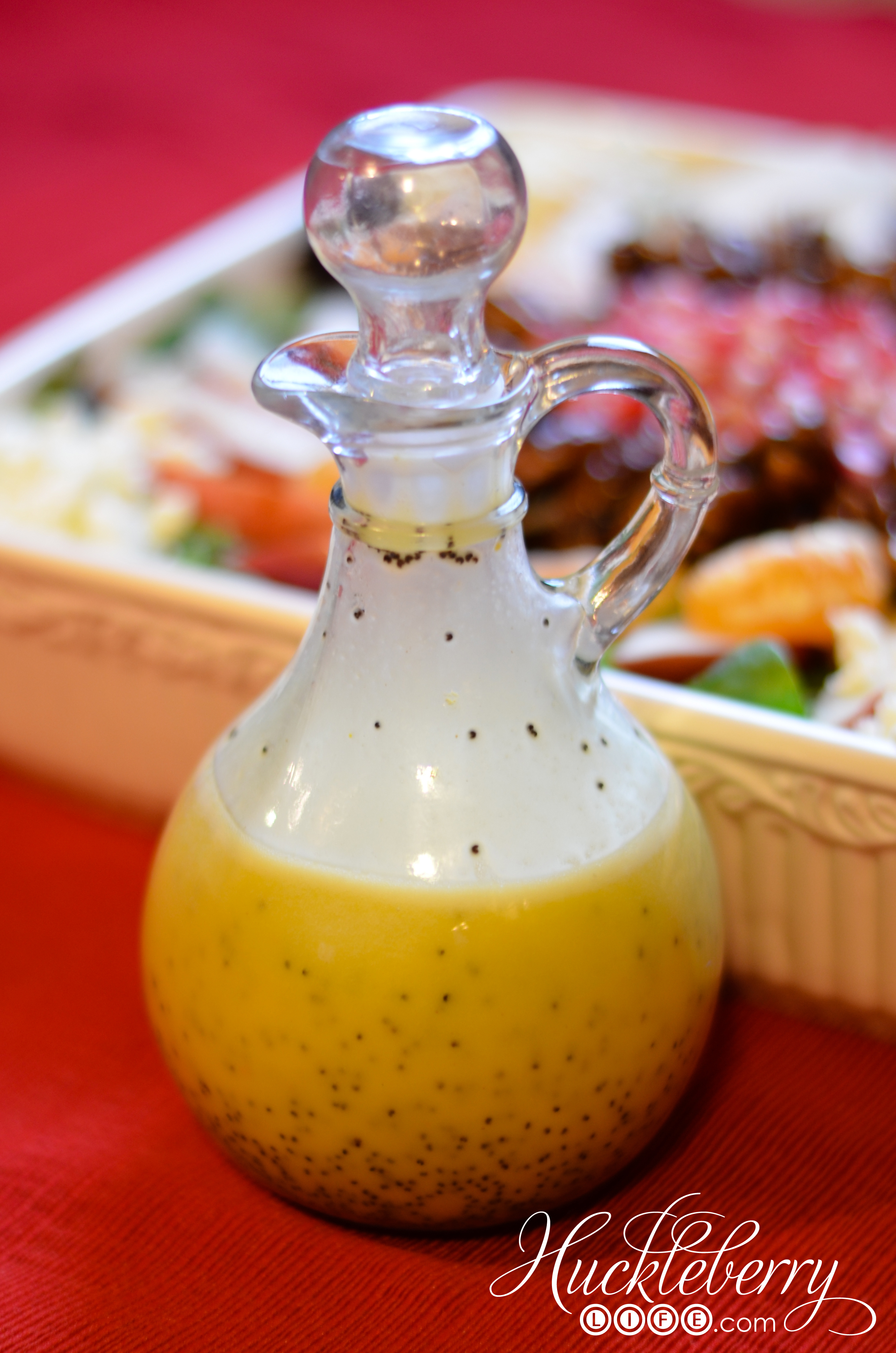 And one last picture of the beautiful POMEGRANATE PEAR SALAD with CANDIED PECANS and ORANGE VINAIGRETTE before it went in my belly. YUM!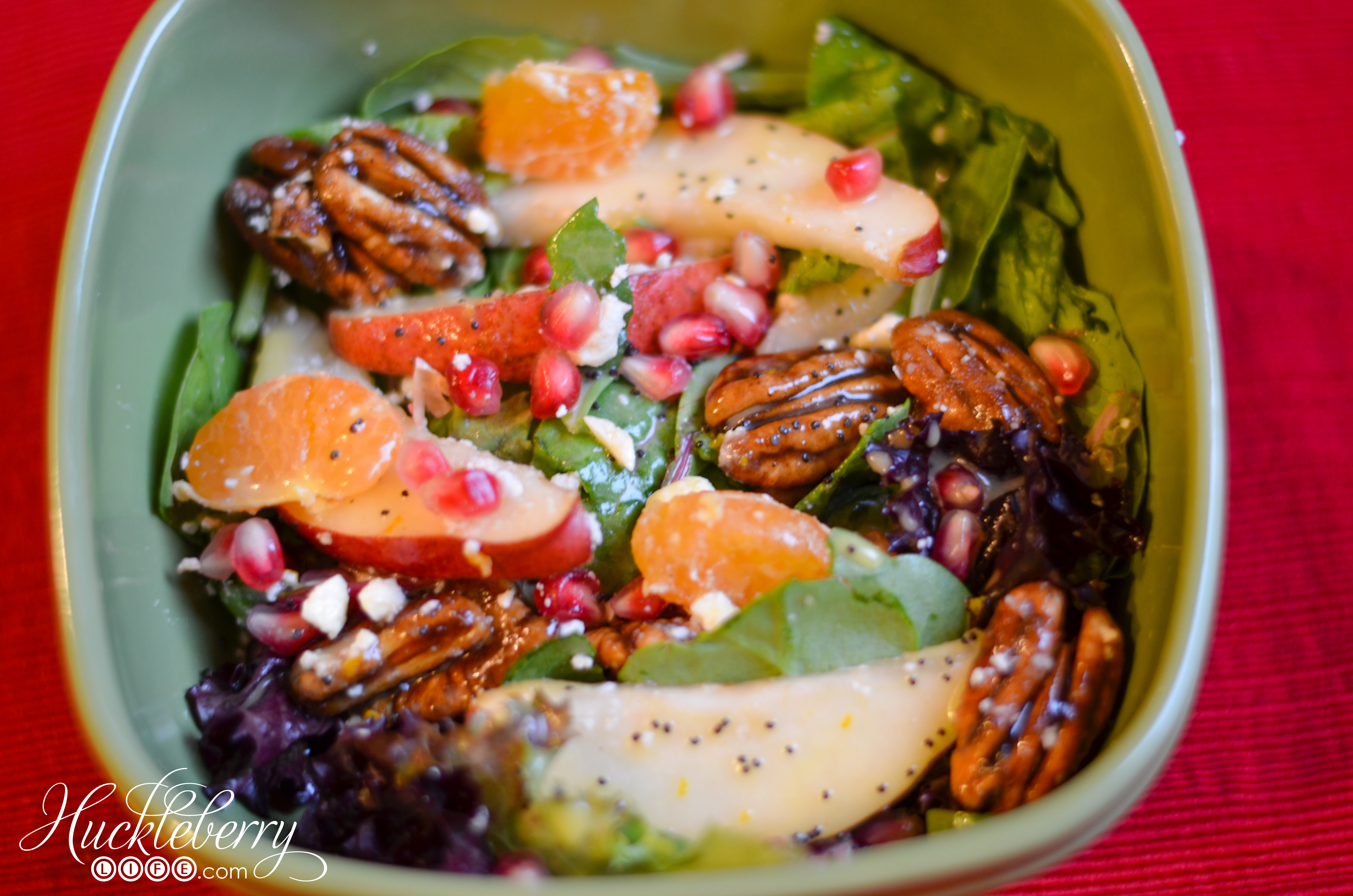 Hope you enjoyed this post and will give this salad along with the FRESH ORANGE POPPY SEED VINAIGRETTE and EASY STOVE TOP CANDIED CINNAMON PECANS a try!

POMEGRANATE PEAR AND CANDIED PECAN SALAD with orange vinaigrette
This salad is quick to throw together and has so many amazing flavors and textures. Our fresh orange vinaigrette and easy stove top candied cinnamon pecans are perfect on this salad.
Ingredients
6 cups baby spinach and leafy greens
2 red pears, sliced and cored
1 cup pomegranate arils
1 mandarin orange, peeled and sectioned
1 cup feta cheese, crumbled
½ cup candied pecans, or nut of your choice
Instructions
Add greens to a bowl or serving dish of your choice.
Place a mound of pomegranate arils in the center.
Add candied pecans in a circle around the the pomegranate arils.
Next place the sliced pears in a circle around the pecans.
Add mandarin orange sections between the pecans and pomegranate.
Place ¼ cup feta in each corner
Or....place all ingredients in a bowl and toss. 🙂
Serve immediately with our fresh orange vinaigrette.