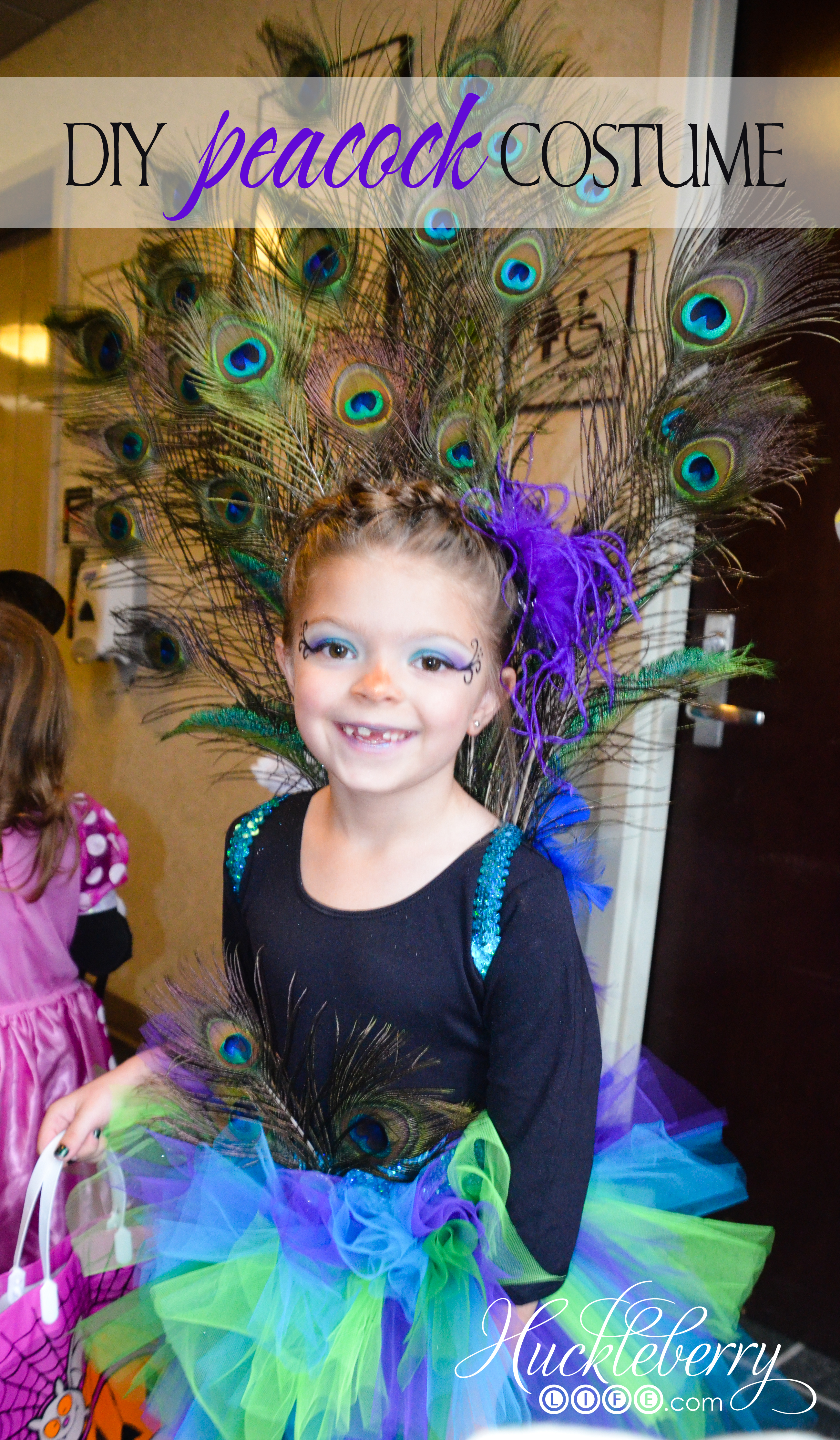 This was such a fun Halloween. I love to do themed costumes for my kids but I knew that I wanted Emma to be a peacock and had no idea what would go with that. I found this super cute owl costume at a Halloween shop and decided it was perfect for Levi and they could both just be birds!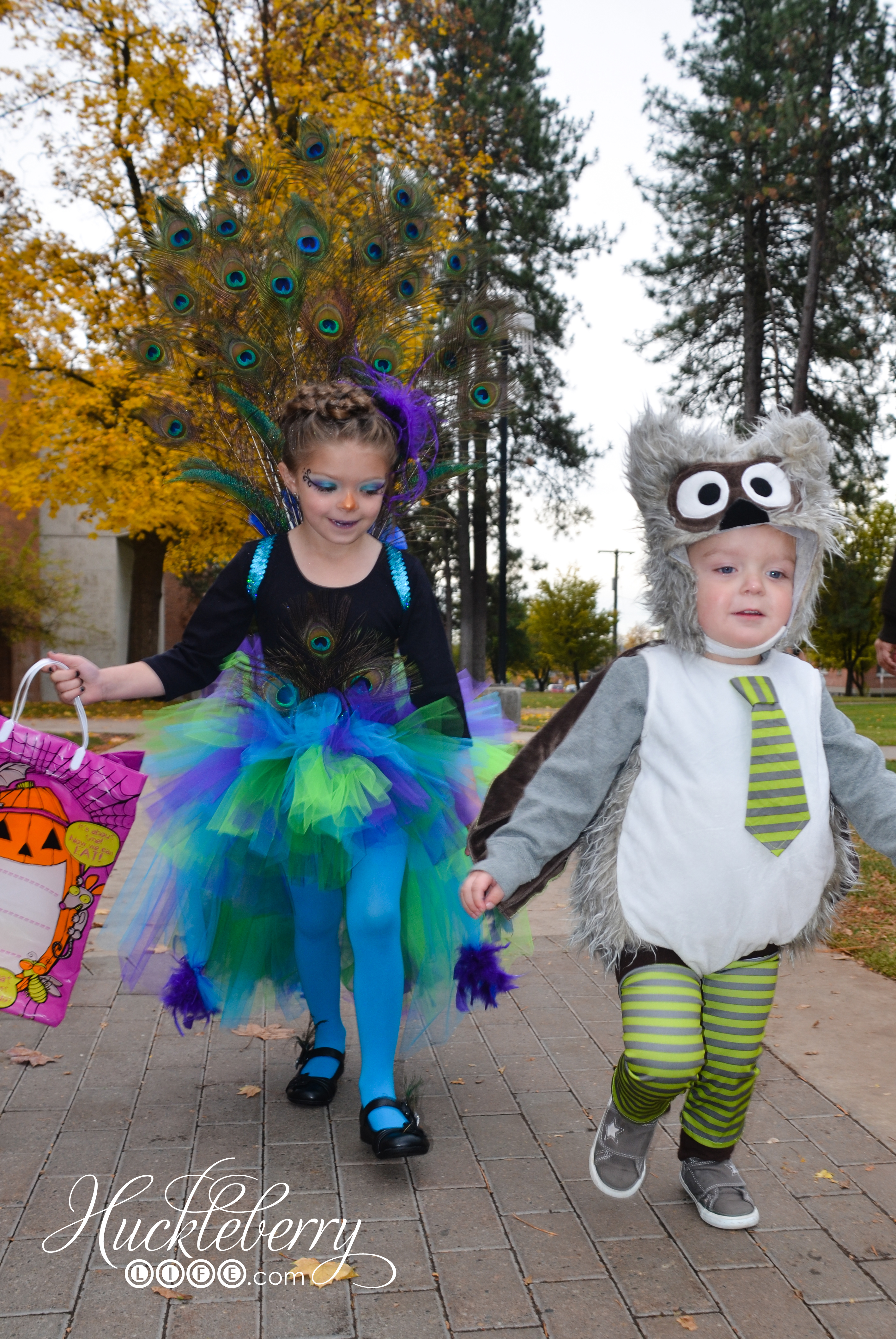 We had so much fun trick-or-treating at the college with some friends. Aren't these girls ADORABLE?!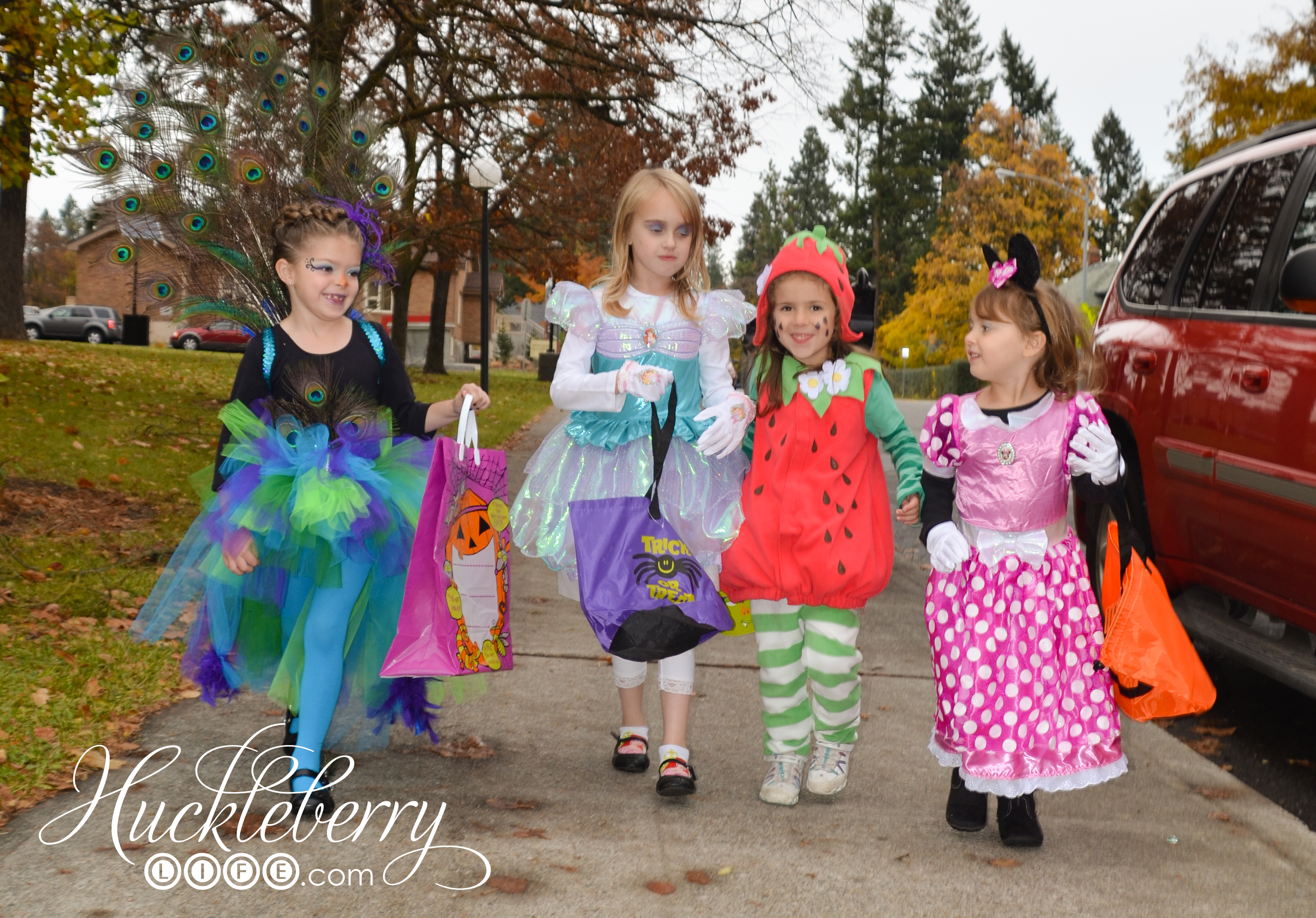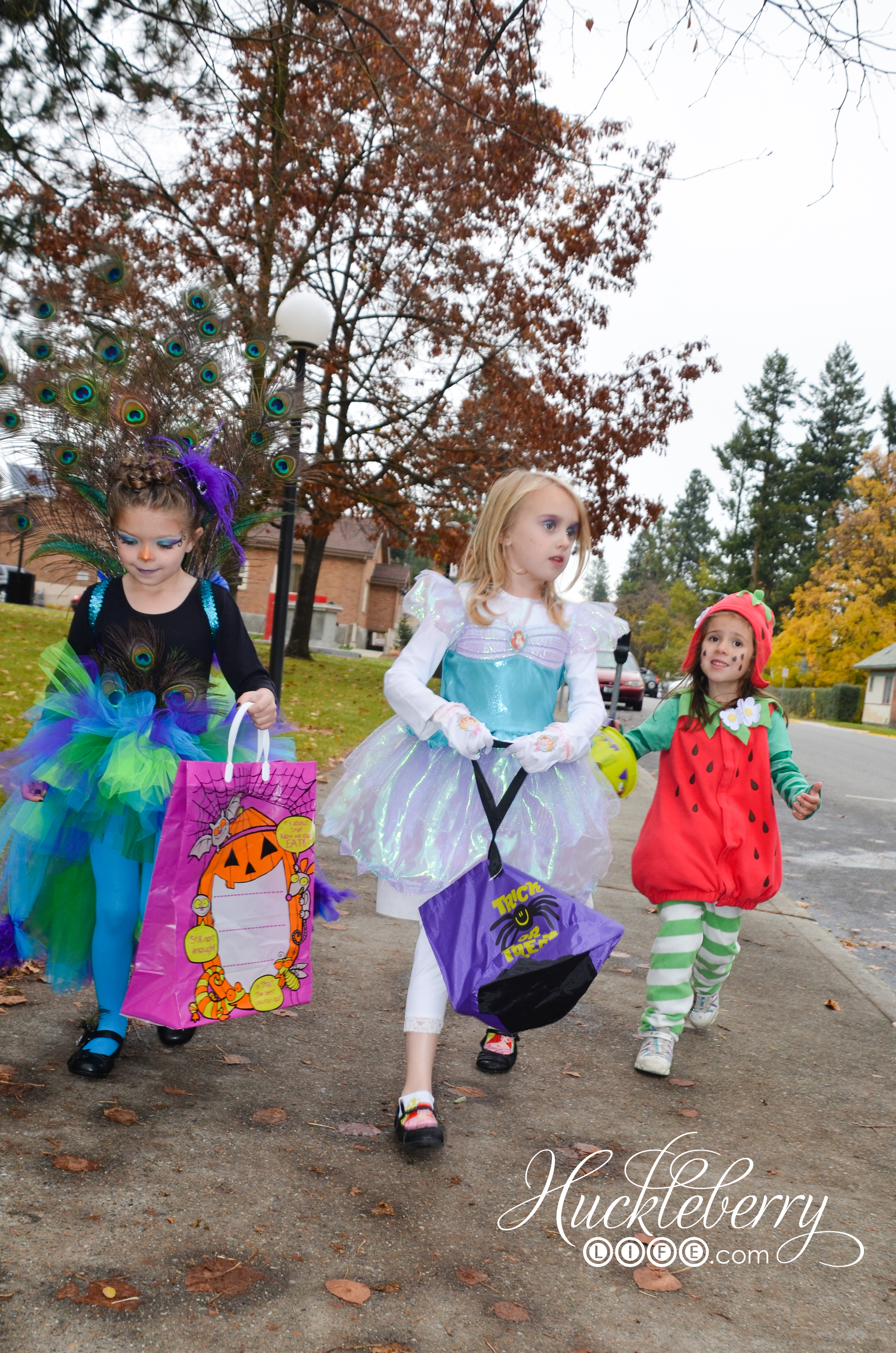 Here's what we did for the peacock costume. She wore a black leotard and turquoise tights as a base with black shoes.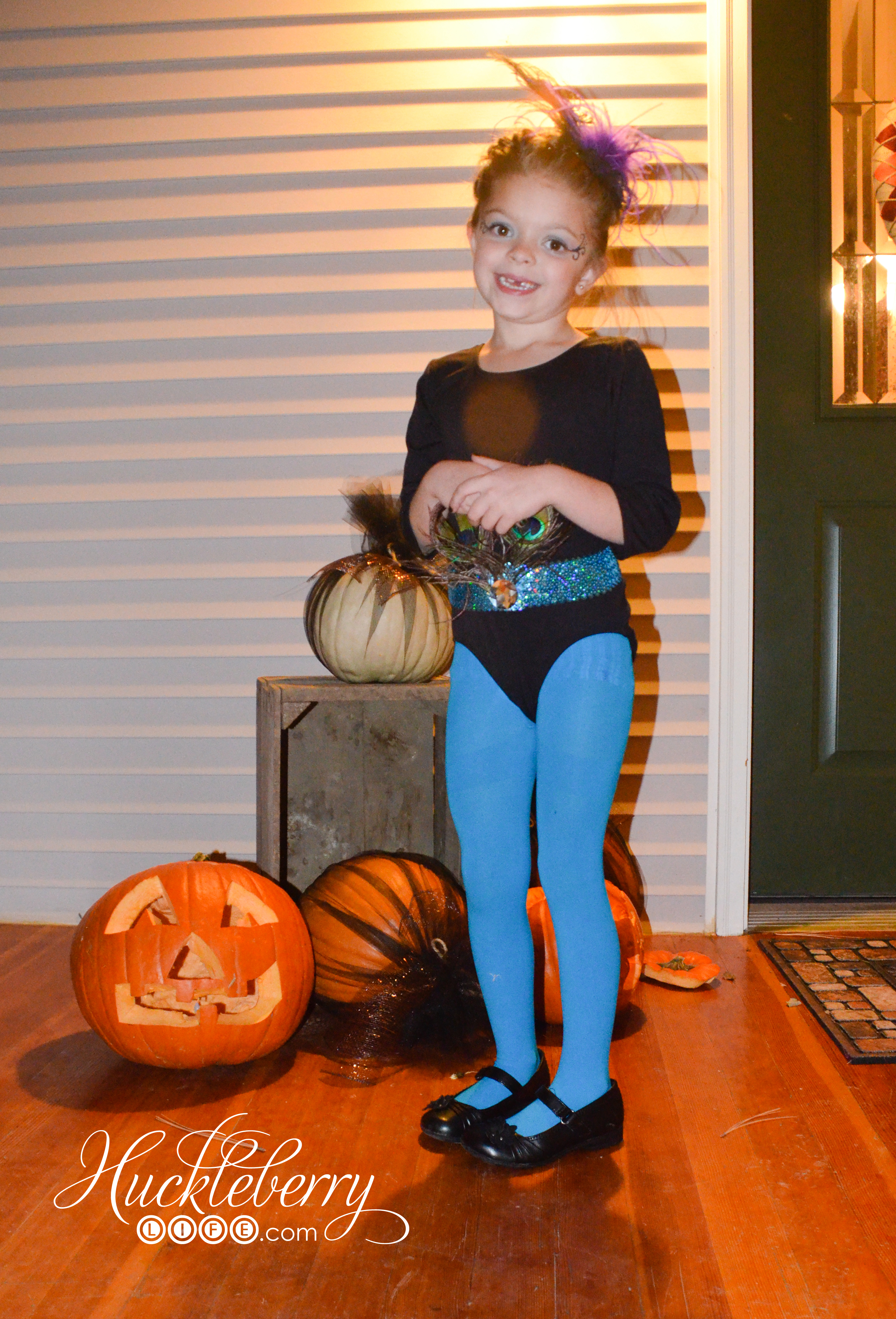 Here's the deal. Peacock feathers can be EXPENSIVE! I totally lucked out and found a lady on craigslist who was selling a bunch of them she had left over from her wedding. I got a steal of a deal and was very happy about it. For the peacock "tail" I started with a square piece of card board. I bought some turquoise sequin elastic and just measured around her arms about how long it would need to be to fit on like a backpack. It's a very technical process I tell ya! I used hot glue to secure the arm straps to the cardboard and also used hot glue to cover both sides of the cardboard with black felt. As I glued the feathers on I tried to create a fan shape so some were longer and some were shorter. I had two different types of peacock feathers, the ones that look like an eye and the shorter bright colored ones. Wish I knew what they were called. I used the shorter ones on the bottom to fill in and make it look fuller. I should also mention that I made sure the feathers were facing the right way so you could see the colors from the front of her costume. To finish it off and cover all the glue I used blue and purple craft feathers and just glued them on the back. Easy peasy!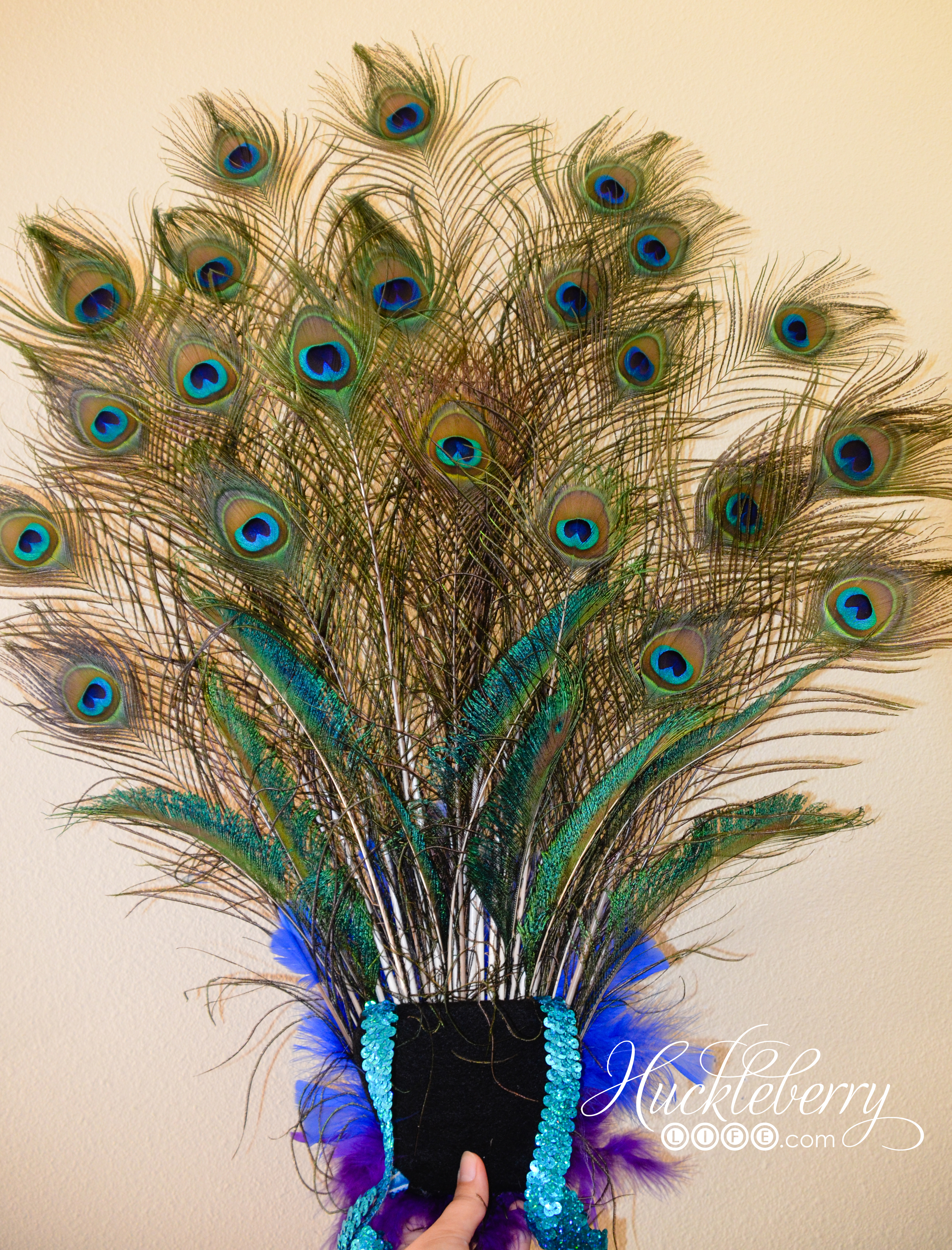 Here's what it looked like from the back.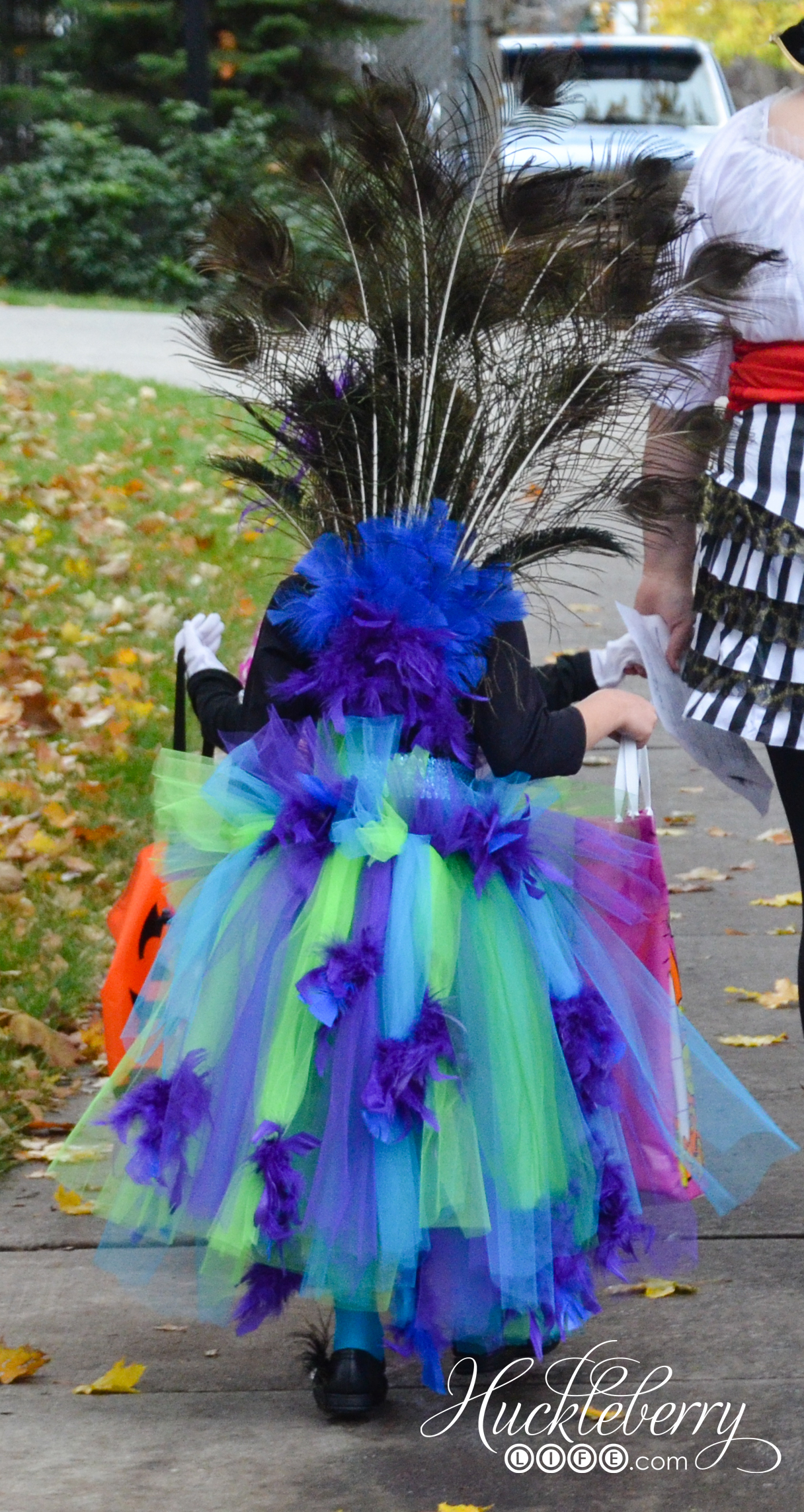 Pretty great, right?! She had people stopping her all night and wanting to take her picture. Emma is a pretty shy little thing and didn't really appreciate all the attention. 🙂 For the giant Tutu I just used lime, turquoise and purple tulle. I cut it in strips and tied it onto a piece of elastic that I had measure just slightly bigger than her waist. I wanted it to have that "tail" effect so I made the back long and the front more short. I started with the longest pieces and added shorter pieces of different lengths in layers. I did some fun short ones at the very top. And because I didn't want any one to be confused about what she was, I hot glued some feathers to a few of the ends of tool. I LOVED how it turned out. Can't go wrong with a BIG, FLUFFY, BRIGHT tulle skirt!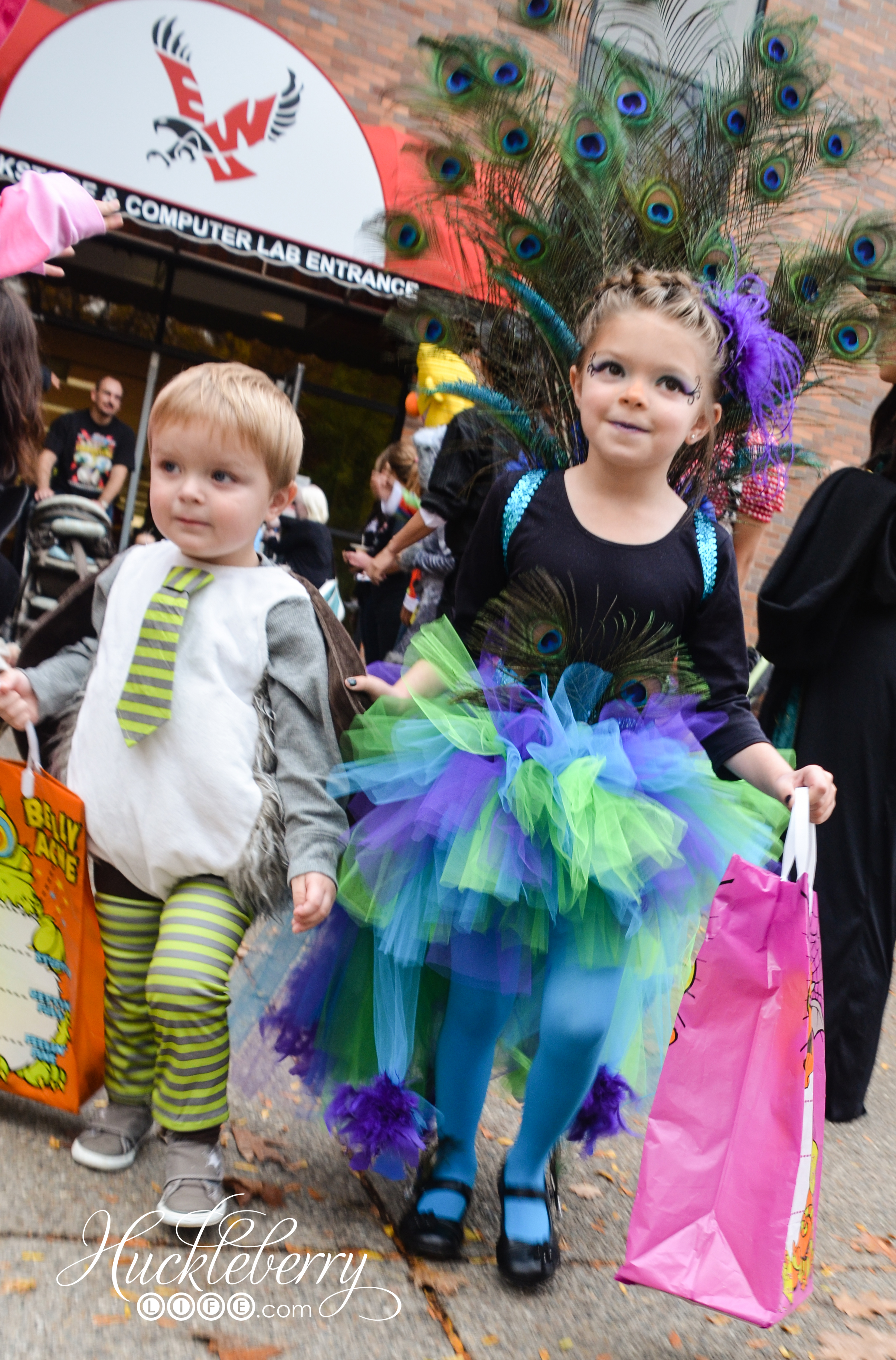 I also made a waist band out of a thicker piece of sequin elastic. I just measured it around her waist, cut it and hot glued it together. I added a few short feathers and topped it with a jewel.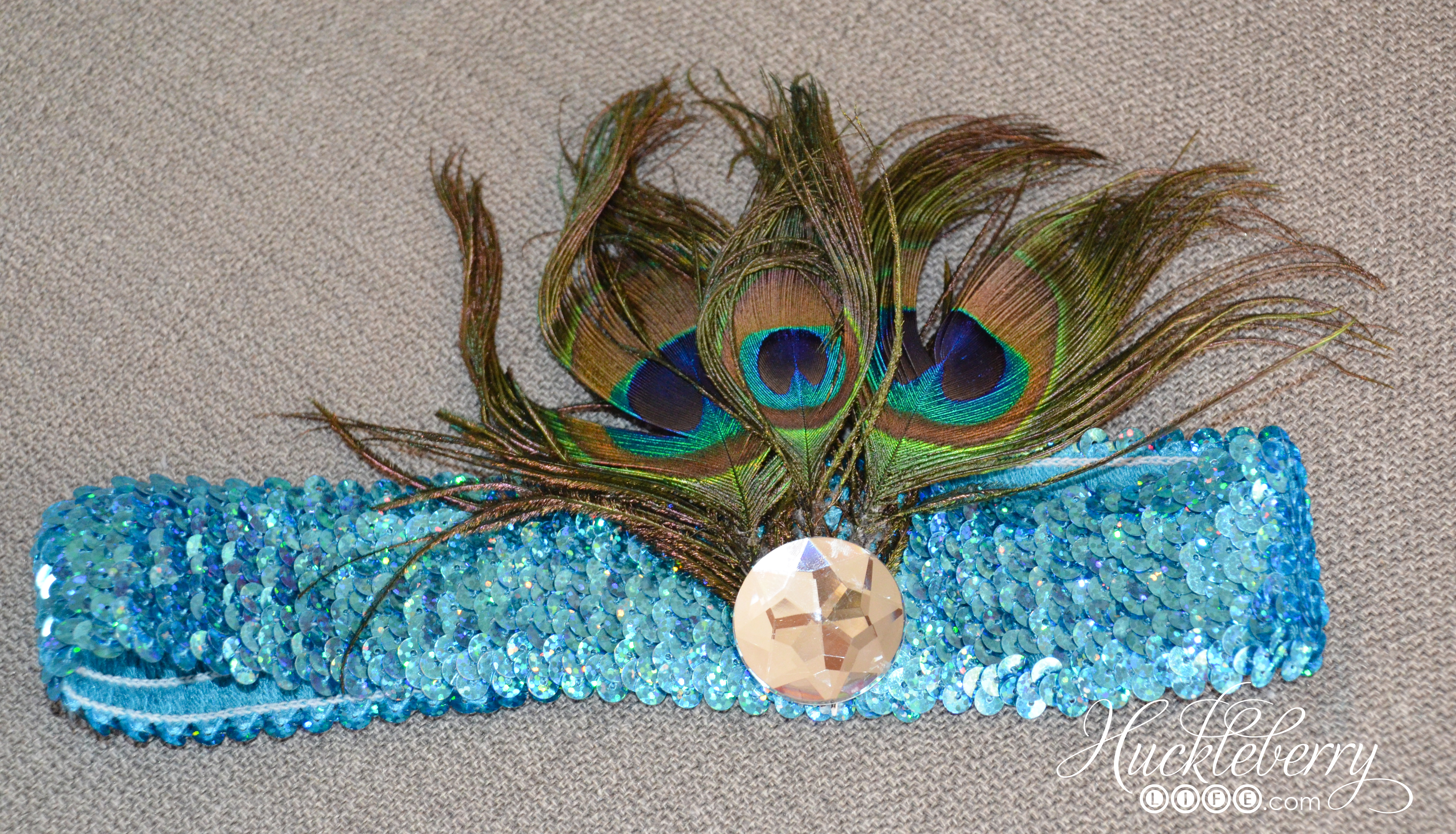 One of my favorite things about DIY costumes is all the wonderful little details! The hair, the make-up, the jewelry, shoes etc…  For this peacock costume I even made little feather clips to put on her shoes…of course I don't have a good picture of them. Because the feathers were so big and tall I knew her hair would need to be all the way up. We did a dutch braid around the top of her head kind of like a crown and used lots of fun glitter spray. I also made her a hair piece with black lace, a jewel and a purple curly feather piece. Her make-up was fun to do as well. We just used the same bright colors for her eyes and added some swirls with eye liner. I used gold eyeshadow to make a little "beak" on her nose and we did purple lips. We also painted her fingernails black. Don't you love those snaggleteeth?!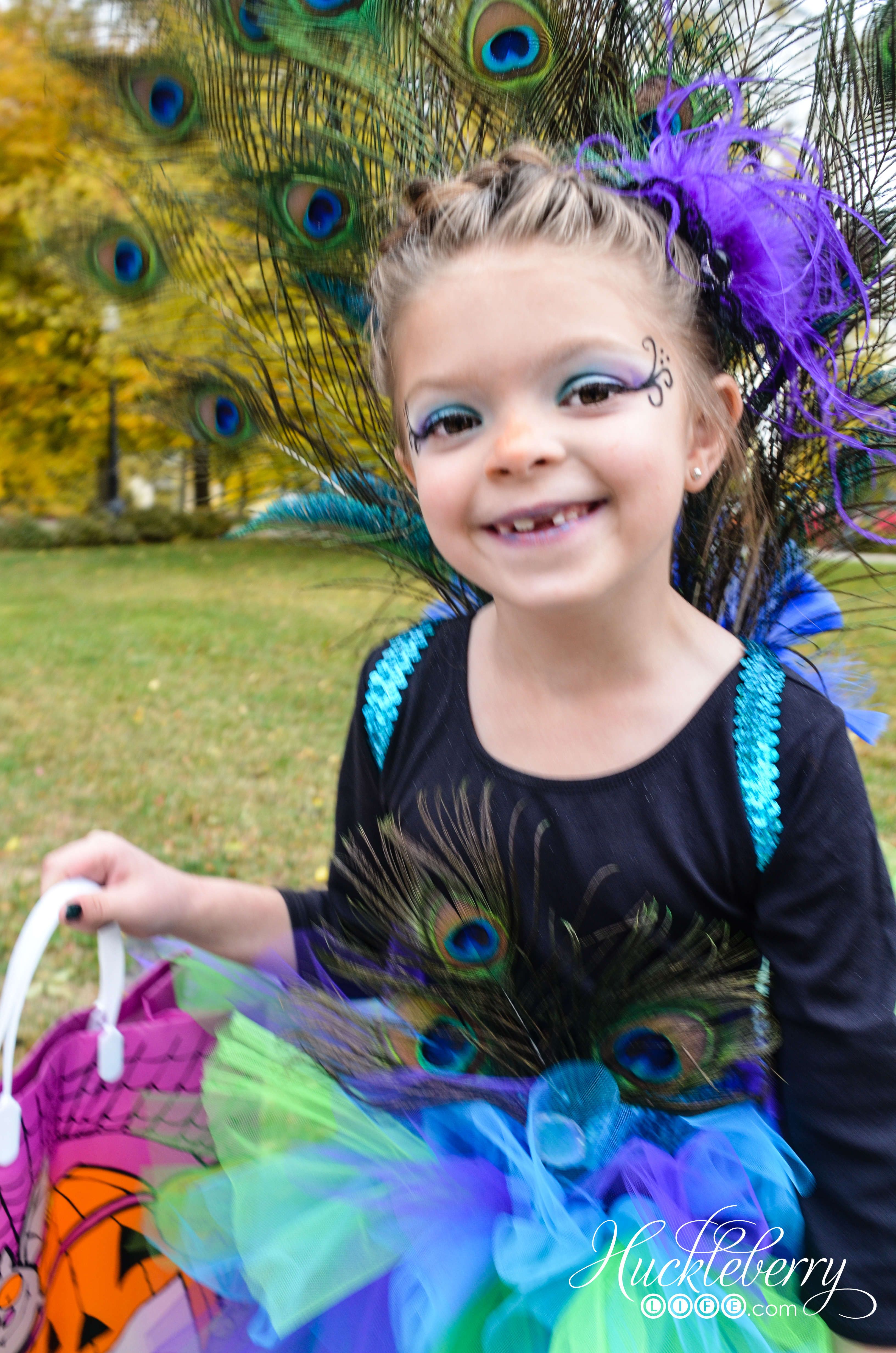 Here are a few more pics…because why not?
After we went trick-or-treating at the college we went to a party at our church followed by more trick-or-treating. It was a LOOOONG night! These pictures crack me. Levi was so zoned out and tired!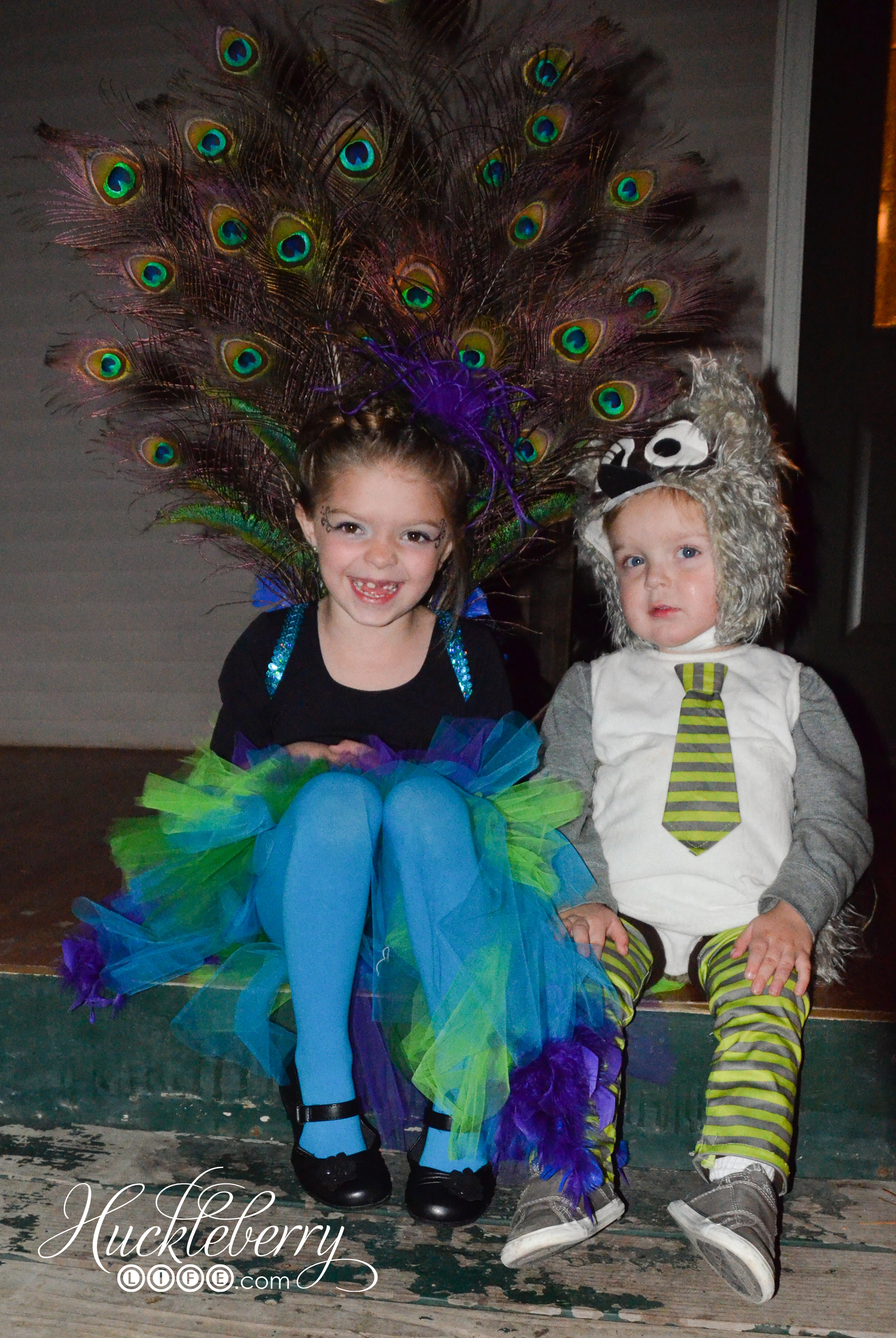 I hope you enjoyed this DIY peacock costume idea. Be sure to share with your friends on Facebook and Pinterest!