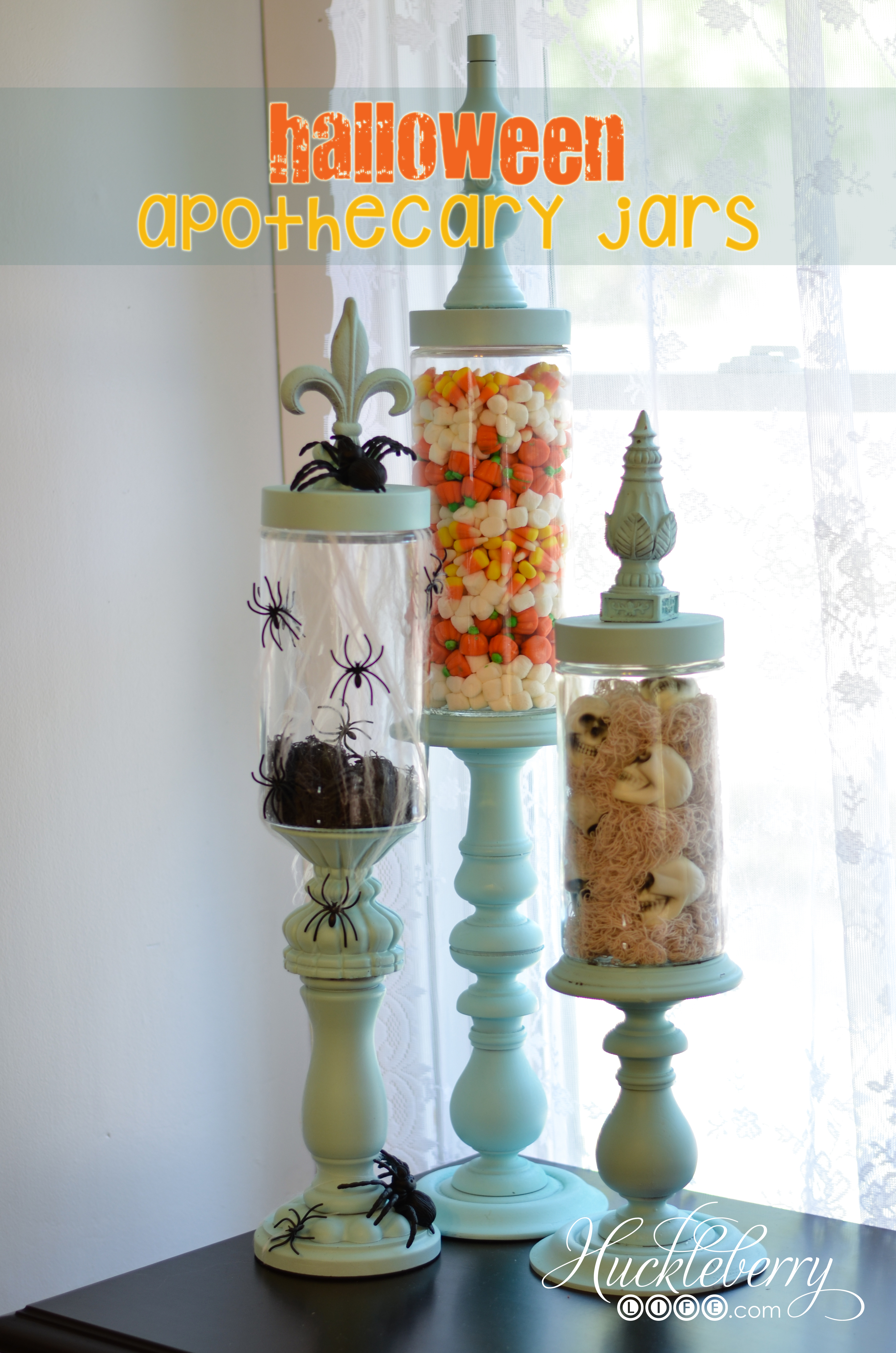 I absolutely love these jars and have so much fun switching them out for different seasons and holidays. I made them a while ago with jars from Hobby lobby, candlestick holders and finials from yard sales and thrift stores. There are about a million ways you can make your own jars. One of the tops of mine is actually an old bottle of Avon perfume found at a yard sale! Just look for the right shapes and sizes. Paint is magic! I spray painted each of the pieces then used E6000 to glue the jars to the candlestick holders. E6000 is a heavy duty glue. You can buy it at craft stores. I think I just got mine at a big box store. When you glue the jars on make sure they are somewhere safe where they won't get bumped and knocked over. They will need to dry overnight. I also glued the finials to the jar lids. The tricky part was getting them centered in the middle!
Here's what I did this time to fill them. I stopped by Dollar General and grabbed a few cheap supplies. Candy corn and pumpkins for one jar, spider rings and web for another and skulls and a creepy cloth for the last. So easy.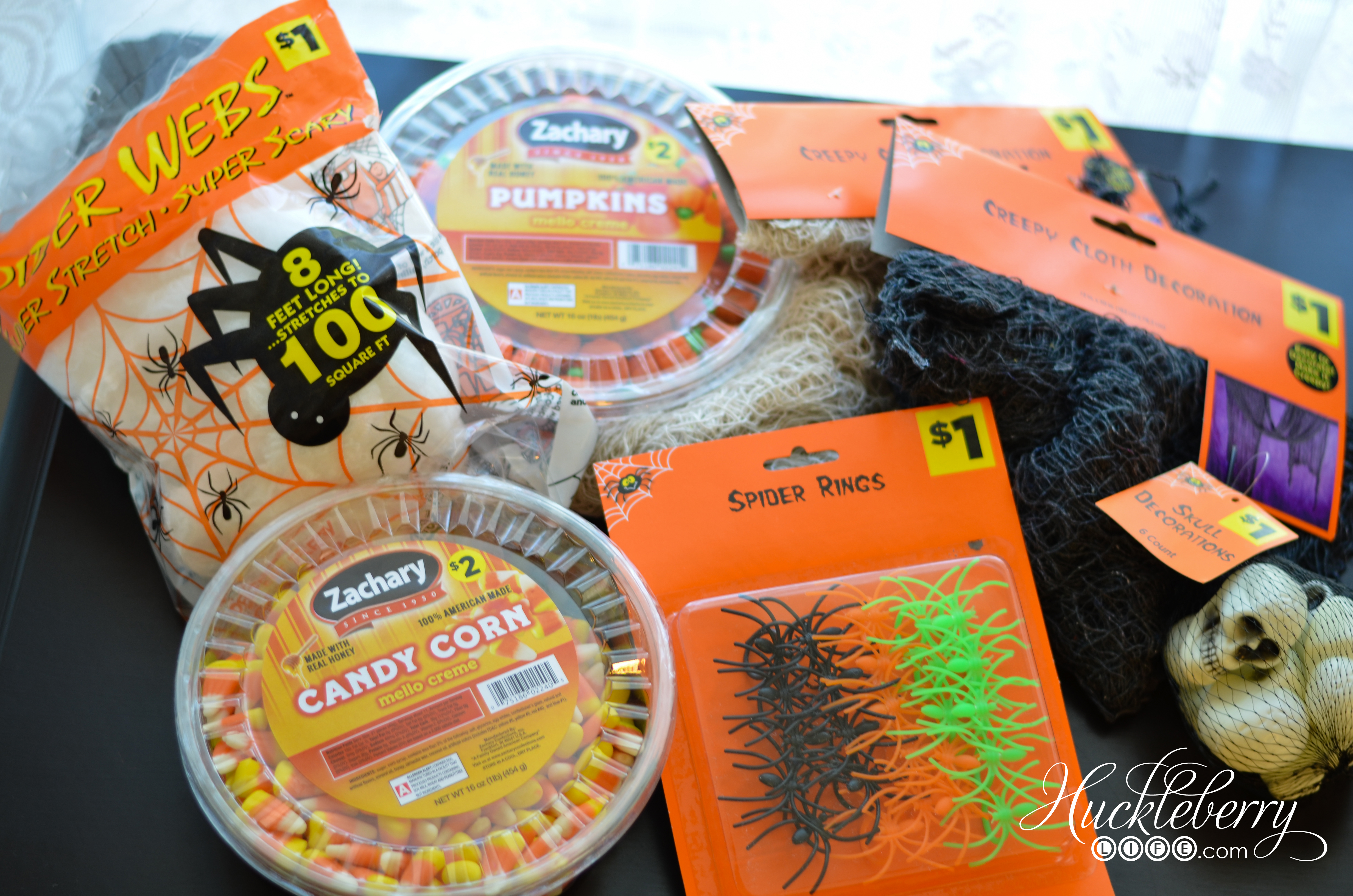 I started with the empty jars and made sure to wipe the glitter out of them from the last thing I put in them. ha!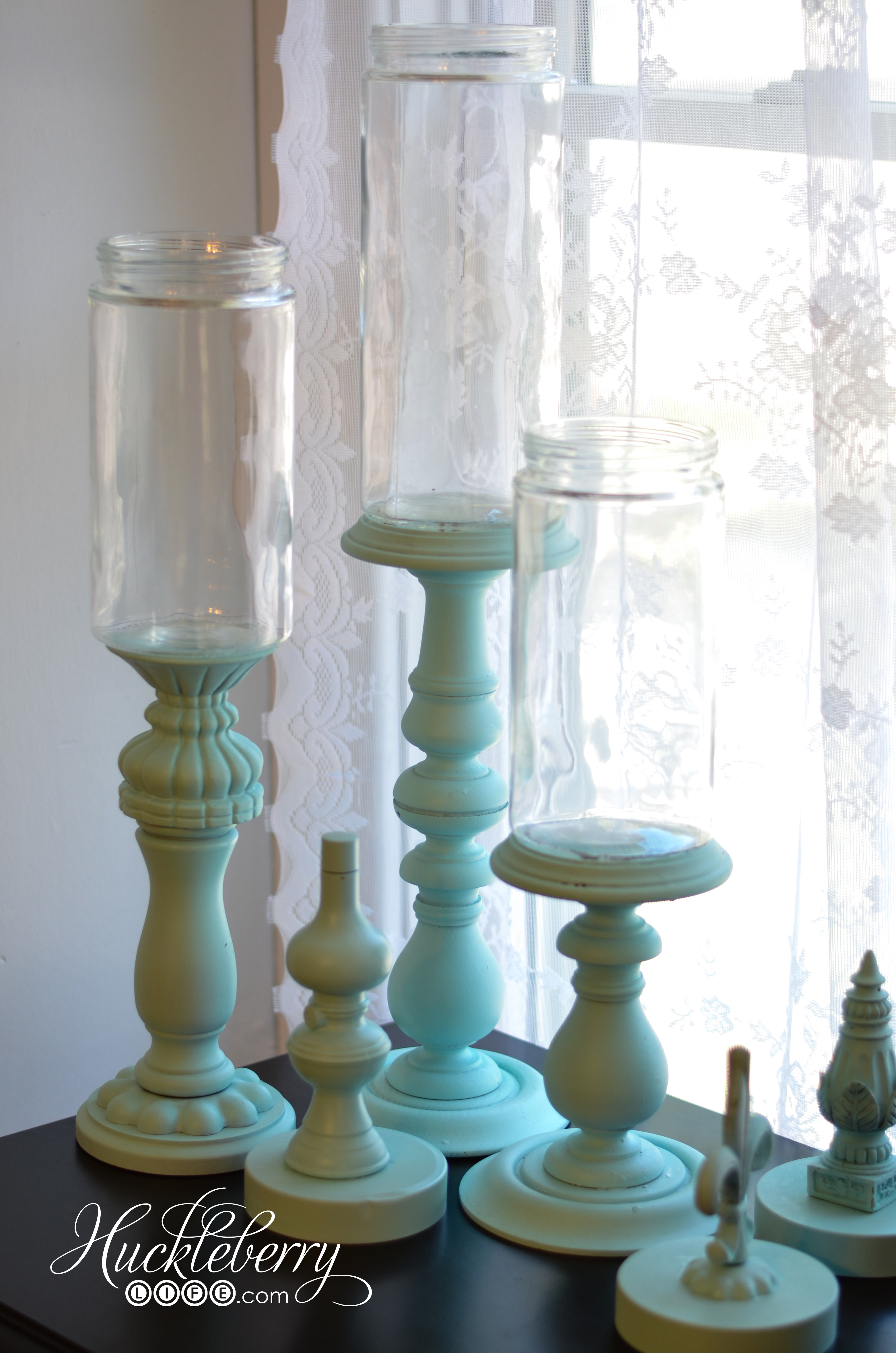 For the first jar I just layered the candy. I didn't want to spend a fortune on candy so I decided to use marshmallows as a filler as well. It would be cute with one kind of candy or just three stripes of the different candies/marshmallows. I could have done the marshmallows on top, then the pumpkins and then the candy corn for even more of a candy corn vibe! Use your imagination.
For the spider web jar I decided to focus on the OUTSIDE of the jar…ya know..thinking outside the "jar."  I put some dark "creepy cloth" inside along with a big rubber spider I had in my stash of Halloween treasures. I'm pretty sure I got them at Dollar General last year. With the lid off, I stretched the cob webs over the top of the jar and then screwed the lid on. I just pulled it down and around and kind of tucked it underneath until I thought it looked good. I cut the ring part off of the black spider rings with scissors and they stuck to the web nicely. I added a couple other big spiders outside too.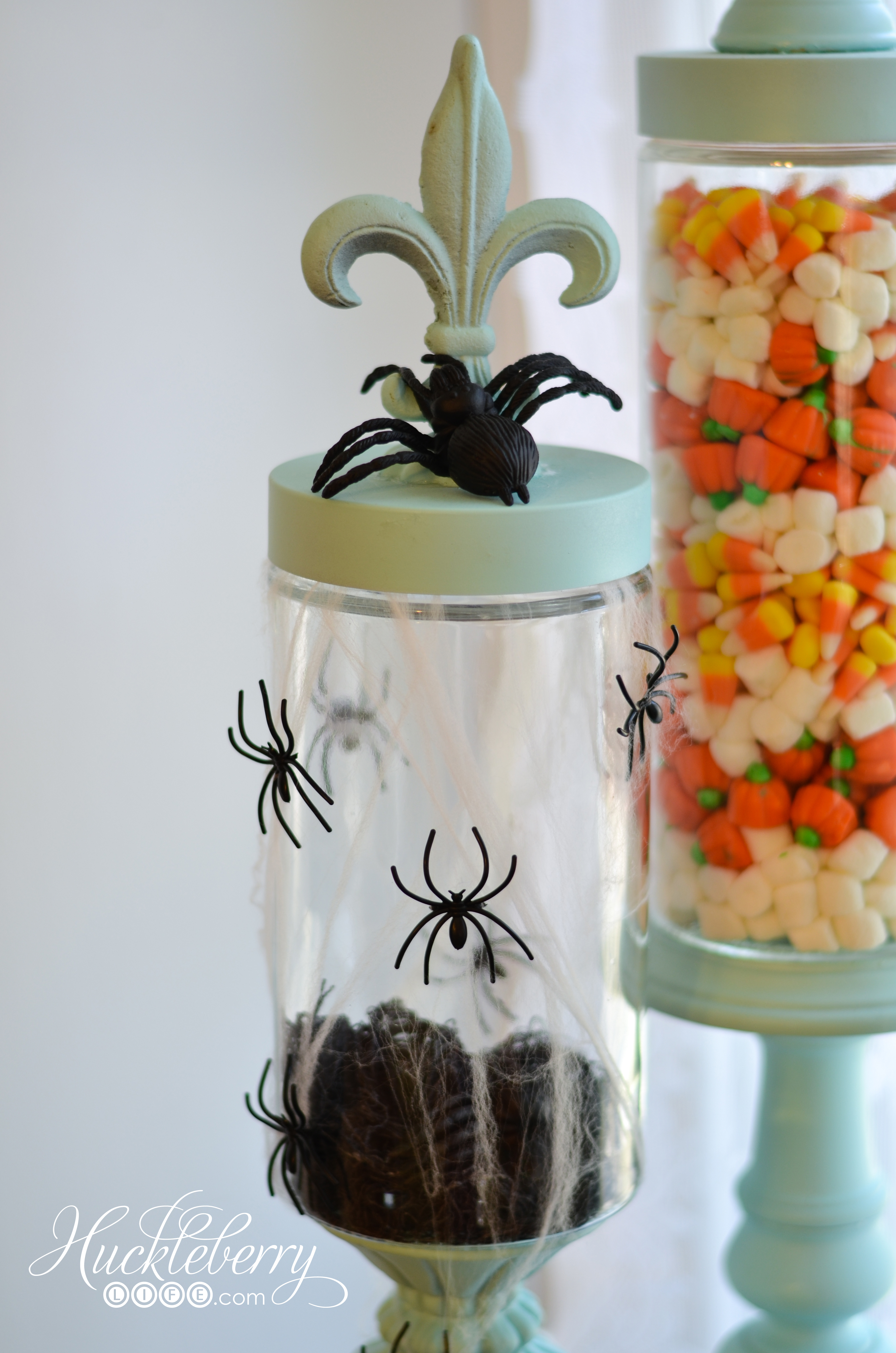 For the skull jar I just used a tan creepy cloth and mini skulls. It was hard to get the cloth to stay full so I stuffed the inside with some extra spider web fluff. It was kind of tricky to get the skulls in without smashing the fabric and I ended up using a butter knife to push them down. Ya do what ya gotta do!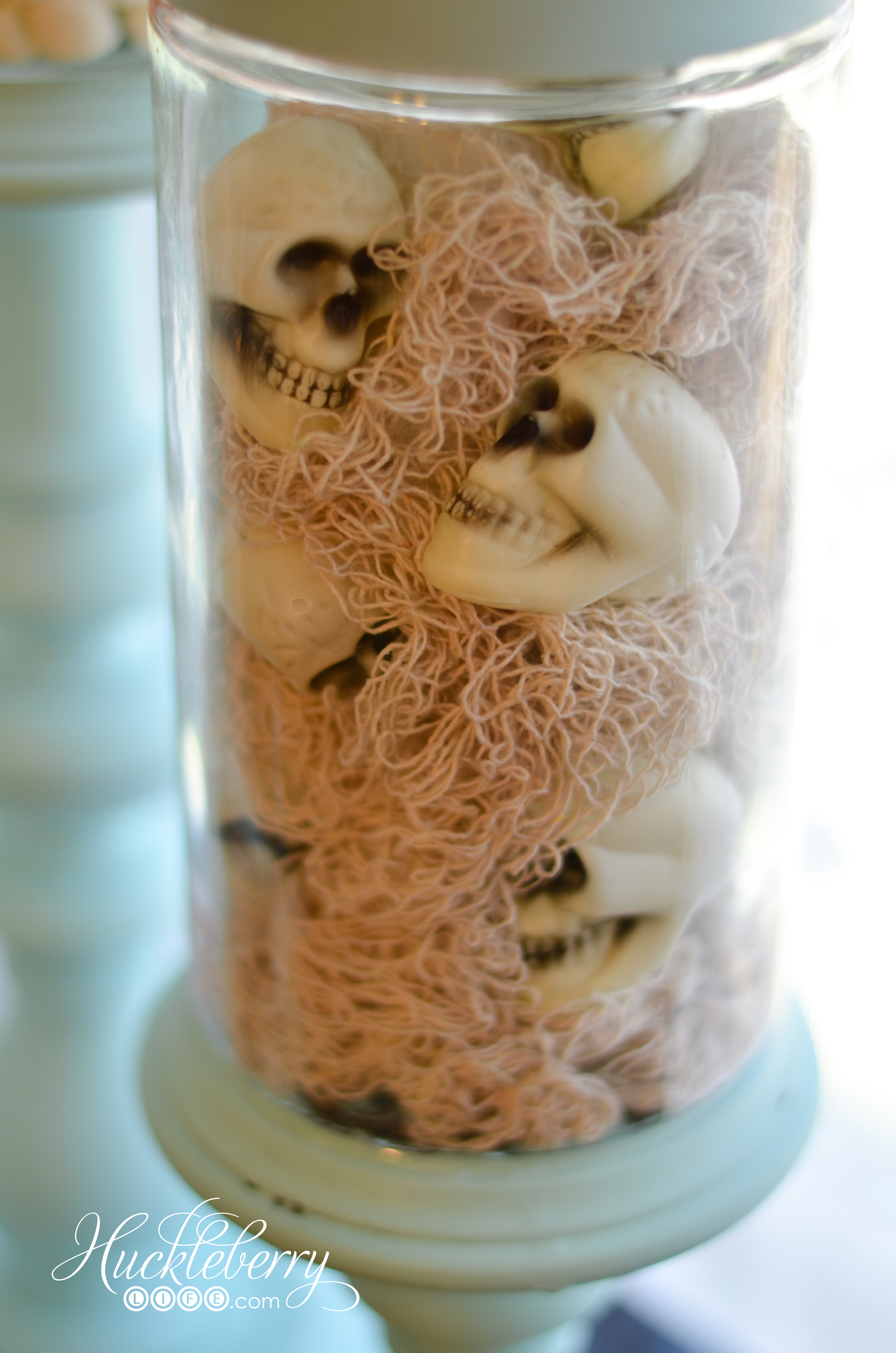 I think they turned out fun and it was a super quick little decorating project!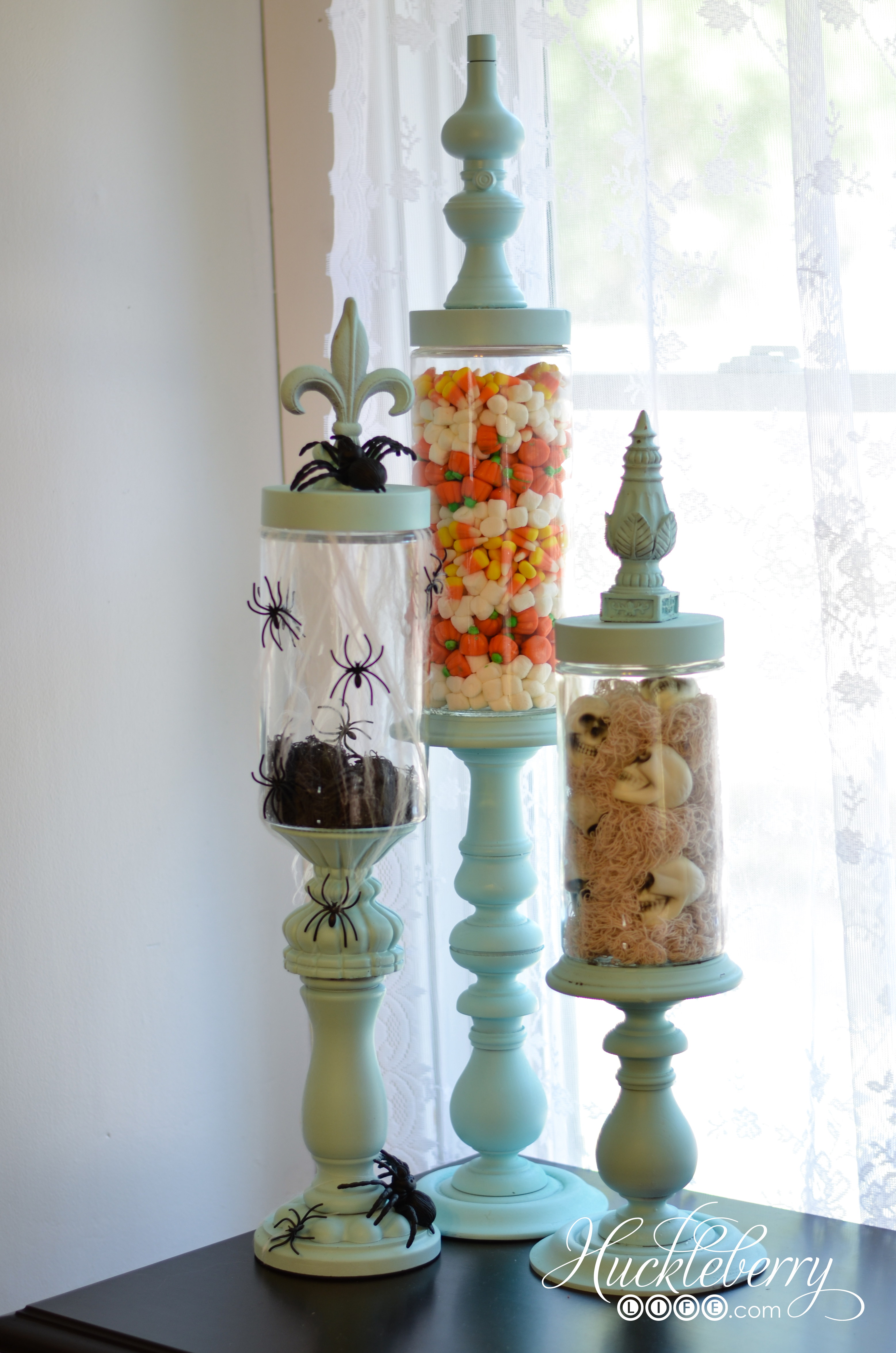 Please share with your friends on Facebook and Pinterest! 🙂