We LOVE Halloween at our house!  We had so much fun making these costumes and doing a little photo shoot. The best part? I spent under $15.00 for both! We used items that the kids already had and accessorized from there.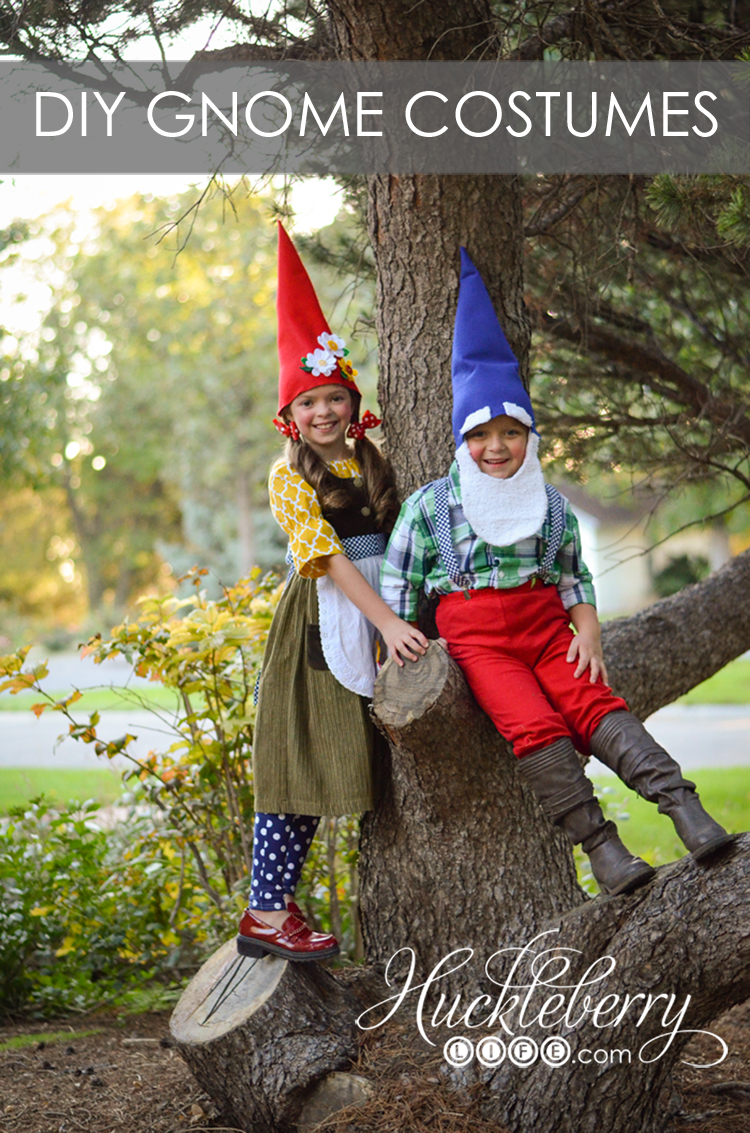 For the little girl gnome costume we rummaged the closet and came up with this. The corduroy dress is a hand me down that her Grandma bought in Germany. The yellow dress with the blue tie is one that her other Grandma made for her. The white apron we had from a previous costume and the leggings we bought new at WalMart for $5.00. The key was just to layer fun patterns and textures. We stuck with primary colors. A white shirt and fun patterned skirt with an apron would work. Be creative!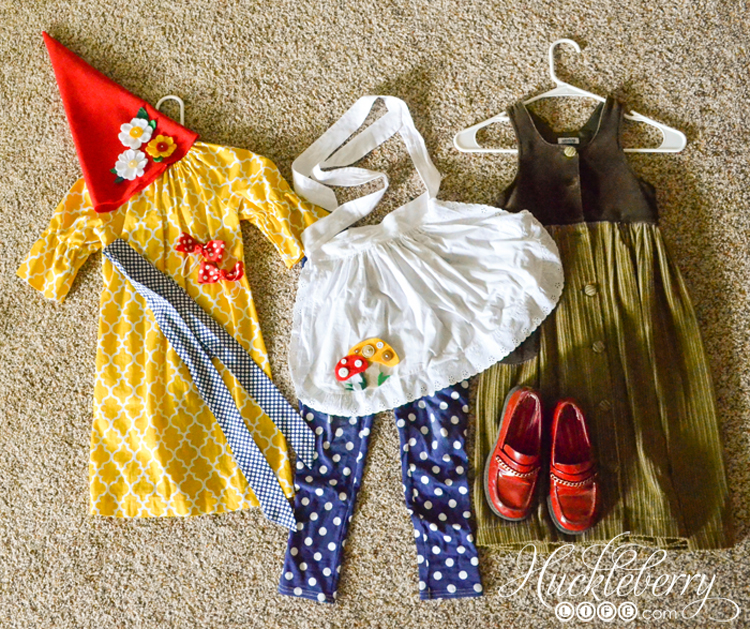 I am not a seamstress by any means, but I did take my brand new sewing machine out of the box to make the hats. Go me! For the flowers and the mushrooms I just cut them out of felt, hand stitched on a few buttons and used hot glue to put them together. I decided to add a little stitching around the flower petals and leaves which I thought looked so cute! I glued the flowers to the hat but I didn't want the mushrooms to be permanent on the apron so I just used a couple of safety pins. For the hair bows I just tied a couple simple bows out of ribbon and used hot glue to attach them to the elastics. Easy peasy!
Those red shoes! We went to a local thrift store and found these shoes in the right size for $1.00!  A little tape and red spray paint and we had the perfect gnome shoes. I did use a little rub n buff in gold on the chain to make it stand out after being sprayed red but I think it would have been fine without.

For the boy gnome costume we rummaged through his clothes and came up with this. Red flannel pajama pants, a plaid shirt, suspenders that Grandma had made that matched Emma's dress tie and Emma's boots. Good thing they wear the same size shoes right now. HA! I also whipped up a gnome hat for him. The eyebrows and beard crack me up so much! We looked at lots of different fabrics but I chose this because it was so soft and wouldn't be scratchy on his face. I basically just had him put the hat on while I held the fabric up to his face to decide where to cut. Very technical. I did have to cut it several times to get it just right. And the soft fabric was messy! I ended up gluing some white felt to the back of the beard so it would keep its shape and not curl up. This was a wing it and learn as you go kind of project.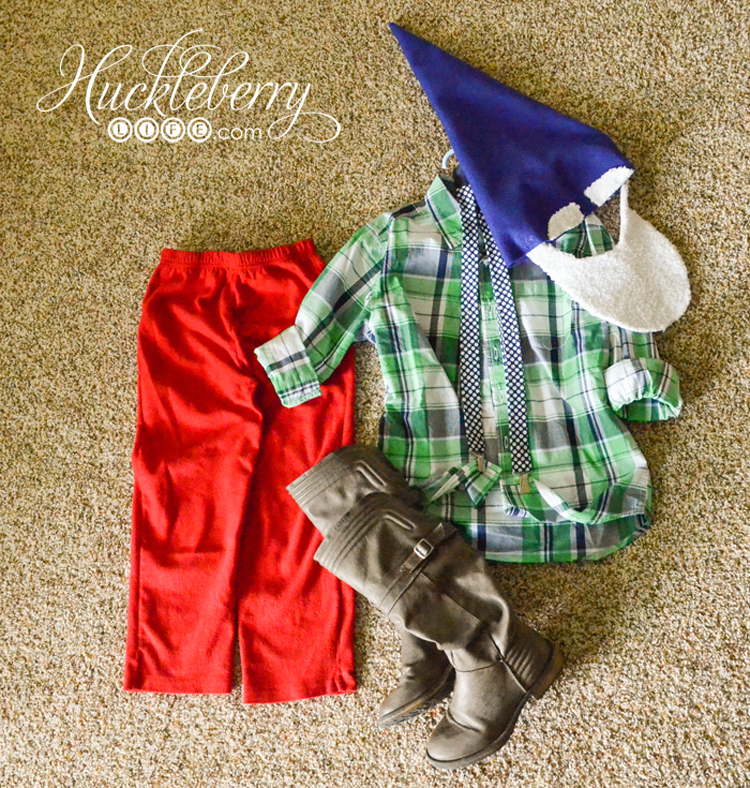 And that was it! I put Emma's hair in low pigtails and added a little curl. They both got blush to the cheeks…because gnomes have rosy cheeks ya know! Our local college has a really pretty garden area for their horticulture students. We decided it would be the perfect place for a little gnome photo shoot. We had a blast taking these pictures. I'm not sure how much longer these little cuties are going to put up with me doing this kind of thing so I am taking total advantage while it lasts.
This picture makes me laugh EVERY.SINGLE.TIME. Levi is such a funny kid.
Have you ever seen the old cartoon, "The World of David the Gnome?" I had to take a nose kissy picture! Good thing my kids genuinely love eachother…and me!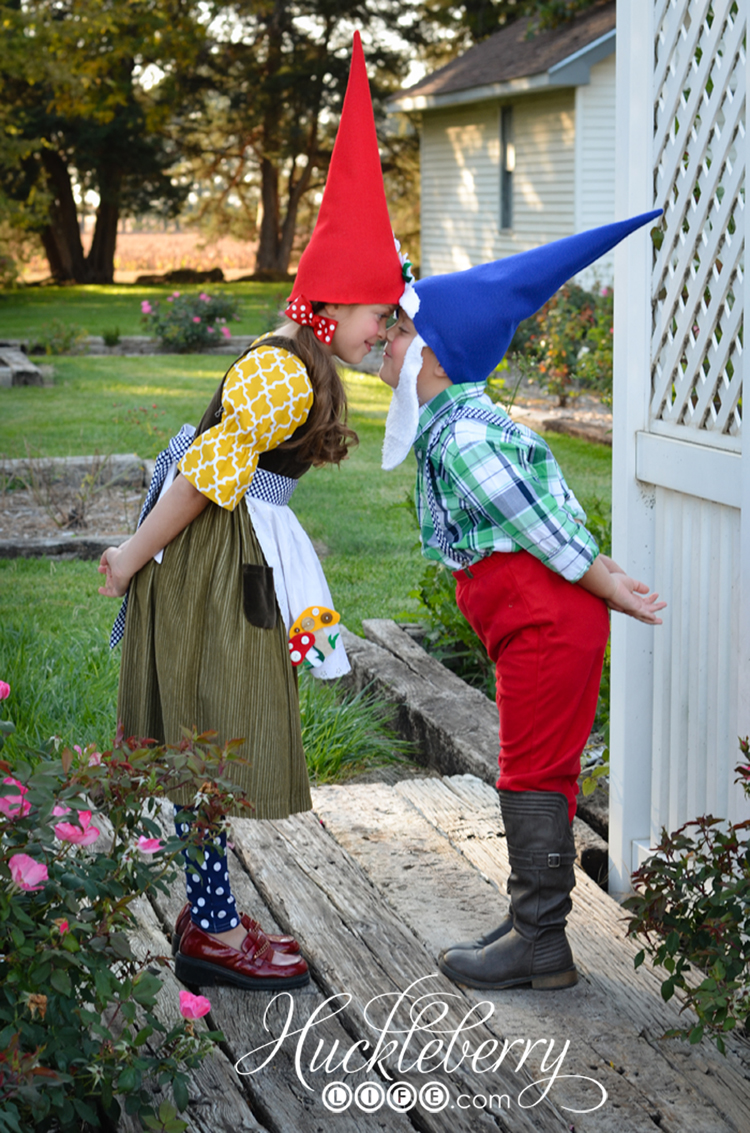 These were my favorite Halloween costumes we have done by far. I had surgery last year right before Halloween so we got the kids costumes and pics done early. This year I will be having a new baby the week before Halloween and we are moving so I need to get on it! I don't know if I should just do costumes for Levi and Emma, include the baby, or do a family theme this year since my kids probably won't let that happen too many more times. What do you think?